Articles | Volume 11, issue 4
https://doi.org/10.5194/amt-11-2159-2018
© Author(s) 2018. This work is distributed under
the Creative Commons Attribution 4.0 License.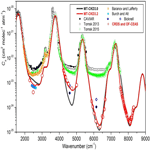 The water vapour self-continuum absorption in the infrared atmospheric windows: new laser measurements near 3.3 and 2.0 µm
Abstract. The amplitude, the temperature dependence, and the physical origin of the water vapour absorption continuum are a long-standing issue in molecular spectroscopy with direct impact in atmospheric and planetary sciences. In recent years, we have determined the self-continuum absorption of water vapour at different spectral points of the atmospheric windows at 4.0, 2.1, 1.6, and 1.25 µm, by highly sensitive cavity-enhanced laser techniques. These accurate experimental constraints have been used to adjust the last version (3.2) of the semi-empirical MT_CKD model (Mlawer-Tobin_Clough-Kneizys-Davies), which is widely incorporated in atmospheric radiative-transfer codes. In the present work, the self-continuum cross-sections, CS, are newly determined at 3.3 µm (3007 cm−1) and 2.0 µm (5000 cm−1) by optical-feedback-cavity enhanced absorption spectroscopy (OFCEAS) and cavity ring-down spectroscopy (CRDS), respectively. These new data allow extending the spectral coverage of the 4.0 and 2.1 µm windows, respectively, and testing the recently released 3.2 version of the MT_CKD continuum. By considering high temperature literature data together with our data, the temperature dependence of the self-continuum is also obtained.
Received: 29 Nov 2017 – Discussion started: 05 Dec 2017 – Revised: 01 Mar 2018 – Accepted: 06 Mar 2018 – Published: 16 Apr 2018