Articles | Volume 11, issue 7
https://doi.org/10.5194/amt-11-4005-2018
© Author(s) 2018. This work is distributed under
the Creative Commons Attribution 4.0 License.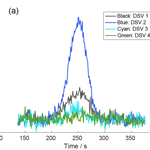 Inter-channel uniformity of a microwave sounder in space
We analyzed intrusions of the Moon in the deep space view of the Advanced Microwave Sounding Unit-B on the NOAA-16 satellite and found no significant discrepancies in the signals from the different sounding channels between 2001 and 2008. However, earlier investigations had detected biases of up to 10 K, by using simultaneous nadir overpasses of NOAA-16 with other satellites. These discrepancies in the observations of Earth scenes cannot be due to non-linearity of the receiver or contamination of the deep space view without affecting the signal from the Moon as well. As neither major anomalies of the on-board calibration target nor the local oscillator were present, we consider radio frequency interference in combination with a strongly decreasing gain the most obvious reason for the degrading photometric stability. By means of the chosen example we demonstrate the usefulness of the Moon for investigations of the performance of microwave sounders in flight.
Received: 07 Nov 2017 – Discussion started: 20 Dec 2017 – Revised: 25 Apr 2018 – Accepted: 04 Jun 2018 – Published: 11 Jul 2018
Photometric stability of the measurement devices is an indispensable prerequisite for a reliable characterization of global change in atmospheric properties. This basic rule is particularly valid for space-based instruments, because they cannot be checked in the laboratory again once the operational phase has begun. Microwave sounders thus take advantage of an on-board calibration target (OBCT) for updating the flux calibration in intervals of a few seconds. Nevertheless, systematic errors can creep in from slowly changing instrumental properties that cannot be detected with the generally employed two-point calibration, for example non-linearity. In order to first characterize and then reduce these errors in the case of AMSU-A (Advanced Microwave Sounding Unit-A), Zou and Wang (2011) determined time-dependent calibration offsets and nonlinear coefficients from simultaneous nadir overpass (SNO) regressions, which resulted in more consistent multi-satellite radiance observations for all respective channels. However, SNOs and other inter-calibration methods that rely exclusively on the comparison of two space instruments without a third source of information about the Earth scenes, can, as a matter of principle, never remove all spurious trends in the data, because they cannot identify the relative contributions of either instrument to offsets and drifts.
At first glance it seems impossible to transfer the method developed by Zou and Wang (2011) to the sounding channels of AMSU-B (channels 18–20), because their departure from linearity was proven to be smaller than 0.1 K and basically independent of instrument temperature in ground tests (Saunders et al., 1995b). As a consequence the nonlinear coefficient for the sounding channels was supposed to be insignificant and set to zero in the calibration files used by AAPP (ATOVS, Advanced TIROS-N, Television and InfraRed Observation Satellite, Operational Vertical Sounder, and AVHRR, Advanced Very High Resolution Radiometer, Pre-processing Package) for AMSU-B on all platforms. Nevertheless, there were considerable biases between the sounding channels of AMSU-B on NOAA-16 and those on other satellites, especially towards the end of its lifetime (Hanlon and Ingram, 2015; John et al., 2012) and particularly pronounced with channel 20. In this work we investigate why the flux calibration of the different channels seemed to diverge with time by using the radiation from the Moon when entering the deep space view (DSV) as a third reference flux, in addition to the cosmic microwave background (CMB) and the OBCT. We concentrate on the three sounding channels, because they are the scientifically most important ones, characterizing the 183.3 GHz line of water vapour, and at the same time apparently the worst in respect to stability.
As the Moon fills only a fraction of the beam, it is particularly well suited to detect effects, the impact of which grows with decreasing scene flux. On top of that its microwave spectrum differs considerably from Earth's, for it is featureless and varies little with wavelength (Mangum, 1993). This means that all channels with the same central frequency, i.e. the three sounding channels, must produce the same brightness temperature when observing the Moon (apart from a very small band correction). With this approach, it seemed feasible to throw additional light on the origin of the biases of AMSU-B on NOAA-16, which have defied explanation until now.
2
Observations and methods
We have demonstrated that intrusions of the Moon in the DSV can be used to obtain otherwise inaccessible information about the characteristics of microwave sounders in flight. This is because the Moon provides a third flux reference, in addition to the CMB and the OBCT, with a spectrum that closely resembles a black body. This property makes it particularly suited for checks of the uniformity of sounding channels, where vicarious calibration is not an option. Another characteristic of the Moon is that it fills only a fraction of the beams of past and present microwave sounders and therefore provides a flux level much lower than Earth scene and OBCT (see Fig. 3). As a consequence, the Moon becomes a unique diagnostic tool for checking the cold space temperature bias correction and, in case of insufficient or missing SNOs, non-linearity. Such characterization of instrumental effects is essential for calculating uncertainties and harmonization coefficients of fundamental climate data records, as undertaken for example by the FIDUCEO project (FIDelity and Uncertainty of Climate data records from Earth Observations1).
In case of AMSU-B on NOAA-16 we found that the Moon signal from channel 20 agrees within 0.6 % with the average signal of channels 18 and 19. The following conclusions can be drawn.
The co-registration of the sounding channels is very good, and the beam solid angle of channel 20 is within 0.3 %, the same as the average beam solid angle of channels 18 and 19, else they could not have given the same value for a source much smaller than OBCT and DSV. This result was to be expected because of the common quasi-optic feed of all sounding channels with AMSU-B. However, the agreement among the sounding channels also proves that the Earth radiation entering the DSV pixels through the side lobes does not significantly alter the overall signal, because this radiation corresponds to different brightness temperatures in each channel. The scatter of the measured signal ratio can be fully explained by the uncertainties of the gain and the Gaussian fit.

We attribute the bias in the sounding channels of AMSU-B on NOAA-16 to a simple and well-known effect, namely radio frequency interference, by eliminating all other possible causes. Although this finding needs confirmation by a careful investigation of the interference in flight, we recommend excluding periods of active transmitters when calculating inter-calibration coefficients (Ferraro, 2015).

One type of bias identified by Zou and Wang (2011) with AMSU-A, namely inaccurate calibration non-linearity, was ruled out in our investigation of AMSU-B. This finding provides evidence that the approach taken in the FIDUCEO project of harmonizing AMSU-B and MHS with the help of simultaneous nadir overpasses is sound, because the calculation of time-dependent nonlinear coefficients in flight, which would render that method impractical, is unnecessary.
Our characterization of sounding channels in flight demonstrates the potential of using intrusions of the Moon in the DSV as diagnostic tool for AMSU-B. Still higher accuracy is possible with MHS because of its lower NEΔT. As MHS is equipped with a sounding channel at 190.3 GHz with its own quasi-optic feed and local oscillator, the co-registration, bias correction, etc. will be less uniform among the channels, making their characterization even more important. In order to include also the window channels in the kind of analysis we presented, the differences of the brightness temperature of the Moon between the different radio wavebands must be known. A model describing them with the required accuracy is not available and remains therefore a worthwhile task for the future.
The Moon came 304 times closer than 0.1∘ to the centre of a DSV of MHS on NOAA-18 between launch and 1 June 2018. This large number opens up the possibility to use the Moon as a reference for identifying the long-term stability of microwave sounders. For this purpose it will be advantageous to identify and to process the relevant level 1b data automatically. The essential steps of such a procedure are as follows.
Identify the Moon intrusions: this will be easy if the lunar angles are known (Octets 1473–1480 in the MHS level 1b files). All events where the Moon did not come closer than 0.4∘ to one of the DSVs and closer than 1.2∘ to at least one other DSV should be rejected.

For each intrusion detected in the previous step, a Gaussian should be fitted to the number of counts as a function of scan number for each DSV and channel. This requires removing the baseline counts, i.e. those that would be present without the Moon, e.g. with a polynomial fit to the counts in the scans before and after the Moon intrusion.

If the height of these Gaussians is significantly different from zero for three DSVs of each channel, then another Gaussian should be fitted to their amplitudes as a function of DSV number.

Finally the gain has to be calculated for each channel from the baseline counts and the counts obtained when viewing the OBCT. The amplitude of the Gaussian fit from the previous step then has to be divided by the gain.
However, due to occasional anomalies in the data it will always be necessary to inspect the Gaussian fits for outliers in the "light curves" and proper baseline removal.
We conclude with a description of the potential of the Moon for in-orbit verification of future microwave imagers like MWI (MicroWave Imager). For the channels with a smaller beam that are planned for these facilities, the method we described in this paper cannot be applied the same way, as the light curve will no longer have the shape of a Gaussian. This is because the finite size of the Moon and the asymmetric temperature distribution of its surface will become more relevant. A specially defined scan profile – in the ideal case a two-dimensional raster map with a step size of 0.1∘ as proposed by Bonsignori (2018) – will then be advantageous. It will enable measurements of the Moon's flux with much better signal-to-noise ratio, because it will fill a larger part of the beam, and it will provide several additional reference flux levels, because one can point at regions of the Moon with quite different temperatures. This way the non-linearity, to give just one example, can be characterized over a large flux range.
The level 1b data from AMSU-B presented in this manuscript are available from NOAA CLASS (Comprehensive Large Array-data Stewardship System).
IH investigated the gain and noise changes, MP investigated the stability of the OBCT and calculated, together with TL, the values in Table 1. SB contributed to the text and helped with the interpretation and presentation of the results. MB prepared the manuscript with contributions from all co-authors.
The authors declare that they have no conflict of interest.
These characterizations are part of the effort to quantify the uncertainty budget for microwave sounders undertaken within the H2020 project, Fidelity and Uncertainty in Climate-data records from Earth Observation (FIDUCEO). FIDUCEO has received funding from the European Union's Horizon 2020 Programme for Research and Innovation, under grant agreement no. 638822. Stefan A. Buehler was partially supported by the Cluster of Excellence CliSAP (EXC177), Universität Hamburg, funded through the DFG, by the German Federal Ministry of Education and Research within the framework programme "Research for Sustainable Development (FONA)", under project HD(CP)2 (contracts O1LK1502B and O1LK1505D), and by the DFG HALO research program (contract BU2253/3-1). We are indebted to the referees, Christopher Merchant, and Roberto Bonsignori who noted several errors and inaccuracies in the draft version of the manuscript and to Oliver Lemke for contributing Fig. 1.

Edited by: S. Joseph Munchak
Reviewed by: Wesley Berg and Hu Yang
Atkinson, N. C.: AMSU-B EM Thermal Vacuum Test Report, EM, Met Office, Farnborough, 18 pp., 2000. a
Atkinson, N. C.: Performance of AMSU-B Flight Model 2 (FM2) during NOAA-L Post Launch Orbital Verification Tests, AMB112, Met Office, Farnborough, 24 pp., 2000. a, b
Atkinson, N. C.: Calibration, Monitoring and Validation of AMSU-B, Adv. Space Res., 28, 117–126, 2001. a
Bobryshev, O., Buehler, S. A., John, V. O., Brath, M., and Brogniez, H.: Is There Really a Closure Gap Between 183.31-GHz Satellite Passive Microwave and In Situ Radiosonde Water Vapor Measurements?, IEEE T. Geosci. Remote, 56, 2904–2910, 2018. a
Bonsignori, R.: In-orbit verification of microwave humidity sounder spectral channels coregistration using the moon, J. Appl. Remote Sens., 12, 025013, https://doi.org/10.1117/1.JRS.12.025013, 2018. a, b
Burgdorf, M., Buehler, S. A., Lang, T., Michel, S., and Hans, I.: The Moon as a photometric calibration standard for microwave sensors, Atmos. Meas. Tech., 9, 3467–3475, https://doi.org/10.5194/amt-9-3467-2016, 2016. a, b
Burgdorf, M., Lang, T., Michel, S., Buehler, S. A., and Hans, I.: The Moon as a diagnostic tool for microwave sensors, Gsics. Quarterly, 10, 4–5, 2016. a
Coates, R. J.: Lunar brightness variations with phase AT 4.3-mm wave length, Astrophys J., 133, 723–725, 1961. a
MHS L1 PGS (Level 1 Product Generation Specification), EUM.EPS.SYS.SPE.990006 v6, available at: https://www.eumetsat.int/website/home/Data/TechnicalDocuments/index.html (last access: 9 July 2018), 2013. a, b
Ferraro, R.: The Development of Advanced Microwave Sounding Unit-B (Amsu-B) and Microwave Humidity Sounder (MHS) Fundamental Climate Data Records (FCDR) for Hydrological Applications, DSR, CDR Program, 37 pp., 2015. a
Hanlon, H. and Ingram, W.: Fundamental Climate Data Record of Microwave Brightness Temperatures, CM-150, Eumetsat Satellite Application Facility on Climate Monitoring, 2015.  a, b
Hans, I., Burgdorf, M., John, V. O., Mittaz, J., and Buehler, S. A.: Noise performance of microwave humidity sounders over their lifetime, Atmos. Meas. Tech., 10, 4927–4945, https://doi.org/10.5194/amt-10-4927-2017, 2017. a, b, c
John, V. O., Holl, G., Buehler, S. A., Candy, B., Saunders, R. W., and Parker, D. E.: Understanding intersatellite biases of microwave humidity sounders using global simultaneous nadir overpasses, J. Geophys. Res.-Atmos, 117, D02305, https://doi.org/10.1029/2011JD016349, 2012. a, b, c
John, V. O., Allan, R. P., Bell, W., Buehler, S. A., and Kottayil, A.: Assessment of intercalibration methods for satellite microwave humidity sounders, J. Geophys. Res.-Atmos., 118, 4906–4918, 2013. a, b
John, V. O., Holl, G., Atkinson, N., and Buehler, S. A.: Monitoring scan asymmetry of microwave humidity sounding channels using simultaneous all angle collocations, J. Geophys. Res.-Atmos., 118, 1–10, 2013. a
Labrot, T., Lavanant, L., Whyte, K., Atkinson, N., and Brunel, P.: AAPP Documentation Scientific Description, NWPSAF-MF-UD-001, Satellite Application Facility for Numerical Weather Prediction, 107 pp., 2011. a
Keihm, S. J.: A Lunar Calibration Model for the COBE DMR Experiment, Interoffice Memorandum, Jet Propulsion Laboratory, Pasadena, 1983. 
McLellan, S.: Performance of AMSU-B Proto-Flight Model (PFM) during NOAA-K Post Launch Orbital Verification Tests, AMB106, Meteorological Office, Farnborough, 11 pp., 1998. a
Mangum, J. G.: Main-Beam Efficiency Measurements of the Caltech Submillimeter Observatory, Publ. Astron. Soc. Pac., 105, 117–122, 1993. a
Moradi, I., Meng, H., Ferraro, R. R., and Bilanow, S.: Geolocation and Scan Asymmetry Correction for NOAA POES Passive Microwave Instruments, IEEE T. Geosci. Remote, 51, 3625–3637, 2013. a
Ricketts, M. V. and Atkinson, N. C.: Pre-shipment EMC Susceptibility Tests for AMSU-B FM2 (August 1999), 6 pp., 1999. a
Saunders, R. W.: Results of AMSU-B Radiometric Characterisation Tests, Meteorological Office, Farnborough, 27 pp., 1995. a
Saunders, R. W., Hewison, T. J., Stringer, S. J., and Atkinson, N. C.: The Radiometric Characterization of AMSU-B, IEEE T. Microw. Theory., 43, 760–771, 1995. a
Weng, F. and Yang, H.: Validation of ATMS Calibration Accuracy Using Suomi NPP Pitch Maneuver Observations, Remote Sens.-Basel, 8, 332–346, 2016. a
Yang, H. and Weng, F.: Corrections for On-Orbit ATMS Lunar Contamination, IEEE T. Geosci. Remote, 54, 1918–1924, 2016. a
Zou, C.-Z. and Wang, W.: Intersatellite calibration of AMSU-A observations for weather and climate applications, J. Geophys. Res., 116, D23113, https://doi.org/10.1029/2011JD016205, 2011. a, b, c, d