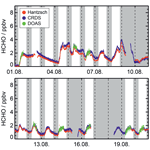 Institute of Energy and Climate Research, IEK-8: Troposphere, Forschungszentrum Jülich GmbH, Jülich, Germany
Correspondence: Hendrik Fuchs (h.fuchs@fz-juelich.de)
Received: 12 Jan 2021 – Discussion started: 18 Feb 2021 – Revised: 10 May 2021 – Accepted: 12 May 2021 – Published: 09 Jun 2021
Three instruments that use different techniques to measure gaseous formaldehyde (HCHO) concentrations were compared in experiments in the atmospheric simulation chamber SAPHIR at Forschungszentrum Jülich. One instrument (AL4021, Aero-Laser GmbH) detects HCHO using the wet-chemical Hantzsch reaction (for efficient gas-phase stripping), chemical conversion and fluorescence measurement. An internal HCHO permeation source allows for daily calibrations. This instrument was characterized by sulfuric acid titration (overall accuracy 8.6 %) and yields measurements with a time resolution of 90 s and a limit of detection (3σ) of 0.3 ppbv. In addition, a new commercial instrument that makes use of cavity ring-down spectroscopy (CRDS) determined the concentrations of HCHO, water vapour, and methane (G2307, Picarro, Inc.). Its limit of detection (3σ) is specified as 0.3 ppbv for an integration time of 300 s, and its accuracy is limited by the drift of the zero signal (manufacturer specification 1.5 ppbv). A custom-built high-resolution laser differential optical absorption spectroscopy (DOAS) instrument provided HCHO measurements with a limit of detection (3σ) of 0.9 ppbv and an accuracy of 7 %​​​​​​​ using an optical multiple reflection cell. The measurements were conducted from June to December 2019 in experiments in which either ambient air flowed through the chamber or the photochemical degradation of organic compounds in synthetic air was investigated. Measured HCHO concentrations were up to 8 ppbv. Various mixtures of organic compounds, water vapour, nitrogen oxides and ozone were present in these experiments. Results demonstrate the need to correct the baseline in measurements performed by the Hantzsch instrument to compensate for drifting background signals. Corrections were equivalent to HCHO mixing ratios in the range of 0.5–1.5 ppbv. The baseline of the CRDS instrument showed a linear dependence on the water vapour mixing ratio with a slope of () ppbv %−1 below and () ppbv %−1 above a water vapour mixing ratio of 0.2 %. In addition, the intercepts of these linear relationships drifted within the specification of the instrument (1.5 ppbv) over time but appeared to be equal for all water mixing ratios. Regular zero measurements are needed to account for the changes in the instrument zero. After correcting for the baselines of measurements by the Hantzsch and the CRDS instruments, linear regression analysis of measurements from all three instruments in experiments with ambient air indicated good agreement, with slopes of between 0.98 and 1.08 and negligible intercepts (linear correlation coefficients R2>0.96). The new small CRDS instrument measures HCHO with good precision and is accurate if the instrument zero is taken into account. Therefore, it can provide measurements with similar accuracy to the DOAS instrument but with slightly reduced precision compared to the Hantzsch instrument.
Formaldehyde (HCHO) is a pollutant that is present in ambient air but also indoors. It affects human health by irritating the respiratory system and by being carcinogenic (Gupta et al., 1982; Casset et al., 2005; World Health Organization, 2010; Fortems-Cheiney et al., 2012; Liu et al., 2015; Salthammer, 2019; Qin et al., 2020). It is formed in the atmosphere as a product of the oxidation of volatile organic compounds (VOCs) and in combustion processes, including biomass burning. HCHO is also directly emitted during anthropogenic activities (Parrish et al., 2012). Globally, the largest contributions to HCHO production come from the oxidation of methane (CH4) (∼ 970 Tg yr−1) and the oxidation of nonmethane volatile organic compounds (NMVOCs) such as terpenes and other hydrocarbons (∼ 250 Tg yr−1) from biogenic sources (Anderson et al., 2017; Zhang et al., 2019). HCHO is mainly removed from the troposphere through photolysis and oxidation by hydroxyl radicals (OH), forming hydroperoxy radicals (HO2) and carbon monoxide. Therefore, the photolysis of HCHO is a significant source of radicals in the troposphere and contributes to the oxidation capacity of the troposphere. Subsequent radical–radical recombination reactions can be an important source of hydroperoxides in the troposphere. This is of particular importance if the reaction of HO2 with nitric oxide (NO) cannot compete, as is typically the case in remote marine regions. HCHO can also be removed by dry and wet surface deposition. The efficiency of these processes depends on the nature of the surface, but they represent a small sink for HCHO globally (Anderson et al., 2017; Alvarado et al., 2020; Wolfe et al., 2019). Overall, HCHO has a typical chemical lifetime in the troposphere of a few hours during the day and up to 2 d during the night, when photolysis and the reaction with OH do not play a big role (Lowe and Schmidt, 1983; Seinfeld and Pandis, 2016).
Formaldehyde mixing ratios in the lower troposphere range between 200 and 500 parts per trillion by volume (pptv) in marine and remote areas, but they can be up to multiple parts per billion by volume (ppbv) in urban environments, where HCHO sources are more common (Still et al., 2005; Nogueira et al., 2014; Li et al., 2014).
The total yield of HCHO in the oxidation of complex organic compounds is often uncertain because HCHO can be produced in numerous chemical reactions (Kuhn et al., 2007; Salthammer, 2019). Chemical models are often not capable of reproducing actual HCHO concentrations in the atmosphere or HCHO columns derived from satellite observations. For example, a comparison exercise, the Chemistry Climate Model Initiative (Anderson et al., 2017), showed that current global models underestimate HCHO columns by 4–50 %. Chamber and laboratory experiments contribute greatly to the development of chemical oxidation mechanisms under controlled conditions (Xiong et al., 2011; He et al., 2019; Novelli et al., 2020). In order to determine the HCHO yields in these experiments, accurate and precise measurements of HCHO are needed.
Strong absorption lines in the UV region allow the sensitive detection of formaldehyde by differential absorption (DOAS) instruments with either high or low spectral resolution (Dorn et al., 1995; Platt and Stutz, 2008) and cavity-based absorption spectroscopy (Washenfelder et al., 2016; Liu et al., 2019). Detection by absorption in the IR region is also possible by either Fourier transformation infrared spectroscopy (FTIR), tunable diode laser spectroscopy (TDLS) (Weibring et al., 2007; Shutter et al., 2019), quantum cascade laser spectroscopy (QCLS) (McManus et al., 2010), photoacoustic spectroscopy (Dugheri et al., 2021) or cavity ring-down spectroscopy (Picarro, Inc.). Absorption spectroscopy has the advantage that it does not need regular calibrations with a gas standard, but it does require knowledge of absorption cross-sections and careful characterization of instrument properties to avoid or correct for possible spectral interferences and signal offsets. The absorption cross-sections of HCHO are high enough to reach a limit of detection corresponding to a mixing ratio of a few hundred parts per trillion per volume (pptv), which is sufficiently low for many applications. In the past, most instruments were custom-built and effective operation required a good understanding of the instrument, but commercial instruments based on absorption spectroscopic methods have recently become available (CRDS instruments from Picarro, Inc., TDLS instruments from Aeros Technology and Aerodyne Research, and photoacoustic spectroscopy technology from Gasera).
Laser-induced fluorescence (LIF) detection after excitation at 353 nm yields a lower limit of detection (less than 35 pptv at 1 Hz) compared to instruments that make use of absorption spectroscopy (Hottle et al., 2009; Kaiser et al., 2014; Cazorla, 2015). Calibration is achieved by using a gas standard or a portable permeation source that is regularly checked by FTIR spectroscopy. LIF instruments are also custom-built and often make use of a fibre laser to provide the excitation.
Wet chemistry methods are widely used to detect formaldehyde. Sampling with cartridges for derivatization with 2,4-dinitrophenylhydrazine (DNPH) and subsequent offline analysis with high-performance liquid chromatography (HPLC) has a low limit of detection (40 pptv) but requires comparatively high experimental effort (Winberry et al., 1999). Due to the long sampling time (typically 1 h), the time resolution is less than that achieved with spectroscopic methods. Another online wet-chemical method is based on the Hantzsch reaction, in which aqueous formaldehyde reacts with acetylacetone (Kelly and Fortune, 1994). The concentration of the product (3,5-diacetyl-1,4-dihydrolutidine) is then measured by fluorescence after excitation at 410 nm. This type of instrument is currently commercially available from Aero-Laser GmbH. A low limit of detection of 100 pptv is reached along with a high time resolution of minutes. Disadvantages compared to spectroscopic methods are the need for regular maintenance work and calibrations with liquid and gaseous standards (see below) and the consumption of hazardous liquids.
Proton-transfer mass spectrometry (PTR-MS) can also detect formaldehyde; however, due to the low proton affinity of formaldehyde, the sensitivity of PTR-MS is too low and exhibits a strong dependence on the water vapour mixing ratio (Vlasenko et al., 2010; Warneke et al., 2011; Yuan et al., 2017). Therefore, PTR-MS measurements of formaldehyde concentrations have not become standard. A direct comparison of measurements obtained with instruments that use different techniques and calibration and data evaluation procedures is a widely approved way to evaluate the quality of the data and to identify possible instrumental artefacts, gauge the inaccuracy of calibration procedures or discern instrumental interferences (Grossmann, 2003; Inomata et al., 2008; Warneke et al., 2011).
Several comparison exercises have been performed so far. Eleven comparisons that were done before 2005 are summarized and discussed in Hak et al. (2005). They were performed during field and chamber experiments utilizing different techniques. Most often, an absorption spectrometer and Hantzsch instruments were involved. Hak et al. (2005) concluded that there is high variability in the level of agreement between measurements obtained using different instruments, but no specific pattern in that variability. Instrument calibration was most often assumed to be the likely reason for disagreement. The authors report the comparison of four different techniques (broadband DOAS, FTIR, Hantzsch and chromatography after cartridge sampling) during measurements at an urban site. Results showed agreement between the measurements provided by the DOAS, Hantzsch and FTIR instruments to within 11 % but also strong variations in the agreement between the Hantzsch measurements and those from other instruments. Differences between Hantzsch instruments were attributed to insufficiently effective scrubbers that were used to zero the instruments and differences in the calibration results. For absorption instruments, Hak et al. (2005) pointed out that the use of different recommendations for (differential) absorption cross-sections can lead to disagreement. In addition, the spectrometer resolution needs to be correctly taken into account to determine the effective cross-section.
In another comparison study by Wisthaler et al. (2008) that was done in the atmospheric simulation chamber SAPHIR at Forschungszentrum Jülich, measurements provided by DOAS, DNPH-HPLC, PTR-MS and two Hantzsch instruments in three experiments performed under controlled atmospheric conditions were compared. The measurements from different instruments differed by up to 50 %. Several analytical problems were identified: (1) measurements showed that the derivatization efficiency in the DNPH-HPLC method was significantly lowered in dry air; (2) as in previous comparisons, zeroing uncertainties led to a bias in the measurements from the Hantzsch instrument; and (3) measurements provided by the Hantzsch instrument in the presence of ozone (45 ppbv) were lower than DOAS measurements, which are likely to be less affected by ozone if the formaldehyde concentration is high compared to the ozone concentration. However, deviations varied among the experiments, so the connection to ozone was uncertain.
Formaldehyde measurements by a LIF instrument were compared to Hantzsch measurements in the SAPHIR chamber in 2014 (Kaiser et al., 2014), and to those provided by a recently developed commercial TDLAS system from Aeris Technology in ambient air (Shutter et al., 2019). The agreement between the measurements from the LIF and TDLAS instruments was better than 8 % for formaldehyde mixing ratios higher than 1 ppbv. The comparison of the LIF and Hantzsch instruments in SAPHIR enabled a systematic investigation of whether the measurements were affected by ozone or water. No systematic deviations were found in the presence of water or ozone, so observations by Wisthaler et al. (2008) of potential interference by ozone in measurements provided by a Hantzsch instrument could not be confirmed. Measurements given by Hantzsch and LIF instruments agreed within the combined calibration uncertainty (13 %).
Reports of instrument comparisons concluded that the measurement of formaldehyde remains challenging for atmospheric concentrations in the low- and sub-ppbv range, in particular for commercial instruments. Calibration and instrument zeros were identified as the major sources of systematic uncertainty in the data. In the present work, formaldehyde measurements from three different instruments in experiments performed in the SAPHIR chamber located at Forschungszentrum Jülich were compared. One instrument made use of the Hantzsch technique, which was also usually applied in previous comparisons. A high-resolution DOAS system (308 nm) for the detection of hydroxyl radical concentrations also provided formaldehyde concentrations. In addition, formaldehyde was detected by a CRDS instrument from Picarro, Inc. that has recently become commercially available. Experiments included investigations of the photochemical oxidation of specific organic compounds as well as those in which ambient air flowed through the chamber. These experiments enabled the performance of the instruments under controlled conditions to be investigated, which allowed the systematic variations in parameters over a long period of time to be assessed for realistic ambient conditions and concentrations.
More than 100 d of measurements were performed by instruments that detected formaldehyde in photochemical experiments in the SAPHIR chamber in 2019. Two commercial instruments (a CRDS instrument from Picarro and a Hantzsch instrument from Aero-Laser) and one custom-built high-resolution DOAS instrument performed simultaneous measurements. 56 day-long experiments during which ambient air flowed continuously through the chamber (residence time approximately 1 h) were carried out. Measurements were performed during the day and night. In addition, HCHO was measured in 17 experiments investigating the photooxidation of specific organic compounds. Physical and chemical conditions were variable. Formaldehyde mixing ratios were similar to those found in field campaigns, with values of between 0 and 11 ppbv (Inomata et al., 2008; Leuchner et al., 2016). A comparison of the measurements obtained by the three instruments included more than 24 000 data points for the Hantzsch and CRDS instruments and 2600 data points for the DOAS instrument.
Analysis of the measurements revealed that the instrument zeros of the Hantzsch and CRDS instruments need to be treated carefully. The background signal of the Hantzsch instrument can change significantly within a few hours. Therefore, regular (at least every 2 h) zero measurements are needed to avoid systematic errors that can be as high as several 100 pptv. In addition, postprocessing the data can reduce systematic errors. Zero values for individual data points can then be calculated through the linear interpolation of zero measurements. In contrast, the instrument takes only the most recent zero measurement into account before it outputs a measured value, so systematic errors can occur if the instrument zero changes between two consecutive zero measurements.
The CRDS instrument also presented an instrument zero that drifts over several days. Changes in the range of 100 pptv per day were observed in these experiments. This drift is within the specifications of the instrument, but could be relevant for measurements in environments with low formaldehyde mixing ratios. In addition, the background signal exhibits a significant water dependence. The value decreases linearly with increasing water vapour mixing ratio, but the slope of the linear relationship changes drastically for water mixing ratios higher than 0.2 %. The water dependence for those mixing ratios is a factor of 15 lower than the dependence seen for water mixing ratios lower than 0.2 %. The slopes for these two ranges of the water vapour mixing ratio appear to be similar for all measurements in this work. Daily measurement of the instrumental zero and regular characterization of its water vapour dependence are required to avoid systematic errors. In addition, the manufacturer stated that the mathematical procedure used for peak integration and internal data evaluation was changed in an updated version of the instrument (software version 1.6.015 was implemented in the instrument used in this work). Therefore, the water vapour dependence may be different in other Picarro HCHO analysers.
The large sets of formaldehyde data measured by the Hantzsch, CRDS and DOAS instruments showed good agreement (R2≥0.96). The maximum deviation of the slopes of the regression lines from unity was 0.08. The combination of wet-chemical conversion with sensitive fluorescence detection provided a very good limit of detection in the experiments performed in this work, which is consistent with the instrument specification and results found in other studies (Hak et al., 2005; Salmon et al., 2008). The limit of detection of the CRDS instrument was 200 pptv (3σ) at a time resolution of 180 s. This is sufficient for many applications of the instrument. The limit of detection of the CRDS instrument can be lowered further if the data are averaged over a longer period.
The results presented here show that the three instruments provide reliable and accurate formaldehyde measurements in ambient air if the instrument zeros of the CRDS and Hantzsch instruments are adequately taken into account. Observations made in this work suggest that zero measurements should be done once a day and that the water dependence of the zero point of the CRDS instrument is unlikely to significantly change, at least for a month-long deployment. Among the two commercially available instruments, the Hantzsch instrument provides higher sensitivity, which is beneficial for measurements in environments with low HCHO concentrations. On the other hand, the CRDS instrument has the advantage of being small. In addition, largely unattended operation is possible because regular calibration or maintenance work is not required. This is ideal when long-term measurements are needed in environments where the slightly higher detection limit does not pose a problem.
MG was responsible for the Hantzsch measurements and analysed the data. He wrote the paper together with HF. AH designed the JULIAC campaign and organized the campaign together with HF and FH. FR was responsible for the CRDS and HPD for DOAS measurements. All coauthors (MG, FR, HPD, AH, FH, AKS, AW, HF) developed together the interpretation of data in intensive discussions. All coauthors commented on the entire manuscript and thereby contributed to the writing.
The authors declare that they have no conflict of interest.
This article is part of the special issue "Simulation chambers as tools in atmospheric research (AMT/ACP/GMD inter-journal SI)". It is not associated with a conference.
This project received funding from the European Research Council (ERC) under the European Union's Horizon 2020 research and innovation program (grant agreement no. 681529).).
This research has been supported by the Horizon 2020 Framework Programme, H2020 Excellent Science (SARLEP (grant no. 681529)).

The article processing charges for this open-access publication were covered by the Forschungszentrum Jülich.
This paper was edited by Mingjin Tang and reviewed by three anonymous referees.
Aero-Laser GmbH: AL4021 Formaldehyde Monitor – Manual, available at: https://www.aero-laser.de/fileadmin/downloads/IM_AL4021_Rev.2.2.pdf, last access: 10 September 2020. a, b, c, d, e
Alvarado, L. M. A., Richter, A., Vrekoussis, M., Hilboll, A., Kalisz Hedegaard, A. B., Schneising, O., and Burrows, J. P.: Unexpected long-range transport of glyoxal and formaldehyde observed from the Copernicus Sentinel-5 Precursor satellite during the 2018 Canadian wildfires, Atmos. Chem. Phys., 20, 2057–2072, https://doi.org/10.5194/acp-20-2057-2020, 2020. a
Anderson, D. C., Nicely, J. M., Wolfe, G. M., Hanisco, T. F., Salawitch, R. J., Canty, T. P., Dickerson, R. R., Apel, E. C., Baidar, S., Bannan, T. J., Blake, N. J., Chen, D., Dix, B., Fernandez, R. P., Hall, S. R., Hornbrook, R. S., Gregory Huey, L., Josse, B., Jöckel, P., Kinnison, D. E., Koenig, T. K., Le Breton, M., Marécal, V., Morgenstern, O., Oman, L. D., Pan, L. L., Percival, C., Plummer, D., Revell, L. E., Rozanov, E., Saiz-Lopez, A., Stenke, A., Sudo, K., Tilmes, S., Ullmann, K., Volkamer, R., Weinheimer, A. J., and Zeng, G.: Formaldehyde in the tropical western Pacific: Chemical sources and sinks, convective transport, and representation in CAM-Chem and the CCMI Models, J. Geophys. Res.-Atmos., 122, 11201–11226, https://doi.org/10.1002/2016JD026121, 2017. a, b, c
Barry, H., Corner, L., Hancock, G., Peverall, R., and Ritchie, G. A. D.: Cross sections in the 2ν5 band of formaldehyde studied by cavity enhanced absorption spectroscopy near 1.76 µm, Phys. Chem. Chem. Phys., 4, 445–450, https://doi.org/10.1039/b109300m, 2002. a
Bohn, B. and Zilken, H.: Model-aided radiometric determination of photolysis frequencies in a sunlit atmosphere simulation chamber, Atmos. Chem. Phys., 5, 191–206, https://doi.org/10.5194/acp-5-191-2005, 2005. a
Brauers, T., Bossmeyer, J., Dorn, H.-P., Schlosser, E., Tillmann, R., Wegener, R., and Wahner, A.: Investigation of the formaldehyde differential absorption cross section at high and low spectral resolution in the simulation chamber SAPHIR, Atmos. Chem. Phys., 7, 3579–3586, https://doi.org/10.5194/acp-7-3579-2007, 2007. a
Cantrell, C. A., Davidson, J. A., McDaniel, A. H., Shetter, R. E., and Calvert, J. G.: Temperature-dependent formaldehyde cross sections in the near-ultraviolet spectral region, J. Phys. Chem.-US, 94, 3902–3908, https://doi.org/10.1021/j100373a008, 1990. a
Casset, A., Marchand, C., Le Calvé, S., Mirabel, P., and de Blay, F.: Human Exposure chamber for known formaldehyde levels: Generation and validation, Indoor Built Environ., 14, 173–182, https://doi.org/10.1177/1420326X05052767, 2005. a
Cazorla, M., Wolfe, G. M., Bailey, S. A., Swanson, A. K., Arkinson, H. L., and Hanisco, T. F.: A new airborne laser-induced fluorescence instrument for in situ detection of formaldehyde throughout the troposphere and lower stratosphere, Atmos. Meas. Tech., 8, 541–552, https://doi.org/10.5194/amt-8-541-2015, 2015. a
Crosson, E.: A cavity ring-down analyzer for measuring atmospheric levels of methane, carbon dioxide, and water vapor, Appl. Phys. B-Lasers O., 92, 403–408, https://doi.org/10.1007/s00340-008-3135-y, 2008. a
Dorn, P., Brandenburger, U., Brauers, T., and Hausmann, M.: A new in-situ laser long-path absorption instrument for the Measurement of tropospheric OH radicals, J. Atmos. Sci., 52, 3373–3380, 1995. a, b, c
Dugheri, S., Massi, D., Mucci, N., Marrubini, G., Capelli, G., Speltini, A., Bonferoni, M. C., and Arcangeli, G.: Exposure to airborne formaldehyde: Sampling and analytical methods – A review, Trends Environ. Anal. Chem., 29, e00116, https://doi.org/10.1016/j.teac.2021.e00116, 2021. a
Fortems-Cheiney, A., Chevallier, F., Pison, I., Bousquet, P., Saunois, M., Szopa, S., Cressot, C., Kurosu, T. P., Chance, K., and Fried, A.: The formaldehyde budget as seen by a global-scale multi-constraint and multi-species inversion system, Atmos. Chem. Phys., 12, 6699–6721, https://doi.org/10.5194/acp-12-6699-2012, 2012. a
Fuchs, H., Glowania, M., Dorn, H.-P., and Rohrer, F.: Formaldehyde Comparison (CRDS, DOAS, Hantzsch) SAPHIR chamber 2019, Jülich DATA [data set], V1, https://doi.org/10.26165/JUELICH-DATA/VE2KNS, 2021. a
Golden, R. and Valentini, M.: Formaldehyde and methylene glycol equivalence: Critical assessment of chemical and toxicological aspects, Regul. Toxicol. Pharm., 69, 178–186, https://doi.org/10.1016/j.yrtph.2014.03.007, 2014. a
Grossmann, D.: Hydrogen peroxide, organic peroxides, carbonyl compounds, and organic acids measured at Pabstthum during BERLIOZ, J. Geophys. Res.-Atmos., 108, 8250, https://doi.org/10.1029/2001JD001096, 2003. a, b
Gupta, K., Ulsamer, A., and Preuss, P.: Formaldehyde in indoor air: Sources and toxicity, Environ. Int., 8, 349–358, https://doi.org/10.1016/0160-4120(82)90049-6, 1982. a
Hak, C., Pundt, I., Trick, S., Kern, C., Platt, U., Dommen, J., Ordóñez, C., Prévôt, A. S. H., Junkermann, W., Astorga-Lloréns, C., Larsen, B. R., Mellqvist, J., Strandberg, A., Yu, Y., Galle, B., Kleffmann, J., Lörzer, J. C., Braathen, G. O., and Volkamer, R.: Intercomparison of four different in-situ techniques for ambient formaldehyde measurements in urban air, Atmos. Chem. Phys., 5, 2881–2900, https://doi.org/10.5194/acp-5-2881-2005, 2005. a, b, c, d, e
Hausmann, M., Brandenburger, U., Brauers, T., and Dorn, H.-P.: Detection of tropospheric OH radicals by long-path differential-optical-absorption spectroscopy: Experimental setup, accuracy, and precision, J. Geophys. Res., 102, 16011–16022, 1997. a, b
He, Z., Xiong, J., Kumagai, K., and Chen, W.: An improved mechanism-based model for predicting the long-term formaldehyde emissions from composite wood products with exposed edges and seams, Environ. Int., 132, 105086, https://doi.org/10.1016/j.envint.2019.105086, 2019. a
Hladová, M., Martinka, J., Rantuch, P., and Nečas, A.: Review of spectrophotometric methods for determination of formaldehyde, Journal of Slovak University of Technology, 27, 105–120, https://doi.org/10.2478/rput-2019-0012, 2019. a
Hoffnagle, J., Fleck, D., Rella, C., and Kim-Hak, D.: Quantification of atmospheric formaldehyde by near-infrared cavity ring-down Spectroscopy, in: AGU Fall Meeting 2017, 11–15 December 2017, New Orleans, Louisiana, USA, Poster A43A-1385, 2017. a, b, c
Hohaus, T., Kuhn, U., Andres, S., Kaminski, M., Rohrer, F., Tillmann, R., Wahner, A., Wegener, R., Yu, Z., and Kiendler-Scharr, A.: A new plant chamber facility, PLUS, coupled to the atmosphere simulation chamber SAPHIR, Atmos. Meas. Tech., 9, 1247–1259, https://doi.org/10.5194/amt-9-1247-2016, 2016. a
Hottle, J. R., Huisman, A. J., DiGangi, J. P., Kammrath, A., Galloway, M. M., Coens, K. L., and Keutsch, F. N.: A laser induced fluorescence-based instrument for in-situ measurements of atmospheric formaldehyde, Environ Sci. Technol., 43, 790–795, https://doi.org/10.1021/es801621f, 2009. a
Inomata, S., Tanimoto, H., Kameyama, S., Tsunogai, U., Irie, H., Kanaya, Y., and Wang, Z.: Technical Note: Determination of formaldehyde mixing ratios in air with PTR-MS: laboratory experiments and field measurements, Atmos. Chem. Phys., 8, 273–284, https://doi.org/10.5194/acp-8-273-2008, 2008. a, b
Kaiser, J., Li, X., Tillmann, R., Acir, I., Holland, F., Rohrer, F., Wegener, R., and Keutsch, F. N.: Intercomparison of Hantzsch and fiber-laser-induced-fluorescence formaldehyde measurements, Atmos. Meas. Tech., 7, 1571–1580, https://doi.org/10.5194/amt-7-1571-2014, 2014. a, b
Kelly, T. J. and Fortune, C. R.: Continuous monitoring of gaseous formaldehyde using an improved fluorescence approach, Int. J. Environ. An. Ch., 54, 249–263, https://doi.org/10.1080/03067319408034093, 1994. a
Kuhn, U., Andreae, M. O., Ammann, C., Araújo, A. C., Brancaleoni, E., Ciccioli, P., Dindorf, T., Frattoni, M., Gatti, L. V., Ganzeveld, L., Kruijt, B., Lelieveld, J., Lloyd, J., Meixner, F. X., Nobre, A. D., Pöschl, U., Spirig, C., Stefani, P., Thielmann, A., Valentini, R., and Kesselmeier, J.: Isoprene and monoterpene fluxes from Central Amazonian rainforest inferred from tower-based and airborne measurements, and implications on the atmospheric chemistry and the local carbon budget, Atmos. Chem. Phys., 7, 2855–2879, https://doi.org/10.5194/acp-7-2855-2007, 2007. a
Leuchner, M., Ghasemifard, H., Lüpke, M., Ries, L., Schunk, C., and Menzel, A.: Seasonal and diurnal variation of formaldehyde and its meteorological drivers at the GAW site Zugspitze, Aerosol Air Qual. Res., 16, 801–815, https://doi.org/10.4209/aaqr.2015.05.0334, 2016. a
Li, X., Wang, S., Zhou, R., and Zhou, B.: Urban atmospheric formaldehyde concentrations measured by a differential optical absorption spectroscopy method, Environ. Sci., 16, 291–297, https://doi.org/10.1039/C3EM00545C, 2014. a
Liu, J., Li, X., Yang, Y., Wang, H., Wu, Y., Lu, X., Chen, M., Hu, J., Fan, X., Zeng, L., and Zhang, Y.: An IBBCEAS system for atmospheric measurements of glyoxal and methylglyoxal in the presence of high NO2 concentrations, Atmos. Meas. Tech., 12, 4439–4453, https://doi.org/10.5194/amt-12-4439-2019, 2019. a
Liu, X., Mason, M. A., Guo, Z., Krebs, K. A., and Roache, N. F.: Source emission and model evaluation of formaldehyde from composite and solid wood furniture in a full-scale chamber, Atmos. Environ., 122, 561–568, https://doi.org/10.1016/j.atmosenv.2015.09.062, 2015. a
Lowe, D. C. and Schmidt, U.: Formaldehyde (HCHO) measurements in the nonurban atmosphere, J. Geophys. Res.-Oceans, 88, 10844–10858, https://doi.org/10.1029/JC088iC15p10844, 1983. a
McManus, J. B., Zahniser, M., Nelson, D., Shorter, J., Herndon, S., Wood, E., and Wehr, R.: Application of quantum cascade lasers to high-precision atmospheric trace gas measurements, Opt. Eng., 49, 111124, https://doi.org/10.1117/1.3498782, 2010. a
Nogueira, T., Dominutti, P. A., de Carvalho, L. R. F., Fornaro, A., and Andrade, M. D. F.: Formaldehyde and acetaldehyde measurements in urban atmosphere impacted by the use of ethanol biofuel: Metropolitan area of Sao Paulo (MASP), Fuel, 134, 505–513, https://doi.org/10.1016/j.fuel.2014.05.091, 2014. a
Novelli, A., Vereecken, L., Bohn, B., Dorn, H.-P., Gkatzelis, G. I., Hofzumahaus, A., Holland, F., Reimer, D., Rohrer, F., Rosanka, S., Taraborrelli, D., Tillmann, R., Wegener, R., Yu, Z., Kiendler-Scharr, A., Wahner, A., and Fuchs, H.: Importance of isomerization reactions for OH radical regeneration from the photo-oxidation of isoprene investigated in the atmospheric simulation chamber SAPHIR, Atmos. Chem. Phys., 20, 3333–3355, https://doi.org/10.5194/acp-20-3333-2020, 2020. a
Parrish, D. D., Ryerson, T. B., Mellqvist, J., Johansson, J., Fried, A., Richter, D., Walega, J. G., Washenfelder, R. A., de Gouw, J. A., Peischl, J., Aikin, K. C., McKeen, S. A., Frost, G. J., Fehsenfeld, F. C., and Herndon, S. C.: Primary and secondary sources of formaldehyde in urban atmospheres: Houston Texas region, Atmos. Chem. Phys., 12, 3273–3288, https://doi.org/10.5194/acp-12-3273-2012, 2012. a
Picarro Inc.: H2CO gas concentration analyzer – datasheet, G2307-DS24-V1.1-180405, available at: https://www.picarro.com/sites/default/files/Picarro_G2307%20Datasheet_180328.pdf, last access: 10 September 2020. a, b, c, d, e
Platt, U. and Stutz, J.: Differential optical absorption spectroscopy, principles and applications, Springer, Berlin, Germany, ISBN: 978-3-540-21193-8, 2008. a, b
Qin, D., Guo, B., Zhou, J., Cheng, H., and Chen, X.: Indoor air formaldehyde (HCHO) pollution of urban coach cabins, Sci. Rep.-UK, 10, 332, https://doi.org/10.1038/s41598-019-57263-4, 2020. a
Resch-Genger, U. and Rurack, K.: Determination of the photoluminescence quantum yield of dilute dye solutions (IUPAC Technical Report), Pure Appl. Chem., 85, 2005–2013, https://doi.org/10.1351/pac-rep-12-03-03, 2013. a
Rohrer, F., Bohn, B., Brauers, T., Brüning, D., Johnen, F.-J., Wahner, A., and Kleffmann, J.: Characterisation of the photolytic HONO-source in the atmosphere simulation chamber SAPHIR, Atmos. Chem. Phys., 5, 2189–2201, https://doi.org/10.5194/acp-5-2189-2005, 2005. a, b
Rurack, K. and Spieles, M.: Fluorescence quantum yields of a series of red and near-infrared dyes emitting at 600–1000 nm, Anal. Chem., 83, 1232–1242, https://doi.org/10.1021/ac101329h, 2011. a
Salmon, R. A., Bauguitte, S. J.-B., Bloss, W., Hutterli, M. A., Jones, A. E., Read, K., and Wolff, E. W.: Measurement and interpretation of gas phase formaldehyde concentrations obtained during the CHABLIS campaign in coastal Antarctica, Atmos. Chem. Phys., 8, 4085–4093, https://doi.org/10.5194/acp-8-4085-2008, 2008. a
Salthammer, T.: Formaldehyde sources, formaldehyde concentrations and air exchange rates in European housings, Build. Environ., 150, 219–232, https://doi.org/10.1016/j.buildenv.2018.12.042, 2019. a, b
Schlosser, E., Bohn, B., Brauers, T., Dorn, H.-P., Fuchs, H., Häseler, R., Hofzumahaus, A., Holland, F., Rohrer, F., Rupp, L. O., Siese, M., Tillmann, R., and Wahner, A.: Intercomparison of two hydroxyl radical measurement techniques at the atmosphere simulation chamber SAPHIR, J. Atmos. Chem., 56, 187–205, https://doi.org/10.1007/s10874-006-9049-3, 2007. a
Schlosser, E., Brauers, T., Dorn, H.-P., Fuchs, H., Häseler, R., Hofzumahaus, A., Holland, F., Wahner, A., Kanaya, Y., Kajii, Y., Miyamoto, K., Nishida, S., Watanabe, K., Yoshino, A., Kubistin, D., Martinez, M., Rudolf, M., Harder, H., Berresheim, H., Elste, T., Plass-Dülmer, C., Stange, G., and Schurath, U.: Technical Note: Formal blind intercomparison of OH measurements: results from the international campaign HOxComp, Atmos. Chem. Phys., 9, 7923–7948, https://doi.org/10.5194/acp-9-7923-2009, 2009. a
Seinfeld, J. H. and Pandis, S. N.: Atmospheric Chemistry and Physics: From Air Pollution to Climate Change, edn. 3, John Wiley & Sons, Hoboken, New Jersey, USA, 1152 pp., ISBN 978-1-118-94740-1, 2016. a
Shutter, J. D., Allen, N. T., Hanisco, T. F., Wolfe, G. M., St. Clair, J. M., and Keutsch, F. N.: A new laser-based and ultra-portable gas sensor for indoor and outdoor formaldehyde (HCHO) monitoring, Atmos. Meas. Tech., 12, 6079–6089, https://doi.org/10.5194/amt-12-6079-2019, 2019. a, b
Still, T. J., Al-Haider, S., Seakins, P. W., Sommariva, R., Stanton, J. C., Mills, G., and Penkett, S. A.: Ambient formaldehyde measurements made at a remote marine boundary layer site during the NAMBLEX campaign – a comparison of data from chromatographic and modified Hantzsch techniques, Atmos. Chem. Phys., 6, 2711–2726, https://doi.org/10.5194/acp-6-2711-2006, 2006. a
Sumner, A. L., Shepson, P. B., Couch, T. L., Thornberry, T., Carroll, M. A., Sillman, S., Pippin, M., Bertman, S., Tan, D., Faloona, I., Brune, W., Young, V., Cooper, O., Moody, J., and Stockwell, W.: A study of formaldehyde chemistry above a forest canopy, J. Geophys. Res.-Atmos., 106, 24387–24405, https://doi.org/10.1029/2000JD900761, 2001. a
Vlasenko, A., Macdonald, A. M., Sjostedt, S. J., and Abbatt, J. P. D.: Formaldehyde measurements by Proton transfer reaction – Mass Spectrometry (PTR-MS): correction for humidity effects, Atmos. Meas. Tech., 3, 1055–1062, https://doi.org/10.5194/amt-3-1055-2010, 2010. a
Warneke, C., Veres, P., Holloway, J. S., Stutz, J., Tsai, C., Alvarez, S., Rappenglueck, B., Fehsenfeld, F. C., Graus, M., Gilman, J. B., and de Gouw, J. A.: Airborne formaldehyde measurements using PTR-MS: calibration, humidity dependence, inter-comparison and initial results, Atmos. Meas. Tech., 4, 2345–2358, https://doi.org/10.5194/amt-4-2345-2011, 2011. a, b, c
Washenfelder, R. A., Attwood, A. R., Flores, J. M., Zarzana, K. J., Rudich, Y., and Brown, S. S.: Broadband cavity-enhanced absorption spectroscopy in the ultraviolet spectral region for measurements of nitrogen dioxide and formaldehyde, Atmos. Meas. Tech., 9, 41–52, https://doi.org/10.5194/amt-9-41-2016, 2016. a
Weibring, P., Richter, D., Walega, J. G., and Fried, A.: First demonstration of a high performance difference frequency spectrometer on airborne platforms, Opt. Express, 15, 13476–13495, https://doi.org/10.1364/OE.15.013476, 2007. a
Winberry, W. T., Richter, D., Walega, J. G., and Fried, A.: Compendium of methods for the determination of toxic organic compounds in ambient air: Compendium method TO11A, edn. 2, U.S. Environmental Protection Agency, Cincinnati, Ohio, USA, 1999. a
Wisthaler, A., Apel, E. C., Bossmeyer, J., Hansel, A., Junkermann, W., Koppmann, R., Meier, R., Müller, K., Solomon, S. J., Steinbrecher, R., Tillmann, R., and Brauers, T.: Technical Note: Intercomparison of formaldehyde measurements at the atmosphere simulation chamber SAPHIR, Atmos. Chem. Phys., 8, 2189–2200, https://doi.org/10.5194/acp-8-2189-2008, 2008. a, b, c, d
Wolfe, G. M., Nicely, J. M., St. Clair, J. M., Hanisco, T. F., Liao, J., Oman, L. D., Brune, W. B., Miller, D., Thames, A., González Abad, G., Ryerson, T. B., Thompson, C. R., Peischl, J., McKain, K., Sweeney, C., Wennberg, P. O., Kim, M., Crounse, J. D., Hall, S. R., Ullmann, K., Diskin, G., Bui, P., Chang, C., and Dean-Day, J.: Mapping hydroxyl variability throughout the global remote troposphere via synthesis of airborne and satellite formaldehyde observations, P. Natl. Acad. Sci. USA, 116, 11171–11180, https://doi.org/10.1073/pnas.1821661116, 2019.  a
World Health Organization: Who guidelines for indoor air quality: selected pollutants, World Health Organization (WHO), Copenhagen, Denmark, 103–142, 2010. a
Xiong, J., Zhang, Y., and Huang, S.: Characterisation of VOC and Formaldehyde Emission from building materials in a static environmental chamber: Model development and application, Indoor Built Environ., 20, 217–225, https://doi.org/10.1177/1420326X103874801, 2011. a
Yuan, B., Koss, A. R., Warneke, C., Coggon, M., Sekimoto, K., and de Gouw, J. A.: Proton-Transfer-Reaction Mass Spectrometry: Applications in atmospheric sciences, Chem. Rev., 117, 13187–13229, https://doi.org/10.1021/acs.chemrev.7b00325, 2017. a
Zhang, Y., Li, R., Min, Q., Bo, H., Fu, Y., Wang, Y., and Gao, Z.: The controlling factors of atmospheric formaldehyde (HCHO) in Amazon as seen from satellite, Earth Space Sci., 6, 959–971, https://doi.org/10.1029/2019EA000627, 2019. a