Articles | Volume 14, issue 6
https://doi.org/10.5194/amt-14-4445-2021
© Author(s) 2021. This work is distributed under
the Creative Commons Attribution 4.0 License.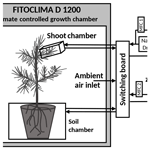 An automated system for trace gas flux measurements from plant foliage and other plant compartments
Plant shoots can act as sources or sinks of trace gases including methane and nitrous oxide. Accurate measurements of these trace gas fluxes require enclosing of shoots in closed non-steady-state chambers. Due to plant physiological activity, this type of enclosure, however, leads to CO2 depletion in the enclosed air volume, condensation of transpired water, and warming of the enclosures exposed to sunlight, all of which may bias the flux measurements. Here, we present ShoTGa-FluMS (SHOot Trace Gas FLUx Measurement System), a novel measurement system designed for continuous and automated measurements of trace gas and volatile organic compound (VOC) fluxes from plant shoots. The system uses transparent shoot enclosures equipped with Peltier cooling elements and automatically replaces fixated CO2 and removes transpired water from the enclosure. The system is designed for measuring trace gas fluxes over extended periods, capturing diurnal and seasonal variations, and linking trace gas exchange to plant physiological functioning and environmental drivers. Initial measurements show daytime CH4 emissions of two pine shoots of 0.056 and 0.089 nmol per gram of foliage dry weight (d.w.) per hour or 7.80 and 13.1 . Simultaneously measured CO2 uptake rates were 9.2 and 7.6 , and transpiration rates were 1.24 and 0.90 . Concurrent measurement of VOC emissions demonstrated that potential effects of spectral interferences on CH4 flux measurements were at least 10-fold smaller than the measured CH4 fluxes. Overall, this new system solves multiple technical problems that have so far prevented automated plant shoot trace gas flux measurements and holds the potential for providing important new insights into the role of plant foliage in the global CH4 and N2O cycles.
Received: 18 Mar 2021 – Discussion started: 22 Mar 2021 – Revised: 19 May 2021 – Accepted: 20 May 2021 – Published: 17 Jun 2021
Plants have recently been recognized as potential sources and sinks of atmospheric trace gases including the greenhouse gases methane (CH4) and nitrous oxide (N2O) (e.g. Keppler et al., 2006; Machacova et al., 2016; Carmichael et al., 2014; Pangala et al., 2015; Machacova et al., 2019). Measurements of the CH4 and N2O exchange between plants and the atmosphere, however, so far remain mostly limited to stem surface fluxes (Barba et al., 2019a; Covey and Megonigal, 2019), where recent advances in measurement techniques have enabled continuous measurements of trace gas fluxes by automated chamber systems (Barba et al., 2019b). While the CO2 exchange from plant shoots has been measured for more than a century, few direct measurements of the CH4 and N2O exchange of plant shoots and/or foliage have been reported thus far (Machacova et al., 2016; Sundqvist et al., 2012; Takahashi et al., 2012). In particular, no continuous measurements of tree shoot CH4 or N2O exchange have yet been conducted. This lack of available shoot flux data stands in contrast to reports of CH4 and N2O emissions from plant foliage under laboratory conditions and widespread speculation about their role in the global CH4 and N2O cycles (e.g. Keppler et al., 2006; Lenhart et al., 2018).
This data gap likely results from the high degree of technical difficulty associated with leaf-level trace gas flux measurements. Due to the small CH4 and N2O exchange rates at leaf surfaces relative to their atmospheric background mixing ratio, fluxes of these gases can only be measured by static (i.e. non-flow-through, non-steady-state) chamber techniques. In such measurements, a plant shoot is enclosed and the change in the trace gas mixing ratio over time is monitored in the enclosed air (e.g. Pihlatie et al., 2005, 2013). Such non-steady-state measurements, however, are impeded by other changes to the chemical and physical properties of the enclosure air volume. Plant shoots transpire water (H2O), fixate carbon dioxide (CO2), and emit volatile organic compounds (VOCs) at rates much higher than trace gas fluxes (e.g. Seco et al., 2007). This leads to the rapid accumulation of H2O and VOCs and the depletion of CO2 in the enclosed air volume. In addition, solar irradiation heats the enclosed space and temperatures 10 ∘C above ambient conditions have been reported even in large soil surface enclosures (Koskinen et al., 2014).
When measured concurrently with trace gas, fluxes of CO2, H2O, and VOCs can provide additional information on the mechanisms that control plant trace gas emissions. Water and CO2 fluxes allow us to quantify the gas conductivity of the leaf surface (i.e. stomatal conductance), and leaf metabolic activities (photosynthesis and respiration rates), respectively. Simultaneous measurements of VOC fluxes allow us to assess the potential links between CH4 and co-produced reactive compounds in plant foliage and thus help identify the source process of CH4 emissions (Benzing et al., 2017). In addition, VOC emissions may cause spectral interferences in trace gas analysers (Kohl et al., 2019). Monitoring VOC fluxes concurrently with trace gas fluxes can therefore help ensure the validity of trace gas flux measurements.
Continuous, automated, and frequent measurements of plant shoot trace gas exchange will lead to important insights into the basic mechanisms of plant–atmosphere interactions and the role of vegetation in the global cycles of CH4, N2O, and other trace gases. Realizing this potential, however, requires a solution to the above-mentioned technical challenges as currently commercially available leaf-level trace gas exchange measurement systems (e.g. Li-Cor LI-6800) are limited to dynamic chamber measurements and provide insufficient leak tightness for static chamber measurements. Here, we present ShoTGa-FluMS (SHOot Trace Gas FLUx Measurement System), a measurement system capable of measuring trace gas exchange at plant shoots while regulating temperature, humidity, and CO2 mixing ratios in the shoot enclosure. We designed the system as a modular setup adaptable to different measurement projects and so far have constructed two implementations optimized for distinct measurement needs (Fig. 1). The first implementation, designated ShoTGa-clim2, is connected to two chambers placed inside a climate-controlled plant growth cabinet and is currently used to measure shoot CH4 emissions and root-to-shoot CH4 transport under controlled environmental conditions (Fig. 1a). The second implementation, named ShoTGa-gh7, fits up to seven shoot chambers and is currently used for treatment–control experiments with tree saplings in a greenhouse compartment (Fig. 1b).
Both systems are capable of (1) temperature control (cooling) of each shoot chamber; (2) automated static chamber (i.e. closed-loop) trace gas exchange measurements of inert gases (e.g. CH4, N2O) with autonomous CO2 addition and removal of excess humidity; (3) dynamic chamber (i.e. flow-through, steady-state) measurements of CO2, H2O, and VOC fluxes; (4) flushing of the shoot chamber with ambient air between the measurements; and (5) recording of temperature and photosynthetically active radiation (PAR) from the chambers.
In this publication, we describe the setup of the two systems and provide results from initial tests and a validation experiment with two Scots pines (Pinus sylvestris) placed in ShoTGa-gh7. We focus on the overall system setup, environmental controls, and CH4 flux measurements. CO2, H2O, and VOC flux measurements follow routine dynamic chamber methods and are only discussed to the extent to which they are relevant for the overall system design.
We developed an automated system to measure trace gas fluxes from plant shoots and other plant compartments while controlling the temperature, CO2 mixing ratio, and humidity in the plant chamber. Initial tests demonstrated that the system can detect CH4 fluxes at the scale reported for plant shoots. The system also allows the monitoring of water, CO2, and VOC fluxes. It is built in a modular way that is easy to customize and/or expand to different chamber types. We have constructed two implementations of this setup that are designed to measure trace gas fluxes from a single plant under controlled environmental conditions in a growth chamber and from multiple plants in a greenhouse compartment. Future development will aim to adapt the system to allow its deployment under field conditions, e.g. at long-term monitoring sites.
Code and data availability
MPi developed the initial concept. MK, LK, and MPi set out the design goals. MK, TP, LK, and KR came up with engineering solutions. TP was the main engineer responsible for building the systems with help from MK, LK, ST, and KR. MK wrote the control software for the systems; LK wrote the data analysis pipeline. LK, MK, MPa, and AZ analysed data from validation experiments. ST conducted the validation experiments with help from MK, LK, TP, and MPa. LK wrote the first draft of the manuscript with inputs from MK. All co-authors contributed to the final paper.
The author declares that there is no conflict of interest.
We would like to thank Juho Aalto and Heikki Laakso for advice while designing the system and Olli-Pekka Tikkasalo for help with parameterizing the CO2 injection model.
This research has been supported by the H2020 European Research Council (grant no. 757695), the Academy of Finland (grant nos. 319329 and 2884941), the H2020 Marie Skłodowska-Curie Actions (grant no. 843511), and the Maj ja Tor Nesslingin Säätiö.

Open-access funding was provided by the Helsinki University Library.
This paper was edited by Hendrik Fuchs and reviewed by two anonymous referees.
Barba, J., Bradford, M. A., Brewer, P. E., Bruhn, D., Covey, K., van Haren, J., Megonigal, J. P., Mikkelsen, T. N., Pangala, S. R., Pihlatie, M., Poulter, B., Rivas-Ubach, A., Schadt, C. W., Terazawa, K., Warner, D. L., Zhang, Z., and Vargas, R.: Methane emissions from tree stems: a new frontier in the global carbon cycle, New Phytol., 222, 18–28, https://doi.org/10.1111/nph.15582, 2019a. a
Barba, J., Poyatos, R., and Vargas, R.: Automated measurements of greenhouse gases fluxes from tree stems and soils: magnitudes, patterns and drivers, Sci. Rep., 9, 4005, https://doi.org/10.1038/s41598-019-39663-8, 2019b. a
Benzing, K., Comba, P., Martin, B., Pokrandt, B., and Keppler, F.: Nonheme Iron-Oxo-Catalyzed Methane Formation from Methyl Thioethers: Scope, Mechanism, and Relevance for Natural Systems, Chemistry, 23, 10465–10472, https://doi.org/10.1002/chem.201701986, 2017. a
Buck, A. L.: New equations for computing vapour pressure and enhancement factor, J. Appl. Meteorol., 20, 1527–1532, https://doi.org/10.1175/1520-0450(1981)020<1527:nefcvp>2.0.co;2, 1981. a
Cappellin, L., Algarra Alarcon, A., Herdlinger-Blatt, I., Sanchez, J., Biasioli, F., Martin, S. T., Loreto, F., and McKinney, K. A.: Field observations of volatile organic compound (VOC) exchange in red oaks, Atmos. Chem. Phys., 17, 4189–4207, https://doi.org/10.5194/acp-17-4189-2017, 2017. a
Carmichael, S. L., Yang, W., Roberts, E., Kegley, S. E., Padula, A. M., English, P. B., Lammer, E. J., and Shaw, G. M.: Residential agricultural pesticide exposures and risk of selected congenital heart defects among offspring in the San Joaquin Valley of California, Environ. Res., 135, 133–138, https://doi.org/10.1016/j.envres.2014.08.030, 2014. a
Cojocariu, C., Kreuzwieser, J., and Rennenberg, H.: Correlation of short-chained carbonyls emitted from Picea abies with physiological and environmental parameters, New Phytol., 162, 717–727, https://doi.org/10.1111/j.1469-8137.2004.01061.x, 2004. a
Covey, K. R. and Megonigal, J. P.: Methane production and emissions in trees and forests, New Phytol., 222, 35–51, https://doi.org/10.1111/nph.15624, 2019. a
Keppler, F., Hamilton, J. T. G., Braß, M., and Röckmann, T.: Methane emissions from terrestrial plants under aerobic conditions, Nature, 439, 187–191, https://doi.org/10.1038/nature04420, 2006. a, b, c, d, e
Kohl, L., Koskinen, M., Rissanen, K., Haikarainen, I., Polvinen, T., Hellén, H., and Pihlatie, M.: Technical note: Interferences of volatile organic compounds (VOCs) on methane concentration measurements, Biogeosciences, 16, 3319–3332, https://doi.org/10.5194/bg-16-3319-2019, 2019. a, b, c
Kohl, L., Koskinen, M., Polvinen, T., Tenhovirta, S., Rissanen, K., Patama, M., Zanetti, A., and Pihlatie, M.: An automated system for trace gas flux measurements from plantfoliage and other plant compartments (Version 1), Zenodo [data set], https://doi.org/10.5281/zenodo.4609836, 2021. a
Koskinen, M.: koppismear: a programming platform for operating automatized trace gas flux measurement systems, Bitbucket [program code], available at: https://bitbucket.org/makoskinen/koppismear/, last access: 12 June 2021. a
Koskinen, M., Minkkinen, K., Ojanen, P., Kämäräinen, M., Laurila, T., and Lohila, A.: Measurements of CO2 exchange with an automated chamber system throughout the year: challenges in measuring night-time respiration on porous peat soil, Biogeosciences, 11, 347–363, https://doi.org/10.5194/bg-11-347-2014, 2014. a
Lenhart, K., Behrendt, T., Greiner, S., Steinkamp, J., Well, R., Giesemann, A., and Keppler, F.: Nitrous oxide effluxes from plants as a potentially important source to the atmosphere, New Phytol., 221, 1398–1408, https://doi.org/10.1111/nph.15455, 2018. a
Machacova, K., Bäck, J., Vanhatalo, A., Halmeenmäki, E., Kolari, P., Mammarella, I., Pumpanen, J., Acosta, M., Urban, O., and Pihlatie, M.: Pinus sylvestris as a missing source of nitrous oxide and methane in boreal forest, Sci. Rep., 6, 1–8, https://doi.org/10.1038/srep23410, 2016. a, b, c, d
Machacova, K., Vainio, E., Urban, O., and Pihlatie, M.: Seasonal dynamics of stem N2O exchange follow the physiological activity of boreal trees, Nat. Commun., 10, 4989, https://doi.org/10.1038/s41467-019-12976-y, 2019. a
Pangala, S. R., Hornibrook, E. R., Gowing, D. J., and Gauci, V.: The contribution of trees to ecosystem methane emissions in a temperate forested wetland, Glob. Change Biol., 21, 2642–2654, https://doi.org/10.1111/gcb.12891, 2015. a
Pihlatie, M., Ambus, P., Rinne, J., Pilegaard, K., and Vesala, T.: Plant-mediated nitrous oxide emissions from beech (Fagus sylvatica) leaves, New Phytol., 168, 93–98, https://doi.org/10.1111/j.1469-8137.2005.01542.x, 2005. a
Pihlatie, M. K., Christiansen, J. R., Aaltonen, H., Korhonen, J. F., Nordbo, A., Rasilo, T., Benanti, G., Giebels, M., Helmy, M., Sheehy, J., Jones, S., Juszczak, R., Klefoth, R., Lobo-do Vale, R., Rosa, A. P., Schreiber, P., Serça, D., Vicca, S., Wolf, B., and Pumpanen, J.: Comparison of static chambers to measure CH4 emissions from soils, Agr. Forest Meteorol., 171–172, 124–136, https://doi.org/10.1016/j.agrformet.2012.11.008, 2013. a
R Development Core Team: R: A Language and Environment for Statistical Computing, available at: http://www.r-project.org (last access: 13 June 2021), 2015. a
Seco, R., Peñuelas, J., and Filella, I.: Short-chain oxygenated VOCs: Emission and uptake by plants and atmospheric sources, sinks, and concentrations, Atmos. Environ., 41, 2477,,2499, https://doi.org/10.1016/j.atmosenv.2006.11.029, 2007. a
Sundqvist, E., Crill, P., Mlder, M., Vestin, P., and Lindroth, A.: Atmospheric methane removal by boreal plants, Geophys. Res. Lett., 39, L21806, https://doi.org/10.1029/2012GL053592, 2012. a
Taipale, R., Ruuskanen, T. M., Rinne, J., Kajos, M. K., Hakola, H., Pohja, T., and Kulmala, M.: Technical Note: Quantitative long-term measurements of VOC concentrations by PTR-MS – measurement, calibration, and volume mixing ratio calculation methods, Atmos. Chem. Phys., 8, 6681–6698, https://doi.org/10.5194/acp-8-6681-2008, 2008. a
Takahashi, K., Kosugi, Y., Kanazawa, A., and Sakabe, A.: Automated closed-chamber measurements of methane fluxes from intact leaves and trunk of Japanese cypress, Atmos. Environ., 51, 329–332, https://doi.org/10.1016/j.atmosenv.2012.01.033, 2012.  a
Tarvainen, V., Hakola, H., Hellén, H., Bäck, J., Hari, P., and Kulmala, M.: Temperature and light dependence of the VOC emissions of Scots pine, Atmos. Chem. Phys., 5, 989–998, https://doi.org/10.5194/acp-5-989-2005, 2005. a