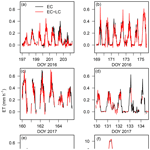 Bioclimatology, University of Goettingen, Büsgenweg 2, 37077 Göttingen, Germany
Correspondence: Christian Markwitz (christian.markwitz@forst.uni-goettingen.de)
Received: 02 Nov 2018 – Discussion started: 18 Feb 2019 – Revised: 26 Jun 2019 – Accepted: 13 Jul 2019 – Published: 03 Sep 2019
Heterogeneous land surfaces require multiple measurement units for spatially adequate sampling and representative fluxes. The complexity and cost of traditional eddy covariance (EC) set-ups typically limits the feasible number of sampling units. Therefore, new low-cost eddy covariance systems provide ideal opportunities for spatially replicated sampling.
The aim of this study was to test the performance of a compact, low-cost pressure, temperature and relative humidity sensor for the application of evapotranspiration measurements by eddy covariance over agroforestry and conventional agriculture in Germany. We performed continuous low-cost eddy covariance measurements over agroforestry and conventional agriculture for reference at five sites across northern Germany over a period of 2 years from 2016 to 2017. We conducted side-by-side measurements using a roving enclosed-path eddy covariance set-up to assess the performance of the low-cost eddy covariance set-up.
Evapotranspiration measured with low-cost eddy covariance compared well with fluxes from conventional eddy covariance. The slopes of linear regressions for evapotranspiration comparing low-cost and conventional eddy covariance set-ups ranged from 0.86 to 1.08 for 5 out of 10 sites, indicating a 14 % flux underestimation and a 8 % flux overestimation relative to the conventional eddy covariance set-up, respectively. Corresponding coefficients of determination, R2, ranged from 0.71 to 0.94 across sites. The root-mean-square error for differences between latent heat fluxes obtained by both set-ups were small compared to the overall flux magnitude, with a mean and standard deviation of 34.23±3.2 W m−2, respectively, across sites.
The spectral response characteristics of the low-cost eddy covariance set-up were inferior to the eddy covariance set-up in the inertial sub-range of the turbulent spectrum. The water vapour flux co-spectrum of the low-cost eddy covariance set-up underestimated the theoretical slope of , stronger than the conventional eddy covariance set-up. This underestimation was mainly caused by the limited response time of the low-cost thermohygrometer being longer than 1 s.
We conclude that low-cost eddy covariance sensors are an alternative to conventional eddy covariance sensors when, first, replicates are required and, second, the spatial variability of fluxes of the ecosystems of interest is larger than above-reported set-up-specific differences in fluxes.
Eddy covariance (EC) is often the method of choice for measurements of the ecosystem–atmosphere exchange of water vapour, sensible heat, momentum and trace gases (Baldocchi, 2003, 2014; Farahani et al., 2007) over a variety of ecosystems. In ecosystems with a spatial variability of surface cover, the representativity of the measured fluxes is limited by the flux footprint extent (Schmid, 2002). Either the spatial variability of fluxes remains undetected (for small footprints) or can not be resolved explicitly (for large footprints). Such heterogeneous ecosystems require multiple towers for spatially representative flux sampling.
While the single-tower approach is still most common for ecosystem studies, a few studies have performed replicated EC measurements. Davis et al. (2010) studied carbon fluxes over an arable site in southeastern Ireland. Hollinger and Richardson (2005) used a set of two flux towers separated by a distance of 775 m for uncertainty estimation of EC flux measurements. Replication of sampling points was traditionally limited by high costs and the complexity of conventional EC set-ups. Therefore, there is increasing interest in the development of low-cost sensors for different applications in the biogeosciences.
Dias et al. (2007) proposed a cost-efficient direct attenuated EC set-up to measure latent heat fluxes, combining a sonic anemometer and a hygrometer of fast response. They applied a correction factor to the time-domain covariance between the vertical velocity and relative humidity measurements. Hill et al. (2017) presented a low-cost measuring set-up to measure both CO2 and water vapour fluxes and discussed the value of increasing the number of measuring complexes for the statistical power of EC measurements in a variety of landscapes. Hill et al. (2017) concluded that at least four flux towers per site are required to confirm with a statistical confidence of 95 % that the flux over 1 year is not 0 and therefore to accept with a statistical confidence of 5 % that the annual flux is 0. This is of major importance for an ecosystem that is heterogeneous at a scale larger than the flux footprint of a single tower.
Besides the replication of measurement units within one ecosystem, the ecosystem-to-ecosystem replication of sampling points is of importance to, e.g. assess the potential of forests for climate change mitigation and as a CO2 sink (De Stefano and Jacobson, 2018). The outcome of synthesis studies, e.g. on the water use of terrestrial ecosystems at global scale (Tang et al., 2014), could be strengthened by an increased number of flux-measuring units across ecosystems. Low-cost instrumentation can foster replicated EC measurements across the globe, especially in ecoregions that are currently only sparsely sampled, such as Africa, Oceania (except Australia) and South America (Hill et al., 2017 and Table 1 therein). With replicated measurements using low-cost equipment, effects of land-use changes or different agriculture management practices on turbulent fluxes can be assessed. A prominent example are flux measurements over heterogeneously shaped short-rotation alley-cropping systems (ACS) as one type of agroforestry (AF) in comparison to monocultural agriculture systems. Flux measurements over AF require replicated measurements to capture the spatial variability of the turbulent fluxes both at a single AF system and across multiple AF systems.
Our objectives are (i) to test the performance of a new EC measuring complex under field conditions for measuring half-hourly evapotranspiration over alley-cropping agroforestry systems and monocultural agriculture systems and (ii) to evaluate the low-cost measuring complex relative to conventional EC instrumentation.
We presented a new low-cost eddy covariance set-up, which is comprised of a conventional ultrasonic anemometer and a low-cost thermohygrometer. We applied the eddy covariance method on the vertical velocity component and the water vapour mole fraction derived from the thermohygrometer. The advantages of the set-up are low material costs and low power consumption. The performance of the EC-LC set-up was comparable to the EC set-up with regards to mean evapotranspiration rates. The set-up-specific differences in mean evapotranspiration rates were insignificant compared to the variability between sites.
In detail, we were able to explain more than 80 % of the variability in evapotranspiration obtained by the conventional eddy covariance set-up by the variability of the low-cost eddy covariance set-up. The low-cost eddy covariance set-up is a good alternative to the conventional EC set-up for both conventional agriculture systems and agroforestry ecosystems at a temporal resolution of 30 min.
We showed that under conditions of high relative humidity and low air temperature the flux random error uncertainty of both set-ups was highest. ET rates obtained by the EC-LC set-up with limited frequency response had a lower relative difference with ET rates obtained by the EC set-up at the 10 m measurement height (AF) than at the 3.5 m height given a larger contribution of low-frequency eddies at the larger measurement height.
We anticipate potential applications of the EC-LC set-up in experiments comparing different treatments (management effects, different agriculture systems, water use) and chronosequences after fires or clear cuts. The set-up provides a tool for replicated ET measurements across different ecosystems. With low-cost instruments, flux measurements at existing flux networks such as FLUXNET, ICOS or NEON can be complemented and provided at remote and so-far under-represented sites.
CM designed and performed the field work, analysed the data, and wrote the manuscript. LS wrote the project's scientific proposal; acquired the funding as part of the BonaRes SIGNAL consortium; and contributed to field work, analysis, and manuscript writing.
The authors declare that they have no conflict of interest.
We wish to acknowledge contributions by Alexander Knohl and Mathias Herbst to the BonaRes SIGNAL proposal and project design, as well as the technical support in the field work received by Frank Tiedemann, Edgar Tunsch, Dietmar Fellert, Martin Lindenberg, Johann Peters (bioclimatology group) and Dirk Böttger (soil science group of tropical and subtropical ecosystems) from the University of Göttingen.
This research has been supported by the German Federal Ministry of Education and Research (BMBF, project BonaRes, Module A, SIGNAL 031A562A) and by the Deutsche Forschungsgemeinschaft (INST 186/1118-1 FUGG).

This open-access publication was funded
by the University of Göttingen.
This paper was edited by Christian Brümmer and reviewed by Timothy Hill and two anonymous referees.
Aubinet, M., Vesala, T., and Papale, D. (Eds.): Eddy Covariance: A Practica Guide to Measurement and Data Analysis, Springer Dordrecht, Heidelberg, London, New York, https://doi.org/10.1007/978-94-007-2351-1, 2012. a
Baldocchi, D. D.: Assessing the eddy covariance technique for evaluating carbon dioxide exchange rates of ecosystems: past, present and future, Glob. Change Biol., 9, 479–492, https://doi.org/10.1046/j.1365-2486.2003.00629.x, 2003. a
Baldocchi, D. D.: Measuring fluxes of trace gases and energy between ecosystems and the atmosphere – the state and future of the eddy covariance method, Glob. Change Biol., 20, 3600–3609, https://doi.org/10.1111/gcb.12649, 2014. a, b
Bosch Sensortec GmbH: BME280: Combined humidity and pressure sensor, 2016. a
Bundesamt für Kartographie und Geodäsie: Frankfurt am Main, available at: https://www.bkg.bund.de/DE/Home/home.html (last access: 21 August 2019), 2011. a
Burba, G., Schmidt, A., Scott, R. L., Nakai, T., Kathilankal, J., Fratini, G., Hanson, C., Law, B., Mcdermitt, D. K., Eckles, R., Furtaw, M., and Velgersdyk, M.: Calculating CO2 and H2O eddy covariance fluxes from an enclosed gas analyzer using an instantaneous mixing ratio, Glob. Change Biol., 18, 385–399, https://doi.org/10.1111/j.1365-2486.2011.02536.x, 2012. a
Davis, P. A., Brown, J. C., Saunders, M., Lanigan, G., Wright, E., Fortune, T., Burke, J., Connolly, J., Jones, M. B., and Osborne, B.: Assessing the effects of agricultural management practices on carbon fluxes: Spatial variation and the need for replicated estimates of Net Ecosystem Exchange, Agr. Forest Meteorol., 150, 564–574, https://doi.org/10.1016/j.agrformet.2010.01.021, 2010. a
De Stefano, A. and Jacobson, M. G.: Soil carbon sequestration in agroforestry systems: a meta-analysis, Agroforest. Syst., 92, 285–299, https://doi.org/10.1007/s10457-017-0147-9, 2018. a
Dias, N. L., Duarte, H. F., and Maggiotto, S. R.: An attenuated eddy covariance method for latent heat flux measurements, Water Resour. Res., 43, W04415, https://doi.org/10.1029/2006WR005259, 2007. a
Eugster, W. and Plüss, P.: A fault-tolerant eddy covariance system for measuring CH4 fluxes, Agr. Forest. Meteorol., 150, 841–851, https://doi.org/10.1016/j.agrformet.2009.12.008, 2010. a
Farahani, H. J., Howell, T. A., Shuttleworth, W. J., and Bausch, W. C.: Evapotranspiration: Progress in Measurement and Modeling in Agriculture, T. ASABE, 50, 1627–1638, 2007. a
Foken, T.: Micrometorology, vol. 1, Springer-Verlag Berlin Heidelberg, Bayreuth, 2008. a
Foken, T., Göckede, M., Mauder, M., Mahrt, L., Amiro, B., and Munger, W.: Post-field data quality control, Handbook of Micrometeorology, 29, 181–208, https://doi.org/10.1007/1-4020-2265-4_9, 2004. a
Fratini, G., Ibrom, A., Arriga, N., Burba, G., and Papale, D.: Relative humidity effects on water vapour fluxes measured with closed-path eddy-covariance systems with short sampling lines, Agr. Forest Meteorol., 165, 53–63, https://doi.org/10.1016/j.agrformet.2012.05.018, 2012. a, b, c
Hill, T., Chocholek, M., and Clement, R.: The case for increasing the statistical power of eddy covariance ecosystem studies: why, where and how?, Glob. Change Biol., 23, 2154–2165, https://doi.org/10.1111/gcb.13547, 2017. a, b, c, d
Hollinger, D. Y. and Richardson, A. D.: Uncertainty in eddy covariance measurements and its application to physiological models, Tree Physiol., 25, 873–885, https://doi.org/10.1093/treephys/25.7.873, 2005. a
Ibrom, A., Dellwik, E., Flyvbjerg, H., Jensen, N. O., and Pilegaard, K.: Strong low-pass filtering effects on water vapour flux measurements with closed-path eddy correlation systems, Agr. Forest Meteorol., 147, 140–156, https://doi.org/10.1016/j.agrformet.2007.07.007, 2007. a, b, c, d, e, f, g, h, i, j, k, l, m, n, o, p, q, r
Kaimal, J. and Finnigan, J.: Atmospheric boundary layer flows: Their structure and measurement, Oxford University Press, New York, 1994. a
Kaimal, J. C., Wyngaard, J. C., Izumi, Y., and Coté, O. R.: Spectral characteristics of surface layer turbulence, Q. J. Roy. Meteor. Soc., 98, 563–589, https://doi.org/10.1002/qj.49709841707, 1972. a
Kljun, N., Calanca, P., Rotach, M. W., and Schmid, H. P.: A simple two-dimensional parameterisation for Flux Footprint Prediction (FFP), Geosci. Model Dev., 8, 3695–3713, https://doi.org/10.5194/gmd-8-3695-2015, 2015. a
Kolmogorov, A. N.: The local structure of turbulence in incompressible viscous fluid for very large Reynolds numbers, P. Roy. Soc. Lond. A Mat., 434, 9–13, https://doi.org/10.1098/rspa.1991.0075, 1991. a
Kristensen, L. and Fritzjarrals, D. R.: The Effect of Line Averaging on Scalar Flux Measurements with a Sonic Anemometer near the Surface, J. Atmos. Ocean. Tech., 1, 138–146, https://doi.org/10.1175/1520-0426(1984)001<0138:TEOLAO>2.0.CO;2 1984. a, b
Legendre, P. and Oksanen, J.: lmodel2: Model II Regression, Tech. rep., 1.7-3, available at: https://cran.r-project.org/web/packages/lmodel2/lmodel2.pdf (last access: 21 August 2019), 2018. a
Lenschow, D. H. and Raupach, M. R.: The attenuation of fluctuations in scalar concentrations through sampling tubes, J. Geophys. Res., 96, 15259, https://doi.org/10.1029/91JD01437, 1991. a
Leuning, R. and Moncrieff, J.: Eddy-covariance CO2 flux measurements using open- and closed-path CO2 analysers: Corrections for analyser water vapour sensitivity and damping of fluctuations in air sampling tubes, Bound.-Lay. Meteorol., 53, 63–76, https://doi.org/10.1007/BF00122463, 1990. a
LI-COR, Inc.: EddyPro 6 – Eddy Covariance Software Instruction Manual, Tech. rep., 977-12025, 10th edn., 2015. a, b, c, d
Malec, S.: University of Kassel, Grassland Science and Renewable Plant Resources, unpublished data, 2017. a
Mann, J. and Lenschow, D. H.: Errors in airborne flux measurements, J. Geophys. Res., 99, 14519, https://doi.org/10.1029/94JD00737, 1994. a
Markwitz, C. and Siebicke, L.: Data set supporting journal article: Markwitz, C. and Siebicke, L.: "Low-cost eddy covariance: a case study of evapotranspiration over agroforestry in Germany", Atmos. Meas. Tech., 2019 (Version 1) [Data set], Zenodo, https://doi.org/10.5281/zenodo.3356837, 2019. a
Mauder, M. and Foken, T.: Impact of post-field data processing on eddy covariance flux estimates and energy balance closure, Meteorol. Z., 15, 597–609, https://doi.org/10.1127/0941-2948/2006/0167, 2006. a, b
Mauder, M. and Foken, T.: Documentation and Instruction Manual of the Eddy-Covariance Software Package TK3, Universität Bayreuth, Abt. Mikrometeorologie, 46 edn., 2011. a, b, c
Moncrieff, J., Massheder, J., de Bruin, H., Elbers, J., Friborg, T., Heusinkveld, B., Kabat, P., Scott, S., Soegaard, H., and Verhoef, A.: A system to measure surface fluxes of momentum, sensible heat, water vapour and carbon dioxide, J. Hydrol., 188–189, 589–611, https://doi.org/10.1016/S0022-1694(96)03194-0, 1997. a, b, c, d, e, f, g, h, i, j, k, l, m, n, o, p, q, r, s
Moncrieff, J., Clement, R., Finnigan, J., and Meyers, T.: Averaging, Detrending, and Filtering of Eddy Covariance Time Series, Handbook of Micrometeorology, 29, 7–31, https://doi.org/10.1007/1-4020-2265-4_2, 2004. a, b, c, d
Polonik, P., Chan, W., Billesbach, D., Burba, G., Li, J., Nottrott, A., Bogoev, I., Conrad, B., and Biraud, S.: Comparison of gas analyzers for eddy covariance: Effects of analyzer type and spectral corrections on fluxes, Agr. Forest Meteorol., 272–273, 128–142, https://doi.org/10.1016/j.agrformet.2019.02.010, 2019.  a
Richardson, A. D., Hollinger, D. Y., Burba, G. G., Davis, K. J., Flanagan, L. B., Katul, G. G., William Munger, J., Ricciuto, D. M., Stoy, P. C., Suyker, A. E., Verma, S. B., and Wofsy, S. C.: A multi-site analysis of random error in tower-based measurements of carbon and energy fluxes, Agr. Forest Meteorol., 136, 1–18, https://doi.org/10.1016/j.agrformet.2006.01.007, 2006. a
Rudolf, C.: Thurengian state office of agriculture and rural areas, unpublished data, 2017. a
Schmid, H. P.: Footprint modeling for vegetation atmosphere exchange studies: A review and perspective, Agr. Forest Meteorol., 113, 159–183, https://doi.org/10.1016/S0168-1923(02)00107-7, 2002. a
Schotanus, P., Nieuwstadt, F. T. M., and Bruin, D. H. A. R.: Temperature measurements with a SONIC anemometer and its application to heat and moisture fluxes, Bound.-Lay. Meteorol., 26, 81–93, https://doi.org/10.1007/BF00164332, 1983. a
Seserman, D.-M.: Brandenburg University of Technology, Cottbus-Senftenberg, Soil protection and recultivation, unpublished data, 2017. a
Stull, R. B.: An introduction to boundary layer meteorology, Kluwer Acadamic Publishers, Dordrecht, Boston, London, https://doi.org/10.1007/978-94-009-3027-8, 1989. a, b
Swieter, A. and Langhof, M.: Julius Kühn-Institut, Institute for crop and soil science, unpublished data, 2017. a, b
Tang, X., Li, H., Desai, A. R., Nagy, Z., Luo, J., Kolb, T. E., Olioso, A., Xu, X., Yao, L., Kutsch, W., Pilegaard, K., Köstner, B., and Ammann, C.: How is water-use efficiency of terrestrial ecosystems distributed and changing on Earth?, Scientific Reports, 4, 7483, https://doi.org/10.1038/srep07483, 2014. a
Trapletti, A. and Hornik, K.: tseries: Time Series Analysis and Computational Finance, Tech. rep., Version: 0.10-47, available at: https://cran.r-project.org/package=tseries (last access: 21 August 2019), 2017. a
Vickers, D. and Mahrt, L.: Quality control and flux sampling problems for tower and aircraft data, J. Atmos. Ocean. Tech., 14, 512–526, https://doi.org/10.1175/1520-0426(1997)014<0512:QCAFSP>2.0.CO;2, 1997. a, b, c
Webb, E. K., Pearman, G. I., and Leuning, R.: Correction of flux measurements for density effects due to heat and water vapour transfer, Q. J. Roy. Meteor. Soc., 106, 85–100, https://doi.org/10.1002/QJ.49710644707, 1980. a, b, c, d