Articles | Volume 12, issue 2
https://doi.org/10.5194/amt-12-891-2019
© Author(s) 2019. This work is distributed under
the Creative Commons Attribution 4.0 License.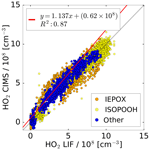 Measurements of hydroperoxy radicals (HO2) at atmospheric concentrations using bromide chemical ionisation mass spectrometry
Hydroxyl and hydroperoxy radicals are key species for the understanding of atmospheric oxidation processes. Their measurement is challenging due to their high reactivity; therefore, very sensitive detection methods are needed. Within this study, the measurement of hydroperoxy radicals (HO2) using chemical ionisation combined with a high-resolution time-of-flight mass spectrometer (Aerodyne Research Inc.) employing bromide as the primary ion is presented. The sensitivity reached is equal to 0.005×108 HO2 cm−3 for 106 cps of bromide and 60 s of integration time, which is below typical HO2 concentrations found in the atmosphere. The detection sensitivity of the instrument is affected by the presence of water vapour. Therefore, a water-vapour-dependent calibration factor that decreases approximately by a factor of 2 if the water vapour mixing ratio increases from 0.1 % to 1.0 % needs to be applied. An instrumental background, most likely generated by the ion source that is equivalent to a HO2 concentration of  molecules cm−3, is subtracted to derive atmospheric HO2 concentrations. This background can be determined by overflowing the inlet with zero air. Several experiments were performed in the atmospheric simulation chamber SAPHIR at the Forschungszentrum Jülich to test the instrument performance in comparison to the well-established laser-induced fluorescence (LIF) technique for measurements of HO2. A highly linear correlation coefficient of R2=0.87 is achieved. The slope of the linear regression of 1.07 demonstrates the good absolute agreement of both measurements. Chemical conditions during experiments allowed for testing the instrument's behaviour in the presence of atmospheric concentrations of H2O, NOx, and O3. No significant interferences from these species were observed. All of these facts demonstrate a reliable measurement of HO2 by the chemical ionisation mass spectrometer presented.
Received: 15 Jun 2018 – Discussion started: 21 Jun 2018 – Revised: 10 Dec 2018 – Accepted: 16 Jan 2019 – Published: 08 Feb 2019
Understanding of the oxidation processes in the atmosphere requires sensitive measurements of the radical species involved. Hydroxyl radicals (OH) are the most important oxidative species and are highly reactive to most of the inorganic and organic pollutants in the atmosphere. The primary sources of OH radicals are mainly due to ozone photolysis and, in polluted environments, nitrous acid (HONO) photolysis can also be of importance. Organic pollutants are oxidised by OH to produce organic peroxy radical species (RO2) and hydroperoxy radicals (HO2). OH and HO2 radicals are closely interconnected by a radical chain reaction, in which OH is reformed by the reaction of HO2 with nitric oxide (NO):
As the atmospheric lifetime of HO2 radicals is typically up to a factor of 10 longer than that of OH radicals, HO2 can be regarded as an important chemical reservoir for hydroxyl radical (OH). Atmospheric NO concentrations are often sufficiently high to maintain an efficient OH production through the reaction of HO2 with NO, so that Reaction (R1) provides a large portion of the total OH production. Measurements of both species are needed to analyse the OH radical's budget.
The majority of the techniques currently applied to measure atmospheric concentrations of HO2 radicals use chemical conversion, which is an indirect measurement. In chemical amplifying systems, a radical reaction cycle between OH and HO2 is established by adding two reactants. The concentration of the product species is therefore amplified compared to the small, initial HO2 concentration in the sampled air.
PEroxy RadiCal Amplification (PERCA) instruments make use of NO and CO for the conversion of HO2 to OH and OH to HO2, respectively. One NO2 molecule is produced in each reaction cycle so that the initially small HO2 concentration is amplified as NO2, which is then detected by a luminol detector, fluorescence, or absorption methods. Because RO2 is also converted to HO2 in the reaction with NO, these instruments measure the sum of RO2 and HO2. Typically, an amplification of roughly a factor of 100 is achieved to produce a measurable amount of NO2 (Cantrell et al., 1984; Hastie et al., 1991; Clemitshaw et al., 1997; Burkert et al., 2001; Wood et al., 2017; Sadanaga et al., 2004; Mihele and Hastie, 2000; Green et al., 2006; Andrés-Hernández et al., 2010).
Alternatively to CO, SO2 can be used in the chemical amplifier system (Reiner et al., 1997; Hanke et al., 2002; Edwards et al., 2003; Hornbrook et al., 2011). The high sensitivity of chemical ionisation mass spectrometer (CIMS) measurements using nitrate () as the primary ion allows for the detection sulfuric acid (H2SO4) produced in the reaction of SO2 with OH. Amplification factors of approximately 10 are sufficient in this case. Like in the PERCA instrument, RO2 is also converted to HO2 in the reaction with NO in these instruments. However, Hornbrook et al. (2011) developed a method to distinguish between HO2 and RO2 by operating the instrument in different chemical conditions (varying NO, SO2, and O2 concentrations), thereby changing the relative sensitivities for HO2 and RO2.
Laser-induced fluorescence (LIF) is a sensitive technique for OH radical measurements and it is used for the indirect detection of HO2 by its conversion into OH after reaction with NO. The concurrent conversion of some specific RO2 radicals can contribute to the HO2 signal (Fuchs et al., 2011; Whalley et al., 2013; Lew et al., 2018). This can be minimised by reducing the NO concentration added to the sampled air for the conversion of HO2 to OH, but at the cost of a reduced sensitivity. A comparison of three LIF instruments in 2010 before the RO2 interference was discovered showed significant differences in measured HO2 concentration in experiments in the SAPHIR chamber (Fuchs et al., 2010). This could have been partly due to interferences from RO2, but measurements also differed depending on the water-vapour concentration.
Several drawbacks are connected with existing HO2 detection methods. The PERCA systems exhibit a strong water vapour dependence on the amplification factor. In addition, chemical conversion of HO2 through the reaction with NO used in all instruments can lead to the concurrent conversion of RO2.
Previous work by Veres et al. (2015) showed that HO2 radicals can be detected with a CIMS instrument using iodide as the primary ion. Sanchez et al. (2016) demonstrated for the first time that this approach can also be used with Br−. HO2 radicals are directly measured by a mass spectrometer as an ion cluster formed with bromide ions. Sanchez et al. (2016) demonstrated that the most promising ionisation technique is the detection of the bromide cluster with HO2. In their work they showed that a sufficient sensitivity for atmospheric measurements can be achieved and no significant interference from NOx, HCHO, SO2, or O3 is present.
Following the concept of Sanchez et al. (2016), a bromide chemical ionisation mass spectrometer with improved sensitivity was developed in this work. An optimised ionisation flow tube was custom-built and mounted on top of a commercial, high-resolution time-of-flight mass spectrometer (TOF-MS, Aerodyne Res.). In addition to laboratory characterisation experiments that mostly confirmed results reported in Sanchez et al. (2016), the performance of the instrument was quantitatively assessed in a comparison of HO2 concentrations with measurements from an established HO2 instrument using laser-induced fluorescence. Experiments in the atmospheric simulation chamber SAPHIR were performed at atmospheric gas mixtures and radical concentrations.
3
Characterisation of the
HO2
-CIMS
Chemical ionisation was applied to measure atmospheric HO2 concentrations using bromide ions as a reagent. Laboratory characterisation experiments and measurements in the atmospheric simulation chamber SAPHIR in Jülich were used to check the instrument's applicability for atmospheric measurements.
The performance of the CIMS instrument is comparable with measurements from a laser-induced fluorescence instrument. A water vapour dependence of the instrument sensitivity needs to be taken into account in the evaluation of data because the sensitivity of the instrument changes by roughly a factor of 2 for atmospheric water-vapour concentrations between 0.2 % and 1.4 %. A water-vapour-dependent background signal is also observed. The change of the background signal with increasing water vapour, however, is explained by the water vapour dependence of the sensitivity. Therefore, the assumption is that the background consists of constant HO2 production in the instrument. This background was stable within ±12 % during 2 months of measurements and no further trend was identified. The background signal and the instrument detection sensitivity needs to be quantified on a daily basis.
No significant interference from trace gases NO, NO2, O3, CO, isoprene, and ISOPOOH were found for atmospheric conditions. Only non-atmospheric high IEPOX concentrations of several ppbv artificial signals were found that scaled with the IEPOX concentration. The HO2 measurements correlate well with the LIF measurements. A slope of the linear regression of 1.07 was determined and a linear correlation coefficient (R2) of 0.87 was found.
HO2 was directly sampled through a nozzle into a custom-built ion flow tube which was optimised for sensitivity. The sensitivity reached is equal to 0.005×108 HO2 cm−3 for 106 cps of bromide and 60 s of integration time, which is approximately 3 times higher than the sensitivity for a similar instrument by Sanchez et al. (2016). Therefore, the instrument is suitable for measuring typical HO2 concentrations in the atmosphere. Furthermore, the Allan deviation shows that the instrument follows Gaussian noise allowing an integration time of up to 500 s.
Chemical conditions in the chamber experiments were close to atmospheric conditions regarding the most important constituents of the atmosphere such as NOx, ozone and water vapour showing the applicability of the instrument under these conditions. First, future deployment in field experiments will be done with concurrent HO2 measurements by the LIF instrument, so that so far unrecognised potential interference can be identified.
For the future application of the instrument in field and chamber experiments, various modifications of the instrument will be tested to improve the sensitivity and minimise the background signal: a sheath flow of pure nitrogen in the ion flow tube could help to prevent wall contact of radicals in the ion flow tube. Further, the sheath flow could be humidified to prevent sensitivity loss for measurements performed in dry conditions. Additionally, an automated calibration will be installed to perform daily calibration and background measurements. An important benefit of the instrument is that the bromide ion chemistry can also detect organic compounds, specifically oxygenated organic compounds and acids. Therefore, the technique provides a valuable tool for future field and simulation experiments.
The authors declare that they have no conflict of interest.
This project has received funding from the European Research Council (ERC) (SARLEP grant agreement no. 681529) and from the European Research Council (EC) under the European Union's Horizon 2020 research and innovation programme (Eurochamp 2020 grant agreement no. 730997). Thanks to Patrick Veres from NOAA for the discussion and first ideas regarding the HO2 CIMS detection. We like to acknowledge Jean Rivera-Ros from the Harvard University and David Reimer from our institute for the synthesis of the VOCs used for this study. Thanks to Martin Breitenlechner, Alexander Zaytsev, and Frank N. Keutsch from the School of Engineering and Applied Sciences and Department of Chemistry and Chemical Biology, Harvard University, Cambridge, MA, USA, for the PTR measurements performed.

The article processing charges for this open-access
publication were covered by a Research
Centre of the Helmholtz Association.

Edited by: Lisa Whalley
Reviewed by: two anonymous referees
Andrés-Hernández, M. D., Stone, D., Brookes, D. M., Commane, R., Reeves, C. E., Huntrieser, H., Heard, D. E., Monks, P. S., Burrows, J. P., Schlager, H., Kartal, D., Evans, M. J., Floquet, C. F. A., Ingham, T., Methven, J., and Parker, A. E.: Peroxy radical partitioning during the AMMA radical intercomparison exercise, Atmos. Chem. Phys., 10, 10621–10638, https://doi.org/10.5194/acp-10-10621-2010, 2010. a
Apel, E. C., Brauers, T., Koppmann, R., Bandowe, B., Boßmeyer, J., Holzke, C., Tillmann, R., Wahner, A., Wegener, R., Brunner, A., Jocher, M., Ruuskanen, T., Spirig, C., Steigner, D., Steinbrecher, R., Gomez Alvarez, E., Müller, K., Burrows, J. P., Schade, G., Solomon, S. J., Ladstätter-Weißenmayer, A., Simmonds, P., Young, D., Hopkins, J. R., Lewis, A. C., Legreid, G., Reimann, S., Hansel, A., Wisthaler, A., Blake, R. S., Ellis, A. M., Monks, P. S., and Wyche, K. P.: Intercomparison of oxygenated volatile organic compound measurements at the SAPHIR atmosphere simulation chamber, J. Geophys. Res.-Atmos., 113, D20307, https://doi.org/10.1029/2008JD009865, 2008. a
Berresheim, H., Elste, T., Plass-Dülmer, C., Eiseleb, F., and Tannerb, D.: Chemical ionization mass spectrometer for long-term measurements of atmospheric OH and H2SO4, Int. J. Mass Spectrom., 202, 91–109, https://doi.org/10.1016/S1387-3806(00)00233-5, 2000. a, b
Burkert, J., Andrés-Hernández, M.-D., Stöbener, D., Burrows, J. P., Weissenmayer, M., and Kraus, A.: Peroxy radical and related trace gas measurements in the boundary layer above the Atlantic Ocean, J. Geophys. Res.-Atmos., 106, 5457–5477, https://doi.org/10.1029/2000jd900613, 2001. a
Caldwell, G., Masucci, J., and Ikonomou, M.: Negative ion chemical ionization mass spectrometry-binding of molecules to bromide and iodide anions, J. Mass Spectrom., 24, 8–14, https://doi.org/10.1002/oms.1210240103, 1989. a
Cantrell, C. A., Stedman, D. H., and Wendel, G. J.: Measurement of atmospheric peroxy radicals by chemical amplification, Anal. Chem., 56, 1496–1502, https://doi.org/10.1021/ac00272a065, 1984. a
Clemitshaw, K. C., Carpenter, L. J., Penkett, S. A., and Jenkin, M. E.: A calibrated peroxy radical chemical amplifier for ground-based tropospheric measurements, J. Geophys. Res.-Atmos., 102, 25405–25416, https://doi.org/10.1029/97jd01902, 1997. a
Dorn, H.-P., Apodaca, R. L., Ball, S. M., Brauers, T., Brown, S. S., Crowley, J. N., Dubé, W. P., Fuchs, H., Häseler, R., Heitmann, U., Jones, R. L., Kiendler-Scharr, A., Labazan, I., Langridge, J. M., Meinen, J., Mentel, T. F., Platt, U., Pöhler, D., Rohrer, F., Ruth, A. A., Schlosser, E., Schuster, G., Shillings, A. J. L., Simpson, W. R., Thieser, J., Tillmann, R., Varma, R., Venables, D. S., and Wahner, A.: Intercomparison of NO3 radical detection instruments in the atmosphere simulation chamber SAPHIR, Atmos. Meas. Tech., 6, 1111–1140, https://doi.org/10.5194/amt-6-1111-2013, 2013. a
Edwards, G. D., Cantrell, C. A., Stephens, S., Hill, B., Goyea, O., Shetter, R. E., Mauldin, R. L., Kosciuch, E., Tanner, D. J., and Eisele, F. L.: Chemical ionization mass spectrometer instrument for the measurement of tropospheric HO2 and RO2, Anal. Chem., 75, 5317–5327, https://doi.org/10.1021/ac034402b, 2003. a
Fuchs, H.: Eurochamp Database of Atmospheric Simulation Chamber Studies, available at: https://data.eurochamp.org/, last access: June 2018. a
Fuchs, H., Brauers, T., Dorn, H.-P., Harder, H., Häseler, R., Hofzumahaus, A., Holland, F., Kanaya, Y., Kajii, Y., Kubistin, D., Lou, S., Martinez, M., Miyamoto, K., Nishida, S., Rudolf, M., Schlosser, E., Wahner, A., Yoshino, A., and Schurath, U.: Technical Note: Formal blind intercomparison of HO2 measurements in the atmosphere simulation chamber SAPHIR during the HOxComp campaign, Atmos. Chem. Phys., 10, 12233–12250, https://doi.org/10.5194/acp-10-12233-2010, 2010. a, b
Fuchs, H., Bohn, B., Hofzumahaus, A., Holland, F., Lu, K. D., Nehr, S., Rohrer, F., and Wahner, A.: Detection of HO2 by laser-induced fluorescence: calibration and interferences from RO2 radicals, Atmos. Meas. Tech., 4, 1209–1225, https://doi.org/10.5194/amt-4-1209-2011, 2011. a, b, c, d, e
Fuchs, H., Dorn, H.-P., Bachner, M., Bohn, B., Brauers, T., Gomm, S., Hofzumahaus, A., Holland, F., Nehr, S., Rohrer, F., Tillmann, R., and Wahner, A.: Comparison of OH concentration measurements by DOAS and LIF during SAPHIR chamber experiments at high OH reactivity and low NO concentration, Atmos. Meas. Tech., 5, 1611–1626, https://doi.org/10.5194/amt-5-1611-2012, 2012. a
Green, T. J., Reeves, C. E., Fleming, Z. L., Brough, N., Rickard, A. R., Bandy, B. J., Monks, P. S., and Penkett, S. A.: An improved dual channel PERCA instrument for atmospheric measurements of peroxy radicals, J. Environ. Monitor., 8, 530–536, https://doi.org/10.1039/b514630e, 2006. a
Hanke, M., Uecker, J., Reiner, T., and Arnold, F.: Atmospheric peroxy radicals: ROXMAS, a new mass-spectrometric methodology for speciated measurements of HO2 and RO2 and first results, Int. J. Mass Spectrom., 213, 91–99, https://doi.org/10.1016/S1387-3806(01)00548-6, 2002. a
Harrison, A. G.: Chemical ionization mass spectrometry, CRC press, Boca Raton, 2nd edn., https://doi.org/10.1006/rwsp.2000.0357, 1992. a
Hastie, D. R., Weissenmayer, M., Burrows, J. P., and Harris, G. W.: Calibrated chemical amplifier for atmospheric ROx measurements, Anal. Chem., 63, 2048–2057, https://doi.org/10.1021/ac00018a029, 1991. a
Holland, F., Hofzumahaus, A., Schäfer, J., Kraus, A., and Pätz, H.-W.: Measurements of OH and HO2 radical concentrations and photolysis frequencies during BERLIOZ, J. Geophys. Res.-Atmos., 108, 8246, https://doi.org/10.1029/2001jd001393, 2003. a, b, c
Hornbrook, R. S., Crawford, J. H., Edwards, G. D., Goyea, O., Mauldin III, R. L., Olson, J. S., and Cantrell, C. A.: Measurements of tropospheric HO2 and RO2 by oxygen dilution modulation and chemical ionization mass spectrometry, Atmos. Meas. Tech., 4, 735–756, https://doi.org/10.5194/amt-4-735-2011, 2011. a, b
Kaiser, J., Skog, K. M., Baumann, K., Bertman, S. B., Brown, S. B., Brune, W. H., Crounse, J. D., de Gouw, J. A., Edgerton, E. S., Feiner, P. A., Goldstein, A. H., Koss, A., Misztal, P. K., Nguyen, T. B., Olson, K. F., St. Clair, J. M., Teng, A. P., Toma, S., Wennberg, P. O., Wild, R. J., Zhang, L., and Keutsch, F. N.: Speciation of OH reactivity above the canopy of an isoprene-dominated forest, Atmos. Chem. Phys., 16, 9349–9359, https://doi.org/10.5194/acp-16-9349-2016, 2016. a, b
Lew, M. M., Dusanter, S., and Stevens, P. S.: Measurement of interferences associated with the detection of the hydroperoxy radical in the atmosphere using laser-induced fluorescence, Atmos. Meas. Tech., 11, 95–109, https://doi.org/10.5194/amt-11-95-2018, 2018. a
Mihele, C. M. and Hastie, D. R.: Optimized Operation and Calibration Procedures for Radical Amplifier-Type Detectors, J. Atmos. Ocean. Tech., 17, 788–794, https://doi.org/10.1175/1520-0426(2000)017<0788:OOACPF>2.0.CO;2, 2000. a
Press, W. H., Teukolsky, S. A., Vetterling, W. T., and Flannery, B. P.: Numerical recipes in C, Cambridge Univ. Press, 2nd edn., 1992. a
Reiner, T., Hanke, M., and Arnold, F.: Atmospheric peroxy radical measurements by ion molecule reaction mass spectrometry: A novel analytical method using amplifying chemical conversion to sulfuric acid, J. Geophys. Res.-Atmos., 102, 1311–1326, https://doi.org/10.1029/96JD02963, 1997. a
Rohrer, F., Bohn, B., Brauers, T., Brüning, D., Johnen, F.-J., Wahner, A., and Kleffmann, J.: Characterisation of the photolytic HONO-source in the atmosphere simulation chamber SAPHIR, Atmos. Chem. Phys., 5, 2189–2201, https://doi.org/10.5194/acp-5-2189-2005, 2005. a, b, c
Sadanaga, Y., Matsumoto, J., Sakurai, K.-i., Isozaki, R., Kato, S., Nomaguchi, T., Bandow, H., and Kajii, Y.: Development of a measurement system of peroxy radicals using a chemical amplification/laser-induced fluorescence technique, Rev. Sci. Instrum., 75, 864–872, https://doi.org/10.1063/1.1666985, 2004. a
Sanchez, J., Tanner, D. J., Chen, D., Huey, L. G., and Ng, N. L.: A new technique for the direct detection of HO2 radicals using bromide chemical ionization mass spectrometry (Br-CIMS): initial characterization, Atmos. Meas. Tech., 9, 3851–3861, https://doi.org/10.5194/amt-9-3851-2016, 2016. a, b, c, d, e, f, g, h, i, j, k, l, m, n, o, p, q, r
Tan, Z., Fuchs, H., Lu, K., Hofzumahaus, A., Bohn, B., Broch, S., Dong, H., Gomm, S., Häseler, R., He, L., Holland, F., Li, X., Liu, Y., Lu, S., Rohrer, F., Shao, M., Wang, B., Wang, M., Wu, Y., Zeng, L., Zhang, Y., Wahner, A., and Zhang, Y.: Radical chemistry at a rural site (Wangdu) in the North China Plain: observation and model calculations of OH, HO2 and RO2 radicals, Atmos. Chem. Phys., 17, 663–690, https://doi.org/10.5194/acp-17-663-2017, 2017. a, b
Veres, P. R., Roberts, J. M., Wild, R. J., Edwards, P. M., Brown, S. S., Bates, T. S., Quinn, P. K., Johnson, J. E., Zamora, R. J., and de Gouw, J.: Peroxynitric acid (HO2NO2) measurements during the UBWOS 2013 and 2014 studies using iodide ion chemical ionization mass spectrometry, Atmos. Chem. Phys., 15, 8101–8114, https://doi.org/10.5194/acp-15-8101-2015, 2015. a
Whalley, L. K., Blitz, M. A., Desservettaz, M., Seakins, P. W., and Heard, D. E.: Reporting the sensitivity of laser-induced fluorescence instruments used for HO2 detection to an interference from RO2 radicals and introducing a novel approach that enables HO2 and certain RO2 types to be selectively measured, Atmos. Meas. Tech., 6, 3425–3440, https://doi.org/10.5194/amt-6-3425-2013, 2013.  a
Wood, E. C., Deming, B. L., and Kundu, S.: Ethane-based chemical amplification measurement technique for atmospheric peroxy radicals, Environ. Sci. Tech. Let., 4, 15–19, https://doi.org/10.1021/acs.estlett.6b00438, 2017. a