Articles | Volume 13, issue 7
https://doi.org/10.5194/amt-13-4065-2020
© Author(s) 2020. This work is distributed under
the Creative Commons Attribution 4.0 License.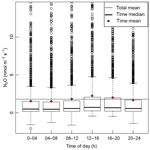 Capturing temporal heterogeneity in soil nitrous oxide fluxes with a robust and low-cost automated chamber apparatus
Soils play an important role in Earth's climate system through their regulation of trace greenhouse gases. Despite decades of soil gas flux measurements using manual chamber methods, limited temporal coverage has led to high uncertainty in flux magnitude and variability, particularly during peak emission events. Automated chamber measurement systems can collect high-frequency (subdaily) measurements across various spatial scales but may be prohibitively expensive or incompatible with field conditions. Here we describe the construction and operational details for a robust, relatively inexpensive, and adaptable automated dynamic (steady-state) chamber measurement system modified from previously published methods, using relatively low cost analyzers to measure nitrous oxide (N2O) and carbon dioxide (CO2). The system was robust to intermittent flooding of chambers, long tubing runs (>100 m), and operational temperature extremes (−12 to 39 ∘C) and was entirely powered by solar energy. Using data collected between 2017 and 2019 we tested the underlying principles of chamber operation and examined N2O diel variation and rain-pulse timing that would be difficult to characterize using infrequent manual measurements. Stable steady-state flux dynamics were achieved during 29 min chamber closure periods at a relatively low flow rate (2 L min−1). Instrument performance and calculated fluxes were minimally impacted by variation in air temperature and water vapor. Measurements between 08:00 and 12:00 LT were closest to the daily mean N2O and CO2 emission. Afternoon fluxes (12:00–16:00 LT) were 28 % higher than the daily mean for N2O (4.04 vs. 3.15 nmol m−2 s−1) and were 22 % higher for CO2 (4.38 vs. 3.60 ). High rates of N2O emission are frequently observed after precipitation. Following four discrete rainfall events, we found a 12–26 h delay before peak N2O flux, which would be difficult to capture with manual measurements. Our observation of substantial and variable diel trends and rapid but variable onset of high N2O emissions following rainfall supports the need for high-frequency measurements.
Received: 09 Feb 2020 – Discussion started: 17 Feb 2020 – Revised: 28 May 2020 – Accepted: 02 Jul 2020 – Published: 29 Jul 2020
Soils play a critical role in Earth's carbon (C) and nitrogen (N) cycles. Managing soils to sequester C or reduce the emission of the trace greenhouse gases N2O and methane (CH4) is often suggested as an effective tool to combat climate change (Minasny et al., 2017; Paustian et al., 2016). Therefore, reliable trace gas measurements are critical for informing management. Although manual soil gas flux measurements have been collected for several decades, the high temporal and spatial variability of emissions has often plagued attempts to obtain accurate and precise flux estimates needed to calculate annual budgets (Davidson et al., 2002; Groffman et al., 2009; Hutchinson and Mosier, 1981). Sampling at higher frequency than is practical with manual measurements may be required to constrain the role of soils in global biogeochemical cycles and validate the impacts of management practices on trace gas emissions (Barton et al., 2015; Merbold et al., 2015; Parkin, 2008). N2O emissions are particularly variable, so relatively less is known about peak emissions such as the time between rainfall and the subsequent N2O pulse that is frequently observed (Groffman et al., 2006, 2009). High-frequency automated flux measurements that can span the large (>100 m) spatial scales that frequently accompany local topographical and hydrological variation at a site may be critical to capture the dual spatial–temporal dynamics which are key to generating robust emission estimates.
Prefabricated automated chambers capable of measuring soil trace gas fluxes are available commercially and can be plumbed to a wide range of analyzers – most commonly, infrared gas analyzers that measure CO2. Commercially available chambers typically rely on electric components for movement which are sensitive to moisture, and they are substantially more expensive (often many thousands of US dollars, USD) than the chamber design described here (materials costs of ∼ USD 500 per chamber). Other custom-built chamber designs have been developed to address specific research needs (e.g., Ambus and Robertson, 1998; Butterbach-Bahl et al., 1997; Savage et al., 2014). Chambers have been paired with analyzers to measure other trace gases, including N2O and CH4, by utilizing methods such as gas chromatography (GC), photoacoustic infrared detection, tunable diode laser (TDL), or cavity ring-down laser spectroscopy (Ambus and Robertson, 1998; Breuer et al., 2000; Courtois et al., 2019; Papen and Butterbach-Bahl, 1999; Pihlatie et al., 2005). Fassbinder et al. (2013) provide a detailed summary of the advantages and limitations of commonly used analyzers that we briefly summarize here. GC systems with electron capture detectors (ECDs) have often been used to measure N2O from automated chambers (Breuer et al., 2000; Papen and Butterbach-Bahl, 1999). However, GC systems typically have high power demand and require carrier gases and radioactive elements for ECD operation that may limit their field practicality. Interference from water vapor and other gases potentially limits the use of photoacoustic analyzers in the field (Rosenstock et al., 2013). Laser-based analytical approaches are capable of rapid (e.g., 10 Hz) and precise N2O measurements, but these analyzers are considerably more expensive (> USD 70 000) and often have relatively high power requirements for autonomous field deployment (Fassbinder et al., 2013; Pihlatie et al., 2005). We sought to implement a lower-cost, solar-powered, soil gas flux measurement system capable of operating unattended in a harsh field environment and where analyzers could feasibly be replaced if stolen or damaged. For these reasons, we utilized a gas filter correlation (GFC) infrared N2O analyzer in our study (∼ USD 16 000), similar to that described previously by Fassbinder et al. (2013), along with an infrared gas analyzer for CO2 and H2O measurement (∼ USD 4000). However, other analyzers could be readily employed with the chamber and manifold system described below.
Environmental conditions, particularly those posed by flooding and agricultural management, created several unique challenges for trace gas measurement in our study system that could be expected in many field settings. Extreme heat and cold (−12 to 39 ∘C) and occasional submergence of chambers mandated that our apparatus be tolerant of a wide range of conditions. Frequent agricultural management (tillage, planting, fertilization, harvest, etc.) at our field site required the chambers and associated equipment to be relatively portable so they could be removed to the field edge (∼100 m away) and reinstalled several times per year (Fig. 1a). To avoid damaging crops, all equipment had to be movable on foot. Because electric power was unavailable, solar panels and batteries had to provide all necessary energy. Our core measurement system consisted of eight steady-state, flow-through chambers that quantified soil gas fluxes at each chamber every 4 h. For 1 year, a second set of chambers was paired with the original 8 for a total of 16 chambers without sacrificing measurement frequency. With our design, chamber number and measurement frequency can be readily adjusted to fit study questions. The gas analyzers were maintained in an instrument shed at the field edge (Fig. 1a). This location was not impacted by flooding or agricultural management but was subjected to the temperature extremes noted above.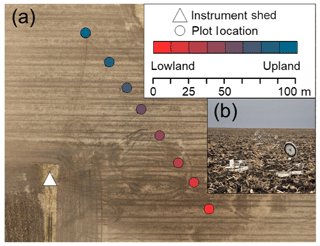 There is a rich literature on the impacts of chamber design and the potential biases of soil trace gas flux measurements. We chose a chamber design that has been shown in field and laboratory experiments to provide accurate estimation of soil gas fluxes and isotopic composition (Bowling et al., 2015; Moyes et al., 2010a; Norman et al., 1997; Pumpanen et al., 2004). In one comparison of different chambers, a variant of the open, flow-through design we used here measured known CO2 fluxes produced in the laboratory to within 2 %–4 % of the actual values, which was relatively accurate compared to the other designs tested (Pumpanen et al., 2004). Pressure differential between the inside and outside of some chamber designs can create measurement artifacts (Fang and Moncrieff, 1998; Xu et al., 2006). The chambers described here utilize an open-lid design (Fig. 2) that limits pressure differential to less than −0.2 Pa at the flow rate (2 L min−1) we utilized (Moyes et al., 2010b; Rayment and Jarvis, 1997). When using static chamber designs, soil gas flux is calculated as a function of the change in gas concentration over time within a closed chamber headspace. In contrast, with dynamic chambers we derive gas flux from the steady-state difference in concentration between air at the chamber inlet and air pumped out of a chamber outlet (Fig. 2). When the outlet gas concentration is approximately constant, the chamber is at a steady state. Steady-state chambers with low pressure differential have been shown to reproduce known δ13C values of CO2 fluxes (Moyes et al., 2010b), possibly because they have less impact on the diffusive profile than many non-steady-state chamber designs (Nickerson and Risk, 2009). For our study, an additional consideration was that chambers needed to be located at variable distances (80–115 m) from the gas analyzers (Fig. 1a). We required this attribute to span a large (120 m) topographic gradient and to maintain analyzers and related instruments in a permanent location with vehicle access. As sampled gas can be vented downstream of the analyzers instead of routed back to the chamber (as is required for closed-loop static chamber designs), dynamic chambers can be located at varying distances from the instruments without impacting the effective volume of the chamber headspace.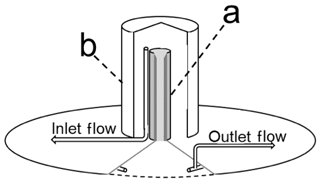 In this publication we present a method to construct a robust system of dynamic automated soil trace gas chambers along with the maintenance and troubleshooting lessons learned over the 3-year period the chambers were running. In addition to presenting these operational details, we tested three underlying assumptions of our chamber design: (1) did chambers reach steady-state dynamics, (2) how did broad temperature fluctuations affect instrument performance in the field, and (3) to what extent could water vapor impact our measurement values? We further utilized the high-frequency flux data to test two questions related to the temporal dynamics of gas emissions to inform manual sampling efforts: (4) how strong was the diel signal in trace gas emissions and (5) what was the average delay between isolated rainfall events and the elevated N2O emissions that frequently followed?
3.1

 Troubleshooting

While often no maintenance was required, we typically checked the measurement system every several days to prevent data gaps if a failure occurred. Under ideal conditions (permanent chamber installation, ample sunlight, no flooding), the analysis system may be able to operate over periods of weeks to months without maintenance. However, we found that problems related to chamber submergence, component failure, or unintended faunal interactions occurred on occasion. This section highlights some common issues and practices that we found helpful for addressing them.
3.1.1

 Excess moisture

Periodic flooding presented one of the greatest challenges at our field site. Chambers could not sample gas when the water level was above the height of the perforated outlet manifold suspended from the chamber lid (∼7 cm above the soil surface). When water exceeded this height, the filter located at the chamber outlet (Fig. 5a) became saturated with water and stopped flow, preventing damage to the downstream components. If flooding exceeded the height of the inlet (∼30 cm depth), the inlet filter was similarly impacted. Data affected by saturated filters were flagged by noting below-normal inlet/outlet flows during postprocessing and were removed. We replaced saturated filters after the water level receded to return the chamber to operation. Wet filters were dried at 100 ∘C and reused. Excess water also created problems when it condensed downstream of the air compressor. During humid summer conditions the compressor water trap reservoir (Fig. 4c) was emptied at least once every 2 weeks. In subfreezing conditions the trap rarely collected water but was emptied after warmer periods to prevent expansive bursting when temperatures fell below 0 ∘C. Pumps and valves occasionally failed for unknown reasons. In general, we identified problems related to gas flow and sample selection by plotting flow rates over time for each chamber measurement sequence during data postprocessing and replaced any faulty components.
3.1.2

 Gnawing animals

Early in our experiment, animals occasionally chewed through the gas tubing between the instrument shed and the chambers. For protection and organization, all four tubes connecting each chamber to the instrument shed (comprising chamber inlet and outlet gas samples, and compressed air for opening and closing the chamber, respectively) were subsequently wrapped in 2.54 cm diameter polyethylene split corrugated wire loom tubing (Drossbach 25D260). The last several cm of each of the four tubes must be able to move independently to allow the piston to move and the chamber lid to open and close. To protect these final portions of tubing which could not be wrapped in protective loom tubing, we replaced the last 30 cm of tubing with semiflexible 0.64 cm diameter copper tubing connected with Swagelok fittings. The copper tubing was molded by hand to enable necessary movement of chamber components and was not impacted by animals. We documented and isolated leaks by capping the chamber end of each tubing line, applying pressure with an air tank to each individual tube, and checking for a drop in regulator pressure. Large leaks were audible and could be easily found and repaired by splicing in replacement tubing using Swagelok union fittings. To test for small leaks, we plumbed the valves to a tank of industrial-grade helium and used a helium-specific leak detector (Restek 28500). After protecting against animal damage, leaks were infrequent.
3.1.3

 Power limitation

We experienced occasional power outages during extended periods of cloudy weather and during winter. By periodically turning the analysis system off for several days to allow the batteries to reach full charge, we could collect 2–3 d of measurements even in cold/cloudy conditions. During periods of chamber closure (3 out of every 24 h during typical operation), rainfall was excluded from the chamber enclosure, which could potentially alter soil moisture. Elsewhere, a rain gauge has been used to signal automated chambers to remain open during rainfall events (Butterbach-Bahl and Dannenmann, 2011). Here, we elected to maintain a consistent measurement schedule irrespective of rainfall, due to the logistical challenges posed by prolonged rainfall events (when no measurements would be collected). A rainfall rate threshold required to open the automated chambers could be useful in future studies to limit the frequency and duration of data gaps. Future measurements will also quantify the potential magnitude of any soil moisture effect associated with our automated chamber system. To reduce the duration that the chambers were closed when the system was off for power conservation or maintenance, we either left the compressor on and the chambers in the open position or propped the chambers open. The Teledyne N2O analyzer has an internal component (heated to near 70 ∘C) which consumed additional power during cold weather. We found that enclosing the N2O analyzer in a plywood box with 2.54 cm polystyrene foam insulation on four sides (leaving one side and the back open for ventilation) reduced power use. We also adjusted the angle of the solar array at least twice a year to increase efficiency. Collectively, these energy-efficient measures allowed the instrument to operate for longer periods when solar energy was limiting. Occasionally, however, the DC/AC converter would shut down during the night due to power limitation and would turn on again when sunlight was available. Data from the N2O analyzer were consistently biased during an 8 h period as the instrument warmed up. We flagged and discarded these data during postprocessing by plotting analyzer output over time and removing peaks following periods where no output was recorded.
3.2

 Measurement assumptions

A key principle of steady-state chamber operation is that the gas concentration inside the chamber headspace is approximately at equilibrium (gas flux from the soil is balanced with gas removed via the chamber outlet) when the flux measurement is made. The time to achieve steady-state conditions is a balance between the soil flux rate and the flow of gas through the chamber. Here, to enable the use of smaller pumps and conserve power we employed lower flow rates (2 L min−1) than often employed previously in dynamic chambers (e.g., 4 L min−1; Bowling et al., 2015). Initial tests revealed that use of larger pumps needed to achieve 4 L min−1 flow rates over >100 m tubing runs was not sustainable from the perspective of power supply. To validate the steady-state assumption at 2 L min−1, we analyzed the slope of a linear regression between concentration of CO2 and N2O and time over the final outlet measurement period (Fig. 6f, approximately 27–29 min) using data from three separate periods chosen to cover a broad range of fluxes and spanning 2 weeks in total. We found an average increase of 0.18±10.51 ppm CO2 min−1 (mean and SD) and 0.57±8.40 ppb N2O min−1, respectively, indicating that both gases were approximately at a steady state at the end of the measurement period (relative to mean chamber outlet values of 684 ppm and 494 ppb for CO2 and N2O, respectively). We repeated this analysis for the final inlet measurement period (Fig. 6e, approximately 19–21 min) and found a change of less than 1 ppm or ppb min−1 CO2 and N2O relative to mean chamber inlet concentrations of 539 ppm and 331 ppb, respectively.

To assess temperature sensitivity of both gas analyzers under field conditions we examined the slope and intercept of standard curves measured during a 20 d period when air temperature ranged from −4 to 21 ∘C and during which the instruments ran continuously. There was no significant directional trend in air temperature over this period to avoid conflating temperature-related drift and drift of the instrument over time unrelated to temperature. All four metrics examined (slope and intercept of CO2 and N2O calibration curves) displayed correlations with temperature. However, the impact of temperature on the slope of the CO2 and N2O calibrations was less than 10−3 ppm ∘C−1 for both values. These values correspond to <1 % difference in instrument output between the highest and lowest observed temperature values at CO2 and N2O concentrations of 400 and 0.3 ppm, respectively. The intercept values showed greater sensitivity (0.02 and 0.003 ppm ∘C−1 for CO2 and N2O, respectively). These values correspond to a ∼0.5 ppm difference in CO2 and ∼0.08 ppm difference in N2O at the high and low temperature range observed. Taken together, we found that the N2O instrument had a −0.006 ppm ∘C−1 sensitivity, in close agreement to the −0.009 ppm ∘C−1 found by Fassbinder et al. (2013) for a similar instrument from the same manufacturer. As detailed above, standards were measured every 2 h to account for instrument sensitivity to environmental conditions. Additionally, because gas flux was calculated as the difference between and inlet and outlet concentration the intercept values canceled mathematically, thereby removing any additional bias due to temperature-related intercept drift between standard measurements. Therefore, temperature variation between measurements had negligible impact on the final flux calculation.

Optical trace gas measurements may be affected by a number of interacting factors including temperature, pressure, and water vapor pressure (McDermitt et al., 1993). Water vapor can be removed through chemical traps. However, the high gas flow in our system (2 L min−1) made reagent replacement in chemical traps impractical, and preliminary work showed that membrane-based driers did not always completely remove water vapor in our operating environment, where relative humidity often reached 100 %. The N2O analyzer we utilized removed moisture through a multitube Nafion dryer (Model NMP850KNDCB, KNF Neuberger Inc.). Water vapor was not removed prior to measuring CO2 concentration. As we calculated the soil CO2 flux as proportional to the concentration difference between the inlet and outlet gases, we were primarily concerned with a change in water vapor between the inlet and outlet measurement (Fig. 6e, f). In 2019, measurements were made with a LI-COR 850 that included a water vapor correction and measurement, which we used to constrain the potential impact of water vapor on our previous CO2 measurements. McDermitt et al. (1993) found that the required water vapor correction using a similar analysis was <10 ppm CO2 at water vapor pressure of 25.3 mmol mol−1 and CO2 concentration up to 1000 ppm. Water vapor pressure in the gases we measured spanned 1.0–53.6 mmol mol−1, with an average difference between the inlet and outlet gas of 1.8 mmol mol−1 and a maximum of 36.4 mmol mol−1. These small observed changes in water vapor between the inlet and outlet measurements indicate a minor impact on measured CO2 fluxes: if the water vapor difference between the inlet and outlet caused a <10 ppm bias in the measured CO2 concentration (as expected in >99.9 % of our observations), this would impact the average measured CO2 flux (3.47 ) by <5.2 % (0.18 ), which is within the typical range of measurement uncertainty for reproducing a known flux value under controlled conditions (Pumpanen et al., 2004). The correction under a more moderate water vapor difference between the inlet and outlet (<12.6 mmol mol−1) that spans >97 % of observed differences is approximately half the impact of this extreme example (0.09 ). Unrelated to its impacts on instrument performance, water vapor can also impact flux measurements by dilution (Harazono et al., 2015). Given an average water vapor difference between the inlet and outlet of 1.8 mmol mol−1 and maximum of 36.4 mmol mol−1, impacts of dilution on measured fluxes would also be small: typically <0.18 % and as much as 3.6 %.

To constrain the potential impacts of water vapor on measured N2O concentrations, we conducted a laboratory experiment comparing the N2O instrument output between a high and low moisture measurement on a three-point standard curve. Water vapor was measured with a LI-COR 850 installed in-line and upstream of the N2O sensor. To quantify the impact of water vapor on instrument output, we compared the standard curve created from dry standards to a curve created after bubbling the gas through a jar of deionized water. The bubbling technique added a mean of 25.4 mmol mol−1 of water vapor, spanning >99.9 % of observations of the difference between water vapor at the inlet and outlet in the field. Standard gases ranged up to 9.96 ppm N2O, greater than all differences between the inlet and outlet observed in the field. No difference was noted in N2O instrument output due to the presence of water vapor, which suggested the drying column was effective at removing water vapor or that the gas filter correlation method corrected for any impacts of residual vapor.
3.3

 Temporal dynamics

Manual trace gas sampling by field crews is generally accomplished during normal daytime work hours. In contrast, automated measurements can be scheduled throughout the 24 h diel period. Figure 8 displays boxplots of N2O emission from days when chambers were measured at each 4 h interval during 2017 and 2019 (the years of Zea mays cultivation). Though infrequent, we observed occasional instantaneous negative N2O flux values, as observed in other ecosystems (Schlesinger, 2013; Wu et al., 2013). Figure 9 shows the N2O and CO2 emissions from two typical 1-week periods from September 2017 and August 2018. A diel trend is visible for most chambers in August and some chambers and time periods in September. In general agreement with previously published automated chamber N2O studies from agricultural soils, we found the lowest rates of emission during early morning (04:00–08:00 LT) and highest emissions during early afternoon (12:00–16:00 LT) (Akiyama et al., 2000; Alves et al., 2012; Bai et al., 2019; Flessa et al., 2002; Savage et al., 2014). Early afternoon measurements were on average 28 % greater than the daily average from each chamber (4.04 vs. 3.15 nmol m−2 s−1), but this difference varied from −13.9 to 110 nmol m−2 s−1 among all chambers/days that were compared. The relative difference between average and peak daily emissions was in reasonable agreement with previous data from agricultural fields in the United Kingdom, Australia, and the United States (approximately 31, 47, and 33 % respectively; Alves et al., 2012; Bai et al., 2019; Savage et al., 2014). Although CO2 fluxes were highest and lowest during the same time periods as N2O, early afternoon CO2 fluxes were 22 % greater than the daily mean, on average (4.38 and 3.60 ), and this difference varied between −7.72 and 21.1  among all chambers/days that were compared.

N2O emissions pulses have often been observed following rain events (Savage et al., 2014; Sehy et al., 2003). To assess the length of the delay between rainfall and peak emissions, we analyzed the number of hours between heavy rainfall (defined as >2 cm total over 24 h) and subsequent peak N2O emission rate averaged over all chambers. A rain gauge located on-site recorded precipitation data that were obtained through the Iowa Flood Center (2017). There were 45 d with total rainfall >2 cm. To avoid conflating more than one rain event, we chose isolated events without rainfall >4 mm d−1 in the preceding or the following 2 d. Of the 15 isolated rain events observed, 4 were analyzed that did not span data gaps (Fig. 10). The rain-to-peak-emission delay varied from 12 to 26 h among precipitation events which varied from 2.4 to 4.4 cm.
Our results indicate that steady-state flux conditions were achieved under reasonable periods of chamber closure (29 min), equivalent to the common 30 min averaging interval for eddy covariance measurements (Loescher et al., 2006) and flow rates (2 L min−1) that could be attained using low-power 12 V pumps. The results were minimally impacted by measurement error due to water vapor and were robust to changes in air temperature. We applied our high-frequency data to address two questions, how strong does diel variation impact trace gas emissions and how long is the delay between precipitation and the frequently observed pulse in N2O. Our observations showed that the average daily emissions were most closely approximated by measurements made between 08:00 and 12:00 LT. Although CO2 emissions were best approximated during the same time interval, the difference between peak emissions and the daily average was less pronounced and displayed less variability than observed for N2O. We found the delay between rainfall and peak N2O emissions varied between 12 and 26 h – intervals that would be difficult to capture using manual sampling methods. Both findings of temporal variability support the need for high-frequency measurements to calculate annual soil trace gas emissions budgets. This measurement system could also be adapted to study other gases provided that the gas analyzers chosen are able to tolerate field conditions. In particular, the steady-state chamber design used here provides a powerful tool for future studies to couple gas flux with isotopic measurements that may uncover the source and processes underlying the observed flux.
Agricultural management required us to remove the chambers and associated equipment several times of year. Without these constraints, experiments utilizing this method could examine processes that take place on even greater spatial scales than those utilized here (tubing runs >100 m) and with a greater number of chambers. Despite these challenges, we were able to construct and maintain eight (with one spare) high-frequency automated chambers for subdaily N2O and CO2 flux measurements in a temperate agricultural field, with a total materials cost (∼ USD 40 000, including parts for nine chambers, gas analyzers, control system, and power supply) that is a fraction of the cost of many laser-based N2O analyzers alone. We estimate that the chambers and control system took us 130–260 h to construct and troubleshoot (with concomitant labor/salary costs) and did not require specialized tools beyond those available in a typical workshop.
Code and data availability
NCL and SJH jointly designed and carried out research and prepared the manuscript.
The authors declare that they have no conflict of interest.
We thank Carlos Tenesaca, Anthony Mirabito, Lucio Reyes, and Lindsay Mack for field assistance, as well as Dave Bowling for critical advice regarding chamber construction.
This research has been supported by the USDA (award no. 2018-67019-27886), the Leopold Center for Sustainable Agriculture (award no. E2017-02), and the Iowa Nutrient Research Center (award no. 109-47-03-39-3650).
This paper was edited by Christian Brümmer and reviewed by two anonymous referees.
Akiyama, H., Tsuruta, H., and Watanabe, T.: N2O and NO emissions from soils after the application of different chemical fertilizers, Chemosphere, 2, 313–320, https://doi.org/10.1016/S1465-9972(00)00010-6, 2000. 
Alves, B. J. R., Smith, K. A., Flores, R. A., Cardoso, A. S., Oliveira, W. R. D., Jantalia, C. P., Urquiaga, S., and Boddey, R. M.: Selection of the most suitable sampling time for static chambers for the estimation of daily mean N2O flux from soils, Soil Biol. Biochem., 46, 129–135, https://doi.org/10.1016/j.soilbio.2011.11.022, 2012. 
Ambus, P. and Robertson, G. P.: Automated near-continuous measurement of carbon dioxide and nitrous oxide fluxes from soil, Soil Sci. Soc. Am. J., 62, 394–400, https://doi.org/10.2136/sssaj1998.03615995006200020015x, 1998. 
Bai, M., Suter, H., Lam, S. K., Flesch, T. K., and Chen, D.: Comparison of slant open-path flux gradient and static closed chamber techniques to measure soil N2O emissions, Atmos. Meas. Tech., 12, 1095–1102, https://doi.org/10.5194/amt-12-1095-2019, 2019. 
Barton, L., Wolf, B., Rowlings, D., Scheer, C., Kiese, R., Grace, P., Stefanova, K., and Butterbach-Bahl, K.: Sampling frequency affects estimates of annual nitrous oxide fluxes, Scientific Reports, 5, 15912, https://doi.org/10.1038/srep15912, 2015. 
Bowling, D. R., Egan, J. E., Hall, S. J., and Risk, D. A.: Environmental forcing does not induce diel or synoptic variation in the carbon isotope content of forest soil respiration, Biogeosciences, 12, 5143–5160, https://doi.org/10.5194/bg-12-5143-2015, 2015. 
Breuer, L., Papen, H., and Butterbach-Bahl, K.: N2O emission from tropical forest soils of Australia, Res., 105, 26353–26367, https://doi.org/10.1029/2000JD900424, 2000. 
Butterbach-Bahl, K. and Dannenmann, M.: Denitrification and associated soil N2O emissions due to agricultural activities in a changing climate, Cur. Opin. Env. Sust., 3, 389–395, https://doi.org/10.1016/j.cosust.2011.08.004, 2011. 
Butterbach-Bahl, K., Gasche, R., Breuer, L., and Papen, H.: Fluxes of NO and N2O from temperate forest soils: impact of forest type, N deposition and of liming on the NO and N2O emissions, Nutr. Cycl. Agroecosys., 48, 79–90, https://doi.org/10.1023/A:1009785521107, 1997. 
Courtois, E. A., Stahl, C., Burban, B., Van den Berge, J., Berveiller, D., Bréchet, L., Soong, J. L., Arriga, N., Peñuelas, J., and Janssens, I. A.: Automatic high-frequency measurements of full soil greenhouse gas fluxes in a tropical forest, Biogeosciences, 16, 785–796, https://doi.org/10.5194/bg-16-785-2019, 2019. 
Davidson, E. A., Savage, K., Verchot, L. V., and Navarro, R.: Minimizing artifacts and biases in chamber-based measurements of soil respiration, Ag. Forest Meteorol., 113, 21–37, https://doi.org/10.1016/S0168-1923(02)00100-4, 2002. 
Fang, C. and Moncrieff, J. B.: An open-top chamber for measuring soil respiration and the influence of pressure difference on CO2 efflux measurement, Funct. Ecol., 12, 319–325, https://doi.org/10.1046/j.1365-2435.1998.00189.x, 1998. 
Fassbinder, J. J., Schultz, N. M., Baker, J. M., and Griffis, T. J.: Automated, low-power chamber system for measuring nitrous oxide emissions, J. Environ. Qual., 42, 606–614, https://doi.org/10.2134/jeq2012.0283, 2013. 
Flessa, H., Ruser, R., Schilling, R., Loftfield, N., Munch, J. C., Kaiser, E. A., and Beese, F.: N2O and CH4 fluxes in potato fields: automated measurement, management effects and temporal variation, Geoderma, 105, 307–325, https://doi.org/10.1016/S0016-7061(01)00110-0, 2002. 
Groffman, P. M., Altabet, M. A., Böhlke, J. K., Butterbach-Bahl, K., David, M. B., Firestone, M. K., Giblin, A. E., Kana, T. M., Nielsen, L. P., and Voytek, M. A.: Methods for measuring denitrification: diverse approaches to a difficult problem, Ecol. Appl., 16, 2091–2122, https://doi.org/10.1890/1051-0761(2006)016[2091:MFMDDA]2.0.CO;2, 2006. 
Groffman, P. M., Butterbach-Bahl, K., Fulweiler, R. W., Gold, A. J., Morse, J. L., Stander, E. K., Tague, C., Tonitto, C., and Vidon, P.: Challenges to incorporating spatially and temporally explicit phenomena (hotspots and hot moments) in denitrification models, Biogeochemistry, 93, 49–77, https://doi.org/10.1007/s10533-008-9277-5, 2009. 
Grolemund, G. and Wickham, H.: Dates and times made easy with lubridate, J. Stat. Softw., 40, 1–25, https://doi.org/10.18637/jss.v040.i03, 2011. 
Harazono, Y., Iwata, H., Sakabe, A., Ueyama, M., Takahashi, K., Nagano, H., Nakai, T., and Kosugi, Y.: Effects of water vapor dilution on trace gas flux, and practical correction methods, J. Agric. Meteorol., 71, 65–76, https://doi.org/10.2480/agrmet.D-14-00003, 2015. 
Hutchinson, G. L. and Mosier, A. R.: Improved soil cover method for field measurement of nitrous oxide fluxes, Soil Sci. Soc. Am. J., 45, 311–316, https://doi.org/10.2136/sssaj1981.03615995004500020017x, 1981. 
Iowa Flood Center: Iowa Flood Information System, available at: http://ifis.iowafloodcenter.org (last access: 21 November 2019), 2017. 
Lawrence, N. and Hall, S.: Files accompanying "Capturing temporal heterogeneity in soil nitrous oxide fluxes with a robust and low-cost automated chamber apparatus", Iowa State University, https://doi.org/10.25380/iastate.12550790, 2020. 
Loescher, H. W., Law, B. E., Mahrt, L., Hollinger, D. Y., Campbell, J., and Wofsy, S. C.: Uncertainties in, and interpretation of, carbon flux estimates using the eddy covariance technique, J. Geophys. Res., 111, D21S90, https://doi.org/10.1029/2005JD006932, 2006. 
Logsdon, S. D. and James, D. E.: Closed depression topography Harps soil, revisited, Soil Horizons, 55, 1–7, https://doi.org/10.2136/sh13-11-0025, 2014. 
McDermitt, D. K., Welles, J. M., and Eckles, R. D.: Effects of temperature, pressure and water vapor on gas phase infrared absorption by CO2, available at: https://www.licor.com/documents/sul40zcvtnr8t71arbua (last access: 21 November 2019), 1993. 
Merbold, L., Wohlfahrt, G., Butterbach-Bahl, K., Pilegaard, K., DelSontro, T., Stoy, P. and Zona, D.: Preface: Towards a full greenhouse gas balance of the biosphere, Biogeosciences, 12, 453–456, https://doi.org/10.5194/bg-12-453-2015, 2015. 
Minasny, B., Malone, B. P., McBratney, A. B., Angers, D. A., Arrouays, D., Chambers, A., Chaplot, V., Chen, Z.-S., Cheng, K., Das, B. S., Field, D. J., Gimona, A., Hedley, C. B., Hong, S. Y., Mandal, B., Marchant, B. P., Martin, M., McConkey, B. G., Mulder, V. L., O'Rourke, S., Richer-de-Forges, A. C., Odeh, I., Padarian, J., Paustian, K., Pan, G., Poggio, L., Savin, I., Stolbovoy, V., Stockmann, U., Sulaeman, Y., Tsui, C.-C., Vågen, T.-G., van Wesemael, B., and Winowiecki, L.: Soil carbon 4 per mille, Geoderma, 292, 59–86, https://doi.org/10.1016/j.geoderma.2017.01.002, 2017. 
Moyes, A. B., Schauer, A. J., Siegwolf, R. T. W., and Bowling, D. R.: An injection method for measuring the carbon isotope content of soil carbon dioxide and soil respiration with a tunable diode laser absorption spectrometer, Rapid Commun. Mass Sp., 24, 894–900, https://doi.org/10.1002/rcm.4466, 2010a. 
Moyes, A. B., Gaines, S. J., Siegwolf, R. T. W., and Bowling, D. R.: Diffusive fractionation complicates isotopic partitioning of autotrophic and heterotrophic sources of soil respiration, Plant Cell Environ., 33, 1804–1819, https://doi.org/10.1111/j.1365-3040.2010.02185.x, 2010b. 
Nickerson, N. and Risk, D.: Physical controls on the isotopic composition of soil-respired CO2, J. Geophys. Res., 114, G01013, https://doi.org/10.1029/2008JG000766, 2009. 
Norman, J. M., Kucharik, C. J., Gower, S. T., Baldocchi, D. D., Crill, P. M., Rayment, M., Savage, K., and Striegl, R. G.: A comparison of six methods for measuring soil-surface carbon dioxide fluxes, J. Geophys. Res., 102, 28771–28777, https://doi.org/10.1029/97JD01440, 1997. 
Papen, H. and Butterbach-Bahl, K.: A 3-year continuous record of nitrogen trace gas fluxes from untreated and limed soil of a N-saturated spruce and beech forest ecosystem in Germany: 1. N2O emissions, J. Geophys. Res., 104, 18487–18503, https://doi.org/10.1029/1999JD900293, 1999. 
Parkin, T. B.: Effect of sampling frequency on estimates of cumulative nitrous oxide emissions, J. Environ. Qual., 37, 1390–1395, https://doi.org/10.2134/jeq2007.0333, 2008. 
Paustian, K., Lehmann, J., Ogle, S., Reay, D., Robertson, G. P., and Smith, P.: Climate-smart soils, Nature, 532, 49–57, https://doi.org/10.1038/nature17174, 2016. 
Pihlatie, M., Rinne, J., Ambus, P., Pilegaard, K., Dorsey, J. R., Rannik, Ü., Markkanen, T., Launiainen, S., and Vesala, T.: Nitrous oxide emissions from a beech forest floor measured by eddy covariance and soil enclosure techniques, Biogeosciences, 2, 377–387, https://doi.org/10.5194/bg-2-377-2005, 2005. 
Pinheiro, J., Bates, D., DebRoy, S., Sarkar, D., and R Core Team: nlme: linear and nonlinear mixed effects models, R package version 3.1-140, available at: https://cran.r-project.org/web/packages/nlme/index.html, last access: 1 June 2020. 
Pumpanen, J., Kolari, P., Ilvesniemi, H., Minkkinen, K., Vesala, T., Niinistö, S., Lohila, A., Larmola, T., Morero, M., Pihlatie, M., Janssens, I., Yuste, J. C., Grünzweig, J. M., Reth, S., Subke, J.-A., Savage, K., Kutsch, W., Østreng, G., Ziegler, W., Anthoni, P., Lindroth, A., and Hari, P.: Comparison of different chamber techniques for measuring soil CO2 efflux, Agr. Forest Meteorol., 123, 159–176, https://doi.org/10.1016/j.agrformet.2003.12.001, 2004. 
Rayment, M. B. and Jarvis, P. G.: An improved open chamber system for measuring soil CO2 effluxes in the field, J. Geophys. Res., 102, 28779–28784, https://doi.org/10.1029/97JD01103, 1997.  
R Core Team: R: A Language and Environment for Statistical Computing, R Foundation for Statistical Computing, Vienna, Austria, available at: https://www.R-project.org/ (last access: 1 June 2020), 2019. 
Riggs, A. C., Stannard, D. I., Maestas, F. B., Karlinger, M. R., and Striegl, R. G.: Soil CO2 flux in the Amargosa Desert, Nevada, during El Nino 1998 and La Nina 1999, US Geol. Surv. Sci. Investig. Rep., 2009–5061, 25 pp., available at: https://pubs.usgs.gov/sir/2009/5061/ (last access: 1 June 2020), 2009. 
Rosenstock, T. S., Diaz-Pines, E., Zuazo, P., Jordan, G., Predotova, M., Mutuo, P., Abwanda, S., Thiong'o, M., Buerkert, A., Rufino, M. C., Kiese, R., Neufeldt, H., and Butterbach-Bahl, K.: Accuracy and precision of photoacoustic spectroscopy not guaranteed, Glob. Change Biol., 19, 3565–3567, https://doi.org/10.1111/gcb.12332, 2013. 
Savage, K., Phillips, R., and Davidson, E.: High temporal frequency measurements of greenhouse gas emissions from soils, Biogeosciences, 11, 2709–2720, https://doi.org/10.5194/bg-11-2709-2014, 2014. 
Schlesinger, W. H.: An estimate of the global sink for nitrous oxide in soils, Glob. Change Biol., 19, 2929–2931, https://doi.org/10.1111/gcb.12239, 2013. 
Sehy, U., Ruser, R., and Munch, J. C.: Nitrous oxide fluxes from maize fields: relationship to yield, site-specific fertilization, and soil conditions, Agr. Ecosyst. Environ., 99, 97–111, https://doi.org/10.1016/S0167-8809(03)00139-7, 2003. 
Wickham, H.: Reshaping data with the reshape package, J. Stat. Softw., 21, 1–20, https://doi.org/10.18637/jss.v021.i12, 2007. 
Wu, D., Dong, W., Oenema, O., Wang, Y., Trebs, I., and Hu, C.: N2O consumption by low-nitrogen soil and its regulation by water and oxygen, Soil Biol. Biochem., 60, 165–172, https://doi.org/10.1016/j.soilbio.2013.01.028, 2013. 
Xu, L., Furtaw, M. D., Madsen, R. A., Garcia, R. L., Anderson, D. J., and McDermitt, D. K.: On maintaining pressure equilibrium between a soil CO2 flux chamber and the ambient air, J. Geophys. Res., 111, D08S10, https://doi.org/10.1029/2005JD006435, 2006.