Articles | Volume 14, issue 4
https://doi.org/10.5194/amt-14-3195-2021
© Author(s) 2021. This work is distributed under
the Creative Commons Attribution 4.0 License.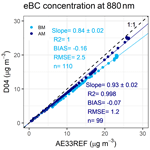 Intercomparison and characterization of 23 Aethalometers under laboratory and ambient air conditions: procedures and unit-to-unit variabilities
Aerosolized black carbon is monitored worldwide to quantify its impact on air quality and climate. Given its importance, measurements of black carbon mass concentrations must be conducted with instruments operating in quality-checked and ensured conditions to generate data which are reliable and comparable temporally and geographically.
In this study, we report the results from the largest characterization and intercomparison of filter-based absorption photometers, the Aethalometer model AE33, belonging to several European monitoring networks. Under controlled laboratory conditions, a total of 23 instruments measured mass concentrations of black carbon from three well-characterized aerosol sources: synthetic soot, nigrosin particles, and ambient air from the urban background of Leipzig, Germany. The objective was to investigate the individual performance of the instruments and their comparability; we analyzed the response of the instruments to the different aerosol sources and the impact caused by the use of obsolete filter materials and the application of maintenance activities.
Differences in the instrument-to-instrument variabilities from equivalent black carbon (eBC) concentrations reported at 880 nm were determined before maintenance activities (for soot measurements, average deviation from total least square regression was −2.0 % and the range −16 % to 7 %; for nigrosin measurements, average deviation was 0.4 % and the range −15 % to 17 %), and after they were carried out (for soot measurements, average deviation was −1.0 % and the range −14 % to 8 %; for nigrosin measurements, the average deviation was 0.5 % and the range −12 % to 15 %). The deviations are in most of the cases explained by the type of filter material employed by the instruments, the total particle load on the filter, and the flow calibration.
The results of this intercomparison activity show that relatively small unit-to-unit variability of AE33-based particle light absorbing measurements is possible with well-maintained instruments. It is crucial to follow the guidelines for maintenance activities and the use of the proper filter tape in the AE33 to ensure high quality and comparable black carbon (BC) measurements among international observational networks.
Received: 26 Aug 2020 – Discussion started: 28 Aug 2020 – Revised: 18 Jan 2021 – Accepted: 27 Jan 2021 – Published: 30 Apr 2021
The impact of black carbon (BC) on climate, health, and human activities prioritizes the observation of BC mass concentration and its optical properties in different environments. In the atmosphere, BC absorbs solar radiation from the visible to the infrared optical spectrum, causing visibility degradation and making it the second most important radiative forcer (Ramanathan and Carmichael, 2008). Black carbon particles modify the lifetime, distribution, and formation processes of clouds because they can act as cloud condensation nuclei, ice nuclei (predominantly in the cirrus temperature range), and modify clouds' internal mixing state; they therefore alter cloud albedo (Koch et al., 2011; Bond et al., 2013; Chen et al., 2018; Wex et al., 2019). BC is also well-known as an air pollutant, affecting human health since it serves as a carrier of multiple toxic substances, which are harmful for the respiratory system, cardiac function, and the immune system (Janssen et al., 2011; WHO, 2012). In consequence, networks for the observation of atmospheric black carbon are growing and need to be maintained worldwide. BC measurements provide base information to develop and track strategies aimed to reduce and manage air pollution and climate change.
The understanding of the spatial and temporal variability of BC and its collateral effects requires reliable, highly time-resolved, and long-term observations. To achieve this, three main aspects must be fulfilled during BC monitoring: (i) appropriate performance and quality check of the monitoring instruments, (ii) standardized use and maintenance by the operators, and (iii) reliable transmission and validation of data. The non-compliance of these requirements challenges the accuracy and comparability of BC observations.
Defined as the most refractory portion of particles produced in combustion processes, with a strong light absorption capacity (Petzold et al., 2013), diverse techniques are available to measure black carbon in the atmosphere. Depending on the measurement technique, BC may be addressed by different terminologies. When thermal methods are used, black carbon is measured as the non-volatilized carbon remaining after applying specific high temperature to the sample; therefore BC is called elemental carbon (EC). In laser-induced incandescence techniques, the sample is heated to vaporization temperatures using an infrared laser and the thermal radiation emitted by incandescent black carbon is measured and then converted to mass concentration; here, we measure BC as refractory black carbon (rBC). When optical methods are used, the mass concentration of black carbon is indirectly retrieved from optical measurements of light attenuation caused by the aerosol particles – the determined quantity is equivalent to the mass concentration and therefore called equivalent black carbon (eBC; see Petzold et al., 2013). This method employs an external conversion factor known as the mass absorption cross section (MAC) to estimate the eBC mass concentrations. Other techniques used to measure black carbon include chemical oxidation and Raman spectroscopy (Bond et al., 2013; Lack et al., 2014).
In optical methods, the aerosol particle light absorption is measured either on the particles collected on a filter (filter-based absorption photometers) or measured directly in the aerosols suspended in a sample of air (photo-thermal spectrometers). In field monitoring, the filter-based absorption photometers (named FBAPs in this document) are widely used to perform long-term BC measurements because these are robust, they require relatively low human intervention, and no laboratory analysis is needed to process the sample. The Aethalometer (Hansen et al., 1982), an instrument quantifying the transmission of light through a filter where the aerosol particles are collected, is one of the commonly used FBAP instruments. The difference between the light from an internal source transmitted through the sample-laden filter relative to the clean part of the filter is used to calculate the attenuation coefficient. The attenuation is transformed to absorption and later to eBC mass concentration using the black carbon mass absorption cross section and filter properties; these two lasts steps involve the use of fixed correction factors and a compensation algorithm. Further description about the functioning of the instrument is given in Sect. 2.1.
According to EBAS database (Tørseth et al., 2012), in the last 10 years (2011–2020) a total of 57 European stations or sites have reported data from particle light absorption measurements using filter-based photometers, including Aethalometers. These measurements contribute to networks and projects such as ACTRIS (41 sites) and EMEP (European Monitoring and Evaluation Programme, five sites) among others, and some stations may contribute to more than one network at the time. Data from stations using FBAP in 29 non-European countries are also available in EBAS. The COST Action CA16109 Chemical On-Line cOmpoSition and Source Apportionment of fine aerosoL COLOSSAL, reports in its catalogue the cooperation with 49 sites using FBAP in Europe.
Despite their wide use, the FBAPs, and particularly the Aethalometers, feature inherent artifacts increasing the uncertainty in the measurements (Collaud Coen et al., 2010; Müller et al., 2011; Saturno et al., 2017). In the first place, these instruments do not quantify directly either the absorption or the eBC mass concentration; these are instead estimated from the measurements of light attenuation caused by the aerosol particles. The absorption coefficients and concentrations are calculated based on different parametrizations and corrections for the absorption enhancement due to light scattering in the sample-laden filter matrix. In fact, the filter material used in the Aethalometer and the particles collected in it scatter a portion of the incident light reducing the transmission of it through the filter (Weingartner et al., 2003). Therefore, a reduction in the light transmitted may be taken as a higher absorption, with an additional small cross-sensitivity to scattering. A second artifact is caused by the loading effect produced by the aerosol particles accumulated in the filter matrix (Weingartner et al., 2003; Virkkula et al., 2007). After particles are deposited, the detection of changes in the attenuation decreases, causing an underestimation of black carbon absorption and, in consequence, lower eBC concentrations (Drinovec et al., 2015, 2017).
The characterization of Aethalometers is therefore required to understand and reduce the variability and uncertainty in the measurements of BC, and this can be done by comparison experiments (EEA, 2013; WMO, 2016). The intercomparison consists of placing two or more instruments to measure the same sample under equal conditions and time. By intercomparing, it is possible to study the instrument sensitivities to different aerosol sources and concentrations, the deviations caused by the type of filter material and numerical corrections used by the instruments, and the effects from different operational and maintenance procedures.
One of the first documented Aethalometer intercomparisons was performed by Ruoss et al. (1993), contrasting ambient air measurements performed by the DLR Aethalometer (DLR Research Centre) and the Hansen-type Aethalometer (Magee Scientific); the authors found a significant variability of up to 50 % among both instruments. In 1999, Hitzenberger et al. (1999) intercompared the absorption measurements carried out by an integrating sphere and one Aethalometer (Hansen et al., 1984) using different filter materials; the Aethalometer underestimated the absorption coefficients in the range of −26 % to −66 % when using quartz fiber filters; while using glass fiber and membrane filters, the Aethalometer overestimated the absorption by up to 34 %. Hitzenberger et al. (2006) compared a wide range of optical and thermal methods measuring ambient air aerosols. The Aethalometer AE9 reported higher eBC concentrations when compared against a multiangle absorption photometer (MAAP) (11.5 %) and a thermal–optical transmission (TOT) method (19 %). In the same study, when compared against an integrating sphere, the Aethalometer showed lower concentrations (−5 %). Collaud Coen et al. (2010) compared the absorption coefficients reported by Aethalometers (AE10, AE16, and AE31) and MAAP in four different locations; depending on the algorithms used to correct the loading effect in the Aethalometers, these instruments overestimated the absorption coefficients reported by the MAAP by 1 % to 33 %.
Although widely used, few experiments have been performed in order to characterize and compare the most recent generation of filter-based absorption photometers used in BC monitoring (Drinovec et al., 2015). Extensive intercomparisons are fundamental to determine the variability among instruments from stations supporting international collaborative projects. They contribute to identifying and quantifying the factors influencing the instruments' performance.
In this investigation, the authors present the results from the largest intercomparison of Aethalometer model AE33, where 23 instruments were characterized and measured BC mass concentrations from three different aerosol sources. The main goal is to determine the unit-to-unit variabilities and their tendencies throughout the spectral range covered by the AE33. Also, we studied the influence of the maintenance activities and accessories used by the instruments on the reported eBC concentrations. In the end, we provide a series of recommendations for the instrument operation and maintenance.
The intercomparisons of Aethalometers were conducted in three laboratory workshops at the World Calibration Centre for Aerosol Physics (WCCAP) in Leipzig, Germany. During the first workshop (14 to 25 January 2019), the characterization of 17 AE33 part of the COST action CA16109 COLOSSAL and ACTRIS (Table 1) was performed. In this first experiment, the instruments were divided into four separated groups (A, B, C, D), due to space limitations in the laboratory which did not permit us to perform a simultaneous intercomparison. The instruments from each group completed 2.5 to 3 d of measurements. In the second workshop (7 to 12 June 2019), two Aethalometers AE33, designated as group E, were intercompared. Finally, four Aethalometers, comprising group F, were intercompared during the third workshop (18 to 20 June 2019). Instruments in groups E and F do not form part of COLOSSAL; they belong to German research and regional monitoring organizations. The same WCCAP reference instrumentation setup was used in all three workshops.
2.1

 The Aethalometer AE33 and the compensation of eBC concentrations

The Aethalometer AE33 (Drinovec et al., 2015) uses a dual spot system to compensate for the loading effect artifact. It calculates the absorption and the compensated for eBC concentrations from measurements of light transmission at seven wavelengths from the near-UV to the near-IR (370, 470, 520, 590, 660, 880, and 950 nm).

The operation principle of the Aethalometer consists of the continuous collection of aerosols on a filter, forming a sample-laden spot. A light source illuminates the spot on the filter and, on the opposite side, a sensor measures the intensity of light transmitted through it (signal I). The light transmission is also measured through a sample-free area on the filter and is used as reference (signal I0). By using both signals, it is possible to calculate an attenuation (ATN; Eq. 1).

where the factor 100 is present for convenience only and ATN/100 should be used in further calculations. In the Aethalometer, the change in the attenuation with time is assumed to be caused by the increase in black carbon mass deposited on the filter. However, it was demonstrated that the correlation between the attenuation and the aerosol load on the filter is not linear at high attenuations (Gundel et al., 1984). Over time, the particles accumulated on the filter "shadow" each other, reducing the optical path length, saturating the signal and therefore the measurement of light transmission. This condition is known as the loading effect and causes an underestimation of eBC concentrations. It is a cumulative property that needs to be calculated in real time to accurately report eBC mass concentrations (Drinovec et al., 2015).

To overcome the loading effect, the AE33 collects the aerosol sample in two spots (S1 and S2) on the filter. Each spot is collected with a different airflow rate, and the spot with higher flow becomes more loaded with sample (Fig. 1). The instrument measures the light transmission through both spots and calculates two attenuations (ATN1 and ATN2, using Eq. 1) for the seven wavelengths of the instrument light source. The dual system allows us to estimate a compensation parameter (k), based on the proportionality from the loading of both spots to their airflows (F1 from S1 and F2 from S2), as shown in Eq. (2):

where the compensation parameter k, representing the loading effect, will be equivalent for both spots as they are loaded with the same sample of aerosols. Equation (2) is used to calculate the instantaneous compensation for each wavelength k(λ).

The calculation of the absorption coefficient is the intermediate step between the measured ATN and the calculated eBC mass. The absorption coefficient that is non-compensated for loading (babs(λ)non comp.) is calculated as shown in Eq. (3):

where s is the spot area (constant, 0.785 cm2), F1 is the air flow through spot 1 (measured), ζ is the leakage factor (constant adjustable, depends on the filter material and the leakage test), ATN1(λ) is the attenuation calculated for spot 1, ΔATN1(λ) is the change in the attenuation at each wavelength in a given time step Δt, and C is the correction parameter for the multiple-scattering enhancement. The particles and the filter may scatter a portion of light incident from the light source, increasing the optical path of the light in the filter and increasing the probability of light being absorbed, i.e., a light absorption enhancement. In the AE33 the user sets a constant value of C; there are specific values available for each type of filter tape (Magee Scientific, 2018); nevertheless, multiple studies have shown this C factor depends also on the source of the aerosols measured (Collaud Coen et al., 2010; Ajtai et al., 2019), but this topic is beyond the scope of this investigation.

The compensation parameter k is used to correct the loading effect and calculate the compensated absorption coefficient (babs(λ)comp.) as follows:

Finally, the compensated absorption coefficient and the BC mass absorption cross section (σair(λ), external fixed constants in the instrument) are used to calculate the compensated eBC mass concentrations at seven wavelengths (eBC(λ)comp.), as shown in Eq. (4):
2.2

 Intercomparison procedure

The workshops were performed in three sessions (Fig. 2):
Initial comparison. During the first day the instruments were connected to the mixing chamber and started the measurements of urban background aerosols from Leipzig conserving the internal configuration and accessories provided by the operators. The instrument time was synchronized, and only the measurement time resolution (1 min), the flow reporting standard (AMCA: 21.1 ∘C, 1013 hPa), and the maximum attenuation limit (ATN =120) were modified. After approximately 1 h of ambient air measurements, synthetic soot produced with a miniCAST 5203 (Table 2) was supplied to the mixing chamber, followed by nigrosin particles (see Sect. 2.4), particle-free air, and ambient air. The initial comparison was performed with the aim to (i) allow the adjustment of the internal compensation parameters k(λ) to the local conditions and (ii) determine the initial variability and deviation of the Aethalometers before the maintenance and calibration procedures.

Maintenance and calibration. The maintenance included a series of procedures performed by following the instructions given in the AE33 user manual – version 1.57 (Magee Scientific, 2018):

flow verification test, using an externally calibrated flowmeter (Table 2);

cleaning of the optical chamber;

flow calibration, performed only in those instruments with non-acceptable results from the flow verification test (deviations >10 %);

leakage test;

replacement of the filter tape, performed for instruments using a different filter tape to the one recommended currently (M8060).

Final comparison. The Aethalometers measured the same three aerosol sources used in the initial comparison (synthetic soot, nigrosin particles, ambient) and particle-free air. The goal was to determine the new instrument-to-instrument variabilities after maintenance.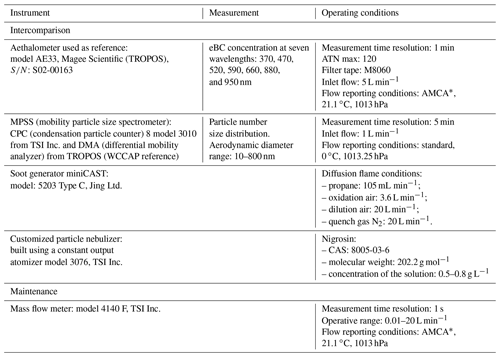 *AMCA (Air Movement and Control Association International) are the default standard conditions used by the flow sensors in the AE33 to report the measured mass flow (Magee Scientific, 2018).
2.3

 Experimental setup

A mixing chamber (0.5 m3) with an internal fan was used to distribute well-mixed samples of aerosols to the Aethalometers (Fig. 3). The instruments intercompared measured eBC mass concentrations from ambient air, synthetic soot, and nigrosin particles.

The Aethalometer AE33 used as reference belongs to the WCCAP; it receives frequent maintenance and is operated with the correct accessories (filter tape M8060). The flow of this AE33 is calibrated with an externally calibrated flowmeter model 4140 F, TSI Inc. The reported absorption coefficients of this reference AE33 have been compared with the absorption calculated by a reference setup from the WCCAP, consisting of one nephelometer Aurora 3000, EcoTech, measuring the aerosol light-scattering coefficients, and one CAPS PMex Monitor, Aerodyne Research, Inc, which measures the aerosol optical extinction. The absorption from the reference setup is calculated as , at 450, 525, and 635 nm; the measurements at 450 and 635 nm are extrapolated to 470 and 660 nm, respectively. The results from this comparison are shown in Fig. S1 in the Supplement.

A mobility particle size spectrometer was used to quantify the particle number size distribution of the different aerosol samples used during the workshops. Table 2 presents a list of the auxiliary instruments used during the intercomparisons.
2.4

 Aerosol sources

The Aethalometers measured eBC concentrations from three aerosol sources:
synthetic soot particles produced with a miniCAST (Jing Ltd, 2013), using a fuel-lean mixture (fuel-to-air equivalence ratio, φ<1); Table 2 shows the operating conditions used in the miniCAST during the intercomparisons;

black particles created by the nebulization of a nigrosin solution (Table 2);

ambient air aerosols from the urban background in the city of Leipzig, Germany; concentrations correspond to early-morning periods (03:00 to 09:00), during winter (workshop 1) and summer time (workshop 2 and 3).
Figure 4 presents the average particle number size distributions of the aerosol sources measured during the workshops.
2.5

 Data processing and analysis

Equivalent black carbon concentrations were measured every minute. Subsequent to the workshops, the data from the Aethalometers were cleaned based on the instrument status codes. The AE33 reports a series of status codes representing the operational state, internal procedures in progress, and warning alerts or errors in the instrument, e.g., 0 for normal measurements, 1 for filter tape advance, 8 to check flow status history, and 384 for tape error (tape not moving, end of tape) (Magee Scientific, 2018). As more than one condition may occur at the same time, these statuses are built under a binary system; therefore they may be numerically combined, e.g., 9 to check flow status history (warning) + tape advance (procedure) and 387 for tape error (tape not moving, end of tape) + stopped. Therefore, data from the few valid statuses available were kept and then used in the data analysis (see Table S1 in the Supplement containing the list of valid statuses used in this study). Invalid data were removed for data analysis.

To compare the measurements made by the Aethalometers and the reference AE33, we used Deming total least squares regression analysis (R package "Deming"; Therneau, 2018) to account for the independent observational errors from each instrument and the reference. Deming regression finds the best fitting line by minimizing the sum of the distances in both x and y directions, simultaneously (Cornbleet and Gochman, 1979). The processes of data cleaning and analysis were performed in the software R, version 4.0.0.
Section 3.1 presents a detailed analysis of the instruments characterized in group D, as a case of study illustrating the wide range of deviations observed in real monitoring networks. In this group we have intercompared Aethalometers using three different filter materials, and one of them presented unacceptable results from the flow verification test before maintenance. A summary and analysis of the results obtained for the total of 23 units intercompared is given in Sect. 3.2; additionally, Figs. S2 to S11, present the time series of the measurements performed by the instruments in groups A, B, C, E, and F before and after maintenance.
4
 Summary, conclusions, and recommendations
In this study, we presented the methodology and results from a comprehensive characterization and intercomparison workshop for Aethalometer model AE33 (Magee Scientific). Twenty-three instruments were intercompared at the World Calibration Centre for Aerosol Physics (WCCAP) in Germany, measuring and reporting eBC mass concentrations of laboratory-produced aerosols and ambient air at an urban background site. The instruments received maintenance and were compared against the reference WCCAP Aethalometer. The influence of maintenance activities, the filter material, and different aerosol sources on the instrumental variabilities were investigated.
The average unit-to-unit variability in the measurements of eBC mass concentrations (880 nm) reported by the 23 instruments was −2.0 % for soot and 0.4 % for nigrosin before maintenance. After the maintenance activities, the average variabilities were −1.0 % and 0.5 % for soot and nigrosin, respectively. The average variabilities were calculated using data from measurements performed after one or two filter tape advances to stabilize the internal correction algorithm, as variabilities increased a few minutes before a tape advance, when the attenuation is close to 120; in some cases, the offsets among the instruments reached up to >25 %. Tape advances are also crucial since the instruments need to fully adjust to the new aerosol sources and local conditions and calculate appropriate values of the compensation parameters k. The aerosol composition and the filter material exert an influence on the rate of attenuation change and the k values. The combination of these factors directly influences the compensated eBC mass concentrations. Therefore, it is recommended to allow one or two tape advances in the Aethalometers before the valid data are obtained for intercomparison purposes or when the instrument is moved to a new location. For ambient air, the calculation of the total average variability may be biased, as the concentrations measured in the workshops were low (some days <0.30 µg m−3) and stable during the intercomparisons and unequal among the different groups of instruments. Nevertheless, the results within groups were satisfactory even for very low concentrations measured with a time resolution of 1 min.
Scientists performing laboratory experiments need to understand the functioning of the internal compensation algorithm; the compensation parameter used immediately after the tape is advanced and measurements are restarted is the parameter from the previous measurements. If the sample being measured has changed (in our case measurements of soot after measurements of nigrosin, for example), the compensation algorithm will use the wrong compensation parameter, which was determined from the previous sample spot. The users need to wait for a new tape advance before using the automatically compensated data. If the experimental setup does not allow for this, manual compensation is necessary.
One of the most important characteristics of the Aethalometer AE33 is the reporting of eBC mass concentrations at seven wavelengths. From the intercomparison data analysis, no significant influence of the wavelength in the unit-to-unit variabilities was seen. This fact is important as the spectral range covered by this instrument is usually employed in source apportionment studies. However, the instrumental noise calculated was slightly higher before maintenance in lower (370 nm: 0.030 µg m−3; 470 nm: 0.041 µg m−3) and middle wavelengths (660 nm: 0.046 µg m−3); it improved significantly after maintenance (370 nm: 0.023 µg m−3; 470 nm: 0.031 µg m−3; 660 nm: 0.033 µg m−3). For higher wavelengths, the instrumental noise was lower and remained almost constant before and after maintenance (880 nm: 0.031 µg m−3; 950 nm: 0.032 µg m−3). The instrumental noise was calculated as the single standard deviation of the eBC mass concentrations measured from dry particle-free air; it is important in clean environments with ambient air concentrations similar to those measured during the intercomparisons (0.2 to 3 µg m−3). Noise accounted up to 10 % of the average ambient eBC mass concentration reported. The instrumental noise contributes to the uncertainty of the measurements and must be considered when comparing BC observations intra-site and inter-site in monitoring networks. The unit-to-unit variabilities also contributes to the uncertainties in the reported eBC inside monitoring networks; these will account for uncertainties associated with instrument flow calibration, leakages, internal correction factors, and filter material.
To ensure the measurements of eBC made with filter-based absorption photometers are comparable, reliable, and traceable on time, the performance of intercomparisons and maintenance activities is crucial; the type of filter material employed is also very important, as each filter has specific optical properties affecting the measurements of attenuation, used to calculate black carbon mass concentrations. The utilization of a different filter material may result in differences of up to 30 %, even after completing the standard maintenance activities. In the AE33 it is strongly recommended to use the most recent version of filter tape (M8060) and to avoid the use of older versions. However, if an Aethalometer operates with an older type of filter, it is absolutely necessary to check the use of the corresponding multiple-scattering parameter C in the internal settings. This value needs to be checked and confirmed each time the filter tape is changed. Both the filter type and the correction parameter C should be reported alongside the measurement data when submitting the measurements to databases like EBAS. The change in tape from one (T60A20, also referred to as M8020) type to the current one (M8060) requires the user to change the multiple-scattering parameter C and the leakage factor Zeta. In our experience, this is the most important systematic error in the measurements that the user can make in a field or laboratory measurement campaign. The operators must perform maintenance following the frequencies and instructions given in the user manual. Flow verification, a leakage test, and a check of the spot shape are good starting points to verify the instrument performance. When carrying out a flow verification and calibration, an externally calibrated flowmeter should be used and care should be taken on the flow reporting conditions, otherwise the test and calibration are not reliable. Cleaning the optical chamber and checking the absence of blocking materials in the airflow sample lines is also vital and should be done more frequently in polluted environments.
LD, ACM, TM, GM, SP, and AW planned and designed the study. All co-authors participated in the experiments. ACM processed the data and prepared the paper with inputs from LD, TM, GM, and AW.
Luka Drinovec and Griša Močnik have in the past, but not during the described work or its planning, been employed by the manufacturer of the Aethalometer AE33; they are now employed in part by Haze Instruments d.o.o., Slovenia.
ACTRIS (Aerosols, Clouds and Trace gases Research Infrastructure) and COLOSSAL (COST Action CA16109 Chemical On-Line cOmpoSition and Source Apportionment of fine aerosoL) are thanked for their logistical support in the preparation and execution of the workshops. The WCCAP is thanked for hosting the experiments in their laboratories. Aerosol d.o.o., Slovenia, the manufacturer of the Aethalometer AE33, is thanked for troubleshooting support during the workshops. María Fernández-Amado acknowledges the Ministerio de Ciencia e Innovación (PTA2017-13607-I).
ACTRIS and COLOSSAL provided financial support for the execution of the experiments. Instrument S04-00387 is operated and maintained thanks to the Spanish Ministry of Science and Innovation (project nos. CGL2016-81092-R, CGL2017-42 90884REDT, and RTI2018.101154.A.I00). Gloria Titos is funded by the Juan de la Cierva-Incorporación postdoctoral program (grant no. IJCI-2016-29838). IMT Lille Douai (Joel Ferreira De Brito, Veronique Riffault) received financial support from the Labex CaPPA project, which is funded by the French National Research Agency (ANR) through the PIA (Programme d'Investissement d'Avenir) (contract no. ANR-11-LABX-0005-01), and the CLIMIBIO project; both projects are financed by the Regional Council "Hauts-de-France" and the European Regional Development Fund (ERDF). The operation of instruments S00-00055 and S02-00156 is funded by the projects CRISOL (MINECO/AEI/FEDER, UE; grant no. CGL2017-85344-R) and TIGAS-CM (grant no. Y2018/EMT-5177).
This paper was edited by Hang Su and reviewed by three anonymous referees.
Ajtai, T., Kiss-Albert, G., Utry, N., Tóth, A., Hoffer, A., Szabó, G., and Bozóki, Z.: Diurnal variation of aethalometer correction factors and optical absorption assessment of nucleation events using multi-wavelength photoacoustic spectroscopy, J. Environ. Sci., 83, 96–109, https://doi.org/10.1016/j.jes.2019.01.022, 2019. 
Bond, T. C., Doherty, S. J., Fahey, D. W., Foster, P. M., Berntsen, T., DeAngelo, B. J., Flanner, M. G., Ghan, S., Kärcher, B., Koch, D., Kinne, S., Kondo, Y., Quinn, P. K., Sarofim, M. C., Schultz, M. G., Schulz, M., Venkataraman, C., Zhang, H., Zhang, S., Bellouin, N., Guttikunda, S. K., Hopke, P. K., Jacobson, M. Z., Kaiser, J. W., Klimont, Z., Lohmann, U., Schwarz, J. P., Shindell, D., Storelvmo, T., Warren, S. G., and Zender, C. S.: Bounding the role of black carbon in the climate system: A scientific assessment, J. Geophys. Res.-Atmos., 118, 5380–5552, https://doi.org/10.1002/jgrd.50171, 2013. 
Chen, J., Wu, Z., Augustin-Bauditz, S., Grawe, S., Hartmann, M., Pei, X., Liu, Z., Ji, D., and Wex, H.: Ice-nucleating particle concentrations unaffected by urban air pollution in Beijing, China, Atmos. Chem. Phys., 18, 3523–3539, https://doi.org/10.5194/acp-18-3523-2018, 2018. 
Collaud Coen, M., Weingartner, E., Apituley, A., Ceburnis, D., Fierz-Schmidhauser, R., Flentje, H., Henzing, J. S., Jennings, S. G., Moerman, M., Petzold, A., Schmid, O., and Baltensperger, U.: Minimizing light absorption measurement artifacts of the Aethalometer: evaluation of five correction algorithms, Atmos. Meas. Tech., 3, 457–474, https://doi.org/10.5194/amt-3-457-2010, 2010. 
Cornbleet, P. J. and Gochman, N.: Incorrect least-squares regression coefficients in method-comparison analysis, Clin. Chem., 25, 432–438, https://doi.org/10.1093/clinchem/25.3.432, 1979. 
Drinovec, L., Močnik, G., Zotter, P., Prévôt, A. S. H., Ruckstuhl, C., Coz, E., Rupakheti, M., Sciare, J., Müller, T., Wiedensohler, A., and Hansen, A. D. A.: The "dual-spot" Aethalometer: an improved measurement of aerosol black carbon with real-time loading compensation, Atmos. Meas. Tech., 8, 1965–1979, https://doi.org/10.5194/amt-8-1965-2015, 2015. 
Drinovec, L., Gregorič, A., Zotter, P., Wolf, R., Bruns, E. A., Prévôt, A. S. H., Petit, J.-E., Favez, O., Sciare, J., Arnold, I. J., Chakrabarty, R. K., Moosmüller, H., Filep, A., and Močnik, G.: The filter-loading effect by ambient aerosols in filter absorption photometers depends on the coating of the sampled particles, Atmos. Meas. Tech., 10, 1043–1059, https://doi.org/10.5194/amt-10-1043-2017, 2017. 
EEA: Status of black carbon monitoring in ambient air in Europe, EEA Technical report No 18/2013, European Environment Agency, Luxembourg, Luxembourg, 43 pp., 2013. 
Gundel, L. A., Dod, R. L., Rosen, H., and Novakov, T.: The relationship between optical attenuation and black carbon, Sci. Total Environ., 36, 197–202, https://doi.org/10.1016/0048-9697(84)90266-3, 1984. 
Hansen, A. D. A., Rosen, H., and Novakov, T.: Real-time measurement of the absorption coefficient of aerosol particles, Appl. Optics, 21, 3060–3062, 1982. 
Hansen, A. D. A., Rosen, H., and Novakov, T.: The Aethalometer – an instrument for the real-time measurement of optical absorption by aerosol particles, Sci. Total Environment, 36, 191–196, https://doi.org/10.1016/0048-9697(84)90265-1, 1984. 
Hitzenberger, R., Jennings, S. G., Larson, S. M., Dillner, A., Cachier, H., Galambos, Z., Rouc, A., and Spain, T. G.: Intercomparison of measurement methods for black carbon aerosols, Atmos. Environ., 33, 2823–2833, https://doi.org/10.1016/S1352-2310(98)00360-4, 1999. 
Hitzenberger, R., Petzold, A., Bauer, H., Ctyroky, P., Pouresmaeil, P., Laskus, L., and Puxbaum, H.: Intercomparison of thermal and optical measurement methods for elemental carbon and black carbon at an urban location, Environ. Sci. Technol., 40, 6377–6383, https://doi.org/10.1021/es051228v, 2006. 
Janssen, N. A. H., Hoek, G., Simic-Lawson, M., Fischer, P., van Bree, L., Brink, H., Keuken, M., Atkinson, R. W., Ross Anderson, H., Brunekreef, B., and Cassee, F. R.: Black carbon as an additional indicator of the adverse health effects of airborne particles compared with PM10 and PM2.5, Environ. Health Perspect., 119, 1691–1699, https://doi.org/10.1289/ehp.1003369, 2011. 
Jing Ltd: Real Soot Generator Model 5203 Type C miniCAST Instruction Manual, Jing Aerosol, Zollikofen, Switzerland, 2013. 
Koch, D., Bauer, S. E., Del Genio, A., Faluvegi, G., McConnell, J. R., Menon, S., Miller, R. L., Rind, D., Ruedy, R., Schmidt, G. A., and Shindell, D.: Coupled aerosol-chemistry-climate twentieth-century transient model investigation: trends in short-lived species and climate responses, J. Climate, 24, 2693–2714, https://doi.org/10.1175/2011JCLI3582.1, 2011. 
Lack, D. A., Moosmüller, H., McMeeking, G. R., Chakrabarty, R. K., and Baumgardner, D.: Characterizing elemental, equivalent black, and refractory black carbon aerosol particles: A review of techniques, their limitations and uncertainties, Anal. Bioanal. Chem., 406, 99–122, https://doi.org/10.1007/s00216-013-7402-3, 2014. 
Liu, C., Chung, C. E., Yin, Y., and Schnaiter, M.: The absorption Ångström exponent of black carbon: from numerical aspects, Atmos. Chem. Phys., 18, 6259–6273, https://doi.org/10.5194/acp-18-6259-2018, 2018. 
Magee Scientific: Aethalometer Model AE33 User Manual Version 1.57, Aerosol d.o.o., Ljubljana, Slovenia, 2018. 
Müller, T., Henzing, J. S., de Leeuw, G., Wiedensohler, A., Alastuey, A., Angelov, H., Bizjak, M., Collaud Coen, M., Engström, J. E., Gruening, C., Hillamo, R., Hoffer, A., Imre, K., Ivanow, P., Jennings, G., Sun, J. Y., Kalivitis, N., Karlsson, H., Komppula, M., Laj, P., Li, S.-M., Lunder, C., Marinoni, A., Martins dos Santos, S., Moerman, M., Nowak, A., Ogren, J. A., Petzold, A., Pichon, J. M., Rodriquez, S., Sharma, S., Sheridan, P. J., Teinilä, K., Tuch, T., Viana, M., Virkkula, A., Weingartner, E., Wilhelm, R., and Wang, Y. Q.: Characterization and intercomparison of aerosol absorption photometers: result of two intercomparison workshops, Atmos. Meas. Tech., 4, 245–268, https://doi.org/10.5194/amt-4-245-2011, 2011. 
Petzold, A., Kopp, C., and Niessner, R.: The dependence of the specific attenuation cross-section on black carbon mass fraction and particle size, Atmos. Environ., 31, 661–672, https://doi.org/10.1016/S1352-2310(96)00245-2, 1997. 
Petzold, A., Ogren, J. A., Fiebig, M., Laj, P., Li, S.-M., Baltensperger, U., Holzer-Popp, T., Kinne, S., Pappalardo, G., Sugimoto, N., Wehrli, C., Wiedensohler, A., and Zhang, X.-Y.: Recommendations for reporting "black carbon" measurements, Atmos. Chem. Phys., 13, 8365–8379, https://doi.org/10.5194/acp-13-8365-2013, 2013. 
Ramanathan, V. and Carmichael, G.: Global and regional climate changes due to black carbon, Nat. Geosci., 1, 221–227, https://doi.org/10.1038/ngeo156, 2008. 
Ruoss, K., Dlugi, R., Weigl, C., and Hänel, G.: Intercomparison of different aethalometers with an absorption technique: laboratory calibrations and field measurements, Atmos. Environ., 27, 1221–1228, https://doi.org/10.1016/0960-1686(92)90472-W, 1993. 
Saturno, J., Pöhlker, C., Massabò, D., Brito, J., Carbone, S., Cheng, Y., Chi, X., Ditas, F., Hrabě de Angelis, I., Morán-Zuloaga, D., Pöhlker, M. L., Rizzo, L. V., Walter, D., Wang, Q., Artaxo, P., Prati, P., and Andreae, M. O.: Comparison of different Aethalometer correction schemes and a reference multi-wavelength absorption technique for ambient aerosol data, Atmos. Meas. Tech., 10, 2837–2850, https://doi.org/10.5194/amt-10-2837-2017, 2017. 
Therneau, T.: Deming, Theil-Sen, Passing-Bablock and Total Least Squares Regression, R package version 1.4, available at: https://CRAN.R-project.org/package=deming (last access: 18 January 2021), 2018. 
Tørseth, K., Aas, W., Breivik, K., Fjæraa, A. M., Fiebig, M., Hjellbrekke, A. G., Lund Myhre, C., Solberg, S., and Yttri, K. E.: Introduction to the European Monitoring and Evaluation Programme (EMEP) and observed atmospheric composition change during 1972–2009, Atmos. Chem. Phys., 12, 5447–5481, https://doi.org/10.5194/acp-12-5447-2012, 2012. 
TROPOS: Public data repository for experimental aerosol physics, Leibniz Institute for Tropospheric Research, available at: https://exp-aerosol-physics.tropos.de/public/publications/2021/Cuesta_et_al_amt, last access: 31 March 2021. 
Virkkula, A.: Modeled source apportionment of black carbon particles coated with a light-scattering shell, Atmos. Meas. Tech. Discuss. [preprint], https://doi.org/10.5194/amt-2020-438, in review, 2020. 
Virkkula, A., Mäkelä, T., Hillamo, R., Yli-Tuomi, T., Hirsikko, A., Hämeri, K., and Koponen, I. K.: A simple procedure for correcting loading effects of aethalometer data, J. Air Waste Manage., 57, 1214–1222, https://doi.org/10.3155/1047-3289.57.10.1214, 2007. 
Weingartner, E., Saathoff, H., Schnaiter, M., Streit, N., Bitnar, B., and Baltensperger, U.: Absorption of light by soot particles: Determination of the absorption coefficient by means of aethalometers, J. Aerosol Sci., 34, 1445–1463, https://doi.org/10.1016/S0021-8502(03)00359-8, 2003.  
Wex, H., Huang, L., Zhang, W., Hung, H., Traversi, R., Becagli, S., Sheesley, R. J., Moffett, C. E., Barrett, T. E., Bossi, R., Skov, H., Hünerbein, A., Lubitz, J., Löffler, M., Linke, O., Hartmann, M., Herenz, P., and Stratmann, F.: Annual variability of ice-nucleating particle concentrations at different Arctic locations, Atmos. Chem. Phys., 19, 5293–5311, https://doi.org/10.5194/acp-19-5293-2019, 2019. 
WHO: Health effects of black carbon, World Health Organization Regional Office for Europe, Copenhagen, Denmark, 86 pp., 2012. 
WMO: GAW Report No. 227, WMO/GAW Aerosol Measurement Procedures, Guidelines and Recommendations, World Meteorological Organization and Global Atmosphere Watch, Geneva, Switzerland, 93 pp., 2016. 
Zotter, P., Herich, H., Gysel, M., El-Haddad, I., Zhang, Y., Močnik, G., Hüglin, C., Baltensperger, U., Szidat, S., and Prévôt, A. S. H.: Evaluation of the absorption Ångström exponents for traffic and wood burning in the Aethalometer-based source apportionment using radiocarbon measurements of ambient aerosol, Atmos. Chem. Phys., 17, 4229–4249, https://doi.org/10.5194/acp-17-4229-2017, 2017.