Articles | Volume 16, issue 5
https://doi.org/10.5194/amt-16-1195-2023
© Author(s) 2023. This work is distributed under
the Creative Commons Attribution 4.0 License.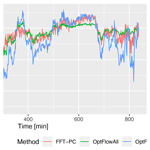 Optimizing cloud motion estimation on the edge with phase correlation and optical flow
Phase correlation (PC) is a well-known method for estimating cloud motion vectors (CMVs) from infrared and visible spectrum images. Commonly, phase shift is computed in the small blocks of the images using the fast Fourier transform. In this study, we investigate the performance and the stability of the blockwise PC method by changing the block size, the frame interval, and combinations of red, green, and blue (RGB) channels from the total sky imager (TSI) at the United States Atmospheric Radiation Measurement user facility's Southern Great Plains site. We find that shorter frame intervals, followed by larger block sizes, are responsible for stable estimates of the CMV, as suggested by the higher autocorrelations. The choice of RGB channels has a limited effect on the quality of CMVs, and the red and the grayscale images are marginally more reliable than the other combinations during rapidly evolving low-level clouds. The stability of CMVs was tested at different image resolutions with an implementation of the optimized algorithm on the Sage cyberinfrastructure test bed. We find that doubling the frame rate outperforms quadrupling the image resolution in achieving CMV stability. The correlations of CMVs with the wind data are significant in the range of 0.38–0.59 with a 95 % confidence interval, despite the uncertainties and limitations of both datasets. A comparison of the PC method with constructed data and the optical flow method suggests that the post-processing of the vector field has a significant effect on the quality of the CMV. The raindrop-contaminated images can be identified by the rotation of the TSI mirror in the motion field. The results of this study are critical to optimizing algorithms for edge-computing sensor systems.
Received: 14 May 2022 – Discussion started: 10 Jun 2022 – Revised: 14 Feb 2023 – Accepted: 15 Feb 2023 – Published: 08 Mar 2023
Converting cloud images captured by a ground-based sky-facing camera into a time series of motion vectors has implications for reporting local weather and short-term forecasting of solar irradiance (Jiang et al., 2020; Radovan et al., 2021). Phase correlation (PC) estimates global translative shift between two similar images by detecting a peak in their cross-correlation matrix which is used to estimate the cloud motion vectors (CMVs) from the satellite and ground-based sky camera images (Leese et al., 1971; Dissawa et al., 2017, 2021; Zhen et al., 2019; Huang et al., 2011). On the other hand, optical flow (OF) estimates the pixel-wise motion assuming the conservation of brightness of the object pixels in two frames (Apke et al., 2022; Mondragón et al., 2020; Peng et al., 2016). However, OF is sensitive to image noise and the variation in lighting. Both OF and PC methods fail to detect textureless motion. Other object-based cloud tracking methods used in radar and satellite meteorology require cloud identification before the tracking stage. The cloud identification approaches vary from threshold-based to texture-based methods and machine learning methods (Steiner et al., 1995; Raut et al., 2008; Park et al., 2021).
The texture-based methods and the machine learning models add computational overheads, complicating their use in real-time applications. In infrared and microwave satellite images and radar images, the threshold of brightness temperatures and reflectivity marks a physical distinction of the features in the scene. However, for the cloud images in the visible spectrum, thresholds of RGB values may not be a meaningful criterion to distinguish the properties of the clouds because they are affected by the lighting conditions and time of the day. The texture-based techniques are also susceptible to detection errors due to reflections and shadows caused by solar zenith angles. While the optical flow (OF) method estimates dense motion field (Horn and Schunck, 1981; Chow et al., 2015), it also suffers from the limitations in visible camera images and may require segmentation or background subtraction before the images are processed (Denman et al., 2009; Wood-Bradley et al., 2012; El Jaouhari et al., 2015).
The Sage Project is designing and building a new kind of reusable cyberinfrastructure composed of geographically distributed sensor systems (Sage Waggle nodes shown in Fig. 1a) that include cameras, microphones, and weather and air quality sensors generating large volumes of data that are efficiently analyzed by an embedded computer connected directly to the sensor at the network edge (Beckman et al., 2016; https://sagecontinuum.org/, last access: 27 February 2023). An edge device rapidly analyzes the data in real time at the location where they are collected, and continuously sends and receives feedback from connected remote computing systems and other similar devices. In such networks including Sage, the computational efficiency of the algorithm is critical. The PC method can be implemented without preprocessing images and is robust to noise and changes in illumination, as it works by only correlating the phase information (Chalasinska-Macukow et al., 1993; Turon et al., 1997). This eliminates the burden of separating the background from the objects to be tracked. A straightforward implementation of the PC method in the frequency domain using the fast Fourier transform (FFT) is computationally efficient, and hence it is a natural choice to detect the cloud motion vectors from the hemispheric camera images at the edge.
The PC method is efficient for uniform rigid body motion, i.e., when an object's shape and size are preserved, and multiple objects in the scene are moving with the same velocity. There are a few limitations to the PC method that affect its applicability in tracking cloud motions in a sky-facing camera. First, the PC method is less efficient when multiple peaks in the correlation matrix are observed. This occurs when cloud features are moving with different velocities, as each peak is associated with the motion of one or more independent features in the images. This limitation is overcome by dividing the image into sufficiently smaller subregions or blocks and employing the PC separately for each block (Leese et al., 1971). As the multi-layer clouds with different cloud base heights move independently, Peng et al. (2016) used adaptive blocks for each cloud type.
Second, the changing cloud texture and geometries may cause incoherent motion vectors in some image blocks. Therefore, additional quality control measures are applied to remove the spurious CMVs, usually assuming that a spurious CMV substantially deviates from its surrounding CMVs in the presumably smooth velocity field (Westerweel and Scarano, 2005). For the assumption of the coherent velocity field, smaller block sizes are preferred. The optimal block size is determined by the maximum expected displacement during the frame interval.
Third, the ground-based cameras frequently encounter contamination on the mirror dome or hemispherical lens, obscuring the clouds during and after a precipitation event, and automated identification and removal of precipitation-contaminated images are critical (Heinle et al., 2010; Kazantzidis et al., 2012; Gacal et al., 2018; Voronych et al., 2019). The distortion of images caused by the presence of raindrops and the edge detection methods are used to identify raindrop contamination (Kazantzidis et al., 2012; Voronych et al., 2019). In this paper, we propose the use of motion vectors for detecting raindrop contamination on the rotating TSI mirror.
Finally, while it is common for cameras to produce high-resolution three-channel images, the PC method utilized only a single channel. Hence, either the grayscale image or one of the RGB channels is used. The dependence of CMV stability on the choice of image channels is undocumented.
Investigating the sensitivity of the motion vectors to the block sizes, the frame frequency, and its response to different spectral channels will help in the effective implementation of the method. Therefore, in this paper, we evaluate the performance of the blockwise PC with three visible channels, the grayscale, and the red to the blue ratio in two block sizes and two frame rates. We also demonstrate the effect of change in the image resolution and the change in frame rate on the CMV quality. We validated the PC method with constructed data and compared it with the OF method. The wind and ceilometer measurements are used for additional validation to show consistency with independent atmospheric measurements. However, wind retrieval is not an objective of the paper. The data, methodology, and algorithm are described in Sect. 2. The results are shown in Sect. 3, and their implications for the Sage edge-computing platform are discussed in Sect. 4.
4
 Discussion of the results
Prior studies have documented the effectiveness of the blockwise PC and OF method for detecting cloud motion in IR and visible spectrum images (Leese et al., 1971; Chow et al., 2015; Dissawa et al., 2017; Zhen et al., 2019). We tested the sensitivity of the PC method to changes in block length, frame interval, and image resolution, as well as five combinations of the visible channels from a sky-viewing camera. These results are also applicable to satellite and radar-based motion estimation. Additionally, we compared the derived mean CMV from the PC method with the observed mean wind field from a colocated remote sensing instrument and the OF method. We also presented a method to detect raindrops on the rotating dome. However, the automated removal of contaminated images due to rain, snow, and other obscurities needs a more complex approach using advanced machine learning algorithms and labeled data.
The performance of different visible channels is comparable except for the red-to-blue channel ratio (RB). Although the RB is effective in segmenting clouds from the blue sky background (Dev et al., 2016), it smooths the cloud texture during overcast conditions, reducing the performance of the PC method. The red and grayscale performed slightly better than the blue and green channels. We find that larger block sizes provide a more stable estimation of cloud motion, and the stability benefits largely from the shortened interval between frames even for coarse-resolution camera data. Considering that the temporal changes in cloud patterns reduce the quality of the motion vectors, a shorter frame interval helps in maintaining the structure from one image to the next. However, a larger block size allows for a larger sample for stable correlation matching, achieving more stable estimates of the motion during disorganized cloud conditions (Fig. 8c and d). Although averaging in time over the short frame interval is a better way to achieve reliable estimates, a higher sampling rate may not always be feasible. In these situations, the large block size that can capture homogeneous motion is recommended for block-based PC implementation. We also show that increasing the spatial resolution, i.e., increasing the number of pixels without decreasing the number of blocks, marginally affects the quality of the motion vectors. At the same time, reducing the frame interval from 60 to 30 s outperforms quadrupling the resolution. Comparable results were obtained by Wang et al. (2018) for cloud segmentation using a ground-based camera.
Our analysis shows that doubling the frame rate outperforms quadrupling the resolution for PC. This non-intuitive result is very interesting in the context of edge computing. Because a shorter frame interval between the camera images effectively improves the quality of the CMVs, the application must have deterministic and low-latency access to sky images. Edge computing solves this problem efficiently by carefully placing and pairing computation with sensor data sources. Without incurring large data transfers and delays due to network outages, in an edge-computing platform like Sage, image data can be acquired and processed right next to the camera in the field. The high-level motion estimation result which is much smaller and compresses efficiently can be communicated and archived for further studies.
The validation with constructed data and the comparison of PC and OF methods suggests that the quality of the motion vectors is sensitive to the error corrections and removal of the near-zero magnitudes in the post-processing. The dense OF field can be corrected using spatial clustering methods to produce valuable results. It is also possible to use the inputs from the cloud cover estimation plugin to correct the raw OF field. The issue of multi-layer clouds mentioned in Sect. 1 can be addressed using OF dense motion field using adaptive clustering as post-processing as opposed to adaptive blocks used in Peng et al. (2016). Further sensitivity and comparative studies with OF algorithm are needed to test this technique.
The distortion of the sky images near the horizon, due to the wide field of view (FOV) of the fisheye lens, affects the accuracy of the mean cloud motion estimation. Therefore, the mean is estimated using the center portion of the images. The fisheye de-warping method can correct the regions near the horizon, where features are not heavily compressed.
5
 Conclusion and future scope
Wind data retrieval from cloud motion vectors is an active area of research in satellite meteorology. Nevertheless, obtaining accurate wind retrievals from the ground-based optical camera images requires estimates of cloud-base heights, which is challenging without the lidar-based methods. Moreover, despite assuming ideal CMV and cloud-base height estimates, the resulting winds may not align well with the observed cloud motion due to the substantial vertical extent of cumulus clouds and the influence of vertical wind shear on their motion. The growth and decay of clouds can also result in additional cloud motion components unrelated to the wind. Thermal infrared cameras can potentially help determine cloud-base heights and also cloud motion vectors for estimating winds in the future.
Current machine learning algorithms for automatic cloud identification underperform in the presence of thin clouds (Park et al., 2021). To this end, we are generating a dataset of thin clouds identified by scanning mini micro-pulse lidar (MiniMPL) and a colocated sky-viewing camera using an edge-computing paradigm. One of the objectives is to use the camera images to predict cloud boundaries and cloud motion and utilize the knowledge to adapt MiniMPL scan strategies in real time for optimal sampling in various environmental conditions. Thus reducing the number of clear sky scans and targeting required clouds for the increased density of scans. Cloud locations predicted from CMV estimates can also be used in forecasting solar irradiance in near real time (Jiang et al., 2020; Radovan et al., 2021). The results of this study are helping to optimize image sampling and cloud motion estimation with edge-enabled camera systems.
All authors contributed to the analysis plan and editing of the paper. BAR designed the methodology and conducted sensitivity tests, data analysis, and plotting. SAS, SP, and DD assisted in the algorithm selection and coding. SAS, YK, and JS contributed to the development of the Sage plugin. RS, SP, NC, SS, and WG are responsible for the deployment, testing, and scheduling of the plugin on the waggle nodes for real-time use. BAR, PM, and RCJ led the composition of the paper. PM contributed to the wind data analysis. SMC, NJF, and PB conceptualized the work and provided project oversight and direction.
The contact author has declared that none of the authors has any competing interests.
Publisher's note: Copernicus Publications remains neutral with regard to jurisdictional claims in published maps and institutional affiliations.
The Sage project is funded through the US National Science Foundation's Mid-Scale Research Infrastructure program, NSF-OAC-1935984. The US Department of Energy (DoE) Atmospheric Radiation Measurement (ARM) user facility supported the work under the field campaign AFC 07056 "ARMing the Edge: Demonstration of Edge Computing". Argonne National Laboratory's contribution is based upon work supported by Laboratory Directed Research and Development (LDRD) funding from Argonne National Laboratory, provided by the Director, Office of Science, of the US Department of Energy under contract no. DE-AC02-06CH11357. We gratefully acknowledge the computing resources provided on Bebop, a high-performance computing cluster operated by the Laboratory Computing Resource Center at Argonne National Laboratory. We thank the ATMOS observatory staff for their assistance. The algorithm, data analysis, and graphics were programmed in Python (https://www.python.org/, last access: 25 February 2023) and the R programming language (https://www.r-project.org/, last access: 25 February 2023). We thank Robert Hoeller and an anonymous reviewer for their thoughtful comments and efforts that significantly improved the paper.
This research has been supported by the National Science Foundation (grant no. NSF-OAC-1935984) and the Argonne National Laboratory (grant no. DE-AC02-06CH11357). The US Department of Energy (DoE) Atmospheric Radiation Measurement (ARM) user facility supported the work under the field campaign "ARMing the Edge: Demonstration of Edge Computing" (grant no. AFC 07056).
This paper was edited by Ad Stoffelen and reviewed by Robert Hoeller and one anonymous referee.
Apke, J. M., Noh, Y.-J., and Bedka, K.: Comparison of Optical Flow Derivation Techniques for Retrieving Tropospheric Winds from Satellite Image Sequences, J. Atmos. Ocean. Tech., 39, 2005–2021, https://doi.org/10.1175/JTECH-D-22-0057.1, 2022. a
Beckman, P., Sankaran, R., Catlett, C., Ferrier, N., Jacob, R., and Papka, M.: Waggle: An open sensor platform for edge computing, in: 2016 IEEE SENSORS, Orlando, FL, USA, 30 October–3 November 2016, IEEE, 1–3, https://doi.org/10.1109/ICSENS.2016.7808975, 2016. a
Chalasinska-Macukow, K., Turon, F., Yzuel, M., and Campos, J.: Contrast performance of pure phase correlation, J. Optics, 24, 71, https://doi.org/10.1088/0150-536X/24/2/004, 1993.  a
Chow, C. W., Belongie, S., and Kleissl, J.: Cloud motion and stability estimation for intra-hour solar forecasting, Sol. Energy, 115, 645–655, 2015. a, b
Dematties, D., Raut, B. A., Park, S., Jackson, R. C., Shahkarami, S., Kim, Y., Sankarana, R., Beckmana, P., Collis, S. M., and Ferrier, N.: Let's Unleash the Network Judgement: A Self-supervised Approach for Cloud Image Analysis, Artificial Intelligence for the Earth Systems, in press, 2023. a
Denman, S., Fookes, C., and Sridharan, S.: Improved simultaneous computation of motion detection and optical flow for object tracking, in: 2009 Digital Image Computing: Techniques and Applications, Melbourne, VIC, Australia, 1–3 December 2009, IEEE, 175–182, https://doi.org/10.1109/DICTA.2009.35, 2009. a
Dev, S., Lee, Y. H., and Winkler, S.: Color-based segmentation of sky/cloud images from ground-based cameras, IEEE J. Sel. Top. Appl., 10, 231–242, 2016. a
Dissawa, D., Godaliyadda, G., Ekanayake, M., Ekanayake, J. B., and Agalgaonkar, A. P.: Cross-correlation based cloud motion estimation for short-term solar irradiation predictions, in: 2017 IEEE International Conference on Industrial and Information Systems (ICIIS), Peradeniya, Sri Lanka, 15–16 December 2017, IEEE, 1–6, https://doi.org/10.1109/ICIINFS.2017.8300338, 2017. a, b
Dissawa, L. H., Godaliyadda, R. I., Ekanayake, P. B., Agalgaonkar, A. P., Robinson, D., Ekanayake, J. B., and Perera, S.: Sky Image-Based Localized, Short-Term Solar Irradiance Forecasting for Multiple PV Sites via Cloud Motion Tracking, Int. J. Photoenergy, 2021, 9973010, https://doi.org/10.1155/2021/9973010, 2021. a
El Jaouhari, Z., Zaz, Y., and Masmoudi, L.: Cloud tracking from whole-sky ground-based images, in: 2015 3rd International Renewable and Sustainable Energy Conference (IRSEC), Marrakech, Morocco, 10–13 December 2015, IEEE, 1–5, https://doi.org/10.1109/IRSEC.2015.7455105, 2015. a
Farnebäck, G.: (2003). Two-Frame Motion Estimation Based on Polynomial Expansion, in: Image Analysis. SCIA 2003. Lecture Notes in Computer Science, edited by: Bigun, J. and Gustavsson, T., Springer, Berlin, Heidelberg, 2749, 363–370, https://doi.org/10.1007/3-540-45103-X_50, 2003. a
Flynn, D. and Morris, V.: Total Sky Imager (TSISKYIMAGE), Atmospheric Radiation Measurement (ARM) user facility [data set], https://doi.org/10.5439/1025309, 2023. a
Gacal, G. F. B., Antioquia, C., and Lagrosas, N.: Trends of night-time hourly cloud-cover values over Manila Observatory: ground-based remote-sensing observations using a digital camera for 13 months, Int. J. Remote. Sens., 39, 7628–7642, 2018. a
Heinle, A., Macke, A., and Srivastav, A.: Automatic cloud classification of whole sky images, Atmos. Meas. Tech., 3, 557–567, https://doi.org/10.5194/amt-3-557-2010, 2010. a
Horn, B. K. and Schunck, B. G.: Determining optical flow, Artif. Intell., 17, 185–203, 1981. a, b
Huang, H., Yoo, S., Yu, D., Huang, D., and Qin, H.: Cloud motion detection for short term solar power prediction, in: 2013 IEEE International Conference on Smart Grid Communications (SmartGridComm), Vancouver, BC, Canada, 21–24 October 2013, IEEE, Vancouver, BC, Canada, 21–24 October 2013, https://doi.org/10.1109/SmartGridComm.2013.6688040, 2011. a
Jiang, J., Lv, Q., and Gao, X.: The ultra-short-term forecasting of global horizonal irradiance based on total sky images, Remote Sensing, 12, 3671, https://doi.org/10.3390/rs12213671, 2020. a, b
Kazantzidis, A., Tzoumanikas, P., Bais, A. F., Fotopoulos, S., and Economou, G.: Cloud detection and classification with the use of whole-sky ground-based images, Atmos. Res., 113, 80–88, 2012. a, b
Leese, J. A., Novak, C. S., and Clark, B. B.: An automated technique for obtaining cloud motion from geosynchronous satellite data using cross correlation, J. Appl. Meteorol., 10, 118–132, 1971. a, b, c, d, e
Mondragón, R., Alonso-Montesinos, J., Riveros-Rosas, D., and Bonifaz, R.: Determination of cloud motion applying the Lucas-Kanade method to sky cam imagery, Remote Sensing, 12, 2643, https://doi.org/10.3390/rs12162643, 2020. a
Morris, V.: Total Sky Imager (TSI): fractional sky coverage, ARM [data set], https://doi.org/10.5439/1025308, 2000. a
Morris, V.: Total Sky Imager (TSI) Handbook, Atmospheric Radiation Measurement Rep. DOE/SC-ARM/TR-017, OSTI.GOV, https://doi.org/10.2172/1020716, 2005. a
Morris, V., Zhang, D., and Ermold, B.: ceil, ARM [data set], https://doi.org/10.5439/1181954, 1996. a, b
Morris, V. R.: Ceilometer Instrument Handbook, Technical Report, DOE/SC-ARM-TR-020, OSTI.GOV, https://doi.org/10.2172/1036530, 2016. a
Muradyan, P. and Coulter, R.: 915-MHz Radar Wind Profiler/RASS (RWP915): wind consensus data, ARM [data set], https://doi.org/10.5439/1025135, 1998. a, b
Muradyan, P. and Coulter, R.: Radar Wind Profiler (RWP) and Radio Acoustic Sounding System (RASS) Instrument Handbook, Technical Report, DOE/SC-ARM/TR-044, OSTI.GOV, https://doi.org/10.2172/1020560, 2020. a, b
Park, S., Kim, Y., Ferrier, N. J., Collis, S. M., Sankaran, R., and Beckman, P. H.: Prediction of Solar Irradiance and Photovoltaic Solar Energy Product Based on Cloud Coverage Estimation Using Machine Learning Methods, Atmosphere, 12, 395, https://doi.org/10.3390/atmos12030395, 2021. a, b
Peng, Z., Yu, D., Huang, D., Heiser, J., and Kalb, P.: A hybrid approach to estimate the complex motions of clouds in sky images, Sol, Energy, 138, 10–25, 2016. a, b, c
Picel, M., Collis, S., Raut, B., Carani, S., Jackson, R., van Lier-Walqui, M., and Fridlind, A.: 3.4 TINT:TINT Is Not TITAN. Easy-to-Use Tracking Code Based on TITAN–Details and Uses, in: 8th Symposium on Advances in Modeling and Analysis Using Python, Vol. 98 of AMS Annual Meeting, Austin, TX, 7–11 January 2018, American Meteorological Society, https://ams.confex.com/ams/98Annual/webprogram/Paper335460.html, last access: 8 January 2018. a
Radovan, A., Šunde, V., Kučak, D., and Ban, Ž.: Solar Irradiance Forecast Based on Cloud Movement Prediction, Energies, 14, 3775, https://doi.org/10.3390/en14133775, 2021.  a, b
Raut, B. A., Karekar, R. N., and Puranik, D. M.: Wavelet-based technique to extract convective clouds from infrared satellite images, IEEE Geosci. Remote S., 5, 328–330, 2008. a
Raut, B. A., Jackson, R., Picel, M., Collis, S. M., Bergemann, M., and Jakob, C.: An Adaptive Tracking Algorithm for Convection in Simulated and Remote Sensing Data, J. Appl. Meteorol. Clim., 60, 513–526, https://doi.org/10.1175/jamc-d-20-0119.1, 2021. a, b
Sage UI: https://portal.sagecontinuum.org/, last access: 25 February 2023. 
Shahkarami, S., dariodematties, and Raut, B.: RBhupi/plugin-cmv-fftpc: check previouse release for fftpc, Version v1.23.02, Zenodo [code], https://doi.org/10.5281/zenodo.7676068, 2023. a
Slater, D., Long, C., and Tooman, T.: Total sky imager/whole sky imager cloud fraction comparison, in: Proc. 11th ARM Science Team Meeting, Atlanta, Georgia, 19–23 March 2001, 1–11, 2001. a, b
Steiner, M., Houze Jr., R. A., and Yuter, S. E.: Climatological characterization of three-dimensional storm structure from operational radar and rain gauge data, J. Appl. Meteorol., 34, 1978–2007, 1995. a
Tong, X., Ye, Z., Xu, Y., Gao, S., Xie, H., Du, Q., Liu, S., Xu, X., Liu, S., Luan, K., and Stilla, U.: Image registration with Fourier-based image correlation: A comprehensive review of developments and applications, IEEE J. Sel. Top. Appl., 12, 4062–4081, 2019. a
Turon, F., Chalasinska-Macukow, K., Campos, J., and Yzuel, M. J.: Pure phase correlation applied to multi-object colour scenes, J. Optics-UK, 28, 112, https://doi.org/10.1088/0150-536X/28/3/004, 1997. a
Voronych, O., Höller, R., Longhi Beck, G., and Traunmüller, W.: Solar PV nowcasting based on skycamera observations, Adv. Sci. Res., 16, 7–10, 2019. a, b
Wang, Y., Wang, C., Shi, C., and Xiao, B.: A selection criterion for the optimal resolution of ground-based remote sensing cloud images for cloud classification, IEEE T. Geosci. Remote, 57, 1358–1367, 2018. a
Westerweel, J. and Scarano, F.: Universal outlier detection for PIV data, Exp. Fluids, 39, 1096–1100, 2005. a, b, c
Wood-Bradley, P., Zapata, J., and Pye, J.: Cloud tracking with optical flow for short-term solar forecasting, in: Proceedings of the 50th Conference of the Australian Solar Energy Society, Melbourne, Citeseer, 6–7 December 2012. a
Zhen, Z., Xuan, Z., Wang, F., Sun, R., Duić, N., and Jin, T.: Image phase shift invariance based multi-transform-fusion method for cloud motion displacement calculation using sky images, Energ. Convers. Manage., 197, 111853, https://doi.org/10.1016/j.enconman.2019.111853, 2019. a, b, c