Articles | Volume 11, issue 12
https://doi.org/10.5194/amt-11-6719-2018
© Author(s) 2018. This work is distributed under
the Creative Commons Attribution 4.0 License.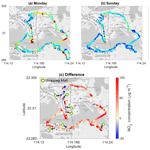 Analysis of spatial and temporal patterns of on-road NO2 concentrations in Hong Kong
In this paper we present an investigation of the spatial and temporal variability of street-level concentrations of NO2 in Hong Kong as an example of a densely populated megacity with heavy traffic. For the study we use a combination of open-path remote sensing and in situ measurement techniques that allows us to separate temporal changes and spatial patterns and analyse them separately. Two measurement campaigns have been conducted, one in December 2010 and one in March 2017. Each campaign lasted for a week which allowed us to examine diurnal cycles, weekly patterns as well as spatially resolved long-term changes. We combined a long-path differential optical absorption spectroscopy (DOAS) instrument with a cavity-enhanced DOAS and applied several normalizations to the data sets in order to make the different measurement routes comparable. For the analysis of long-term changes we used the entire unfiltered data set and for the comparison of spatial patterns we filtered out the accumulation of NO2 when stopping at traffic lights for focusing on the changes of NO2 spatial distribution instead of comparing traffic flow patterns. For the generation of composite maps the diurnal cycle has been normalized by scaling the mobile data with coinciding citywide path-averaged measurement results.
An overall descending trend from 2010 to 2017 could be observed, consistent with the observations of the Ozone Monitoring Instrument (OMI) and the Environment Protection Department (EPD) air quality monitoring network data. However, long-term difference maps show pronounced spatial structures with some areas, e.g. around subway stations, revealing an increasing trend. We could also show that the weekend effect, which for the most part of Hong Kong shows reduced NO2 concentrations on Sundays and to a lesser degree on Saturdays, is reversed around shopping malls. Our study shows that spatial differences have to be considered when discussing citywide trends and can be used to put local point measurements into perspective. The resulting data set provides a better insight into on-road NO2 characteristics in Hong Kong, which helps to identify heavily polluted areas and represents a useful database for urban planning and the design of pollution control measures.
Received: 26 Jul 2018 – Discussion started: 30 Jul 2018 – Revised: 05 Dec 2018 – Accepted: 07 Dec 2018 – Published: 19 Dec 2018
Nitrogen dioxide (NO2) is one of the major air pollutants and plays a key role in both tropospheric and stratospheric chemistry. It participates in the catalytic formation of tropospheric ozone (O3) and also contributes to the formation of secondary aerosols (Huang et al., 2014; Jang and Kamens, 2001) and causes acid rain. High NO2 concentration is known to be toxic to humans. Nitrogen oxides (NOx), defined as the sum of nitric oxide (NO) and NO2, are released into the atmosphere from both natural and anthropogenic sources. Major sources of NOx include fossil fuel combustion, biomass burning, lightning and oxidation of ammonia (Bond et al., 2001; Zhang et al., 2003). In Hong Kong, vehicle emissions are the main source of NOx. Similarly to many metropolitan areas, a decreasing trend in ambient and roadside NOx levels has been observed (Carslaw, 2005; Keuken et al., 2009; Tian et al., 2011), which was contributed to by the effective vehicular emission control measures in the past. However, the pollution levels measured at both ambient and roadside air quality monitoring stations have still occasionally exceeded the World Health Organization (WHO) guideline values of 40 µg m−3 (annual) and 200 µg m−3 (hourly) for NO2, with more frequent exceedance of hourly NO2 with high values observed at roadside stations. A rising trend in the NO2∕NOx ratio with a reduction of NOx is recorded at the roadside monitoring stations in Hong Kong, which means the reduction rate of NO2 is slower than NO in recent years (Tian et al., 2011). Vehicular NO2 is either primarily emitted at the tail pipe or secondarily formed from oxidation of NO emissions involving ozone and volatile organic compounds (VOCs) at the ambient level (Chang et al., 2016; Muilwijk et al., 2016). The increase in the NO2∕NOx ratio could either relate to the upgrades of vehicle engines and catalytic filters or changes at the composition and ambient level of VOCs. However, NO2 concentration changes rapidly with time and has a very strong spatio-temporal variability, which is often unknown in urban areas (Longley et al., 2015). Regular roadside air quality monitoring stations are not sufficient to capture these variations and could not provide an overview of the roadside pollution situation representative of Hong Kong. Therefore, it is necessary to take on-road mobile measurements for a better understanding of the pollutant distribution and spatial coverage of NO2 for the entire city.
In order to capture the spatial and temporal variability of NO2 concentrations in the central metropolitan area of Hong Kong, we use a combination of two different differential optical absorption spectroscopy (DOAS) techniques, a long-path DOAS (LP-DOAS) and a cavity-enhanced DOAS (CE-DOAS), as well as an ultraviolet (UV)-based dual-beam in situ ozone monitor (Model 205, 2B Technologies). CE-DOAS is a relatively new spectroscopic measurement technique, which uses an optical resonator to produce a long light path to enhance the absorption signal within a limited space (Platt et al., 2009). Sensitive measurements of trace gases have already been demonstrated by Langridge et al. (2006), Venables et al. (2006), Washenfelder et al. (2008), Thalman and Volkamer (2010), Min et al. (2016) and Chan et al. (2017b). Compared to other in situ NO2 monitoring techniques, CE-DOAS is insensitive to other reactive nitrogen (NOy) in the atmosphere, making it a better option for small-scale measurements and detection of spatial variation of trace gases. Its high accuracy allows for fast sampling, which is important for mobile measurements.
Mobile measurements are an effective tool for obtaining the spatial and temporal variations of highly dynamic on-road pollutants. Therefore, it has been widely used for determining on-road vehicle emission factors (Ning et al., 2012; Uhrner et al., 2007; Vogt et al., 2003) and assessing the impacts of urban planning on air quality (Chan et al., 2017b; Rakowska et al., 2014).
Mobile CE-DOAS measurements of on-road NO2 were taken in December 2010 and March 2017. The mobile measurements were used to investigate the relationship between on-road and ambient air quality. In addition, LP-DOAS measurements were taken to investigate the temporal variation of general ambient NO2 in Hong Kong. Details of the mobile CE-DOAS and LP-DOAS experimental set-ups are presented in Sect. 2. In Sect. 3.2, the data filtering and normalization algorithms applied to the mobile measurement data are introduced. The mobile NO2 measurements are then analysed together with LP-DOAS and local monitoring station data for the long-term trends, and the results are shown in Sect. 3.3. Section 3.4 presents an analysis of the characteristics of the weekend effect for different parts of the city. In addition, the spatial patterns of on-road NO2 and the identification of pollution hotspots are presented in Sect. 3.5.
4
Summary and conclusions
A high-resolution spatial distribution map of street-level NO2 makes identifying city pollution hotspots possible. It could meanwhile provide valuable information for urban planning as well as help with the development of pollution control measures. For obtaining the pollutant information, on-road mobile CE-DOAS measurements were successfully deployed in Hong Kong in December 2010 and March 2017, respectively. The diurnal dependency due to the different sampling times of mobile measurements was normalized through combining the continuous measurements of LP-DOAS. Furthermore, the algorithm, which was developed to separate and filter the accumulation of local emissions due to traffic congestion, helped us to focus on the concentrations instead of the stopping frequency during the comparison of the spatial distributions.
The long-term trend and spatial variations of ambient, roadside and on-road NO2 levels were investigated by analysing on-road CE-DOAS measurements together with LP-DOAS and EPD monitoring stations. The long-term trend analysis showed that the ambient NO2 level was descending with a rate of 2.5 % yr−1, while the roadside NO2 level showed a strong decreasing trend with an annual reduction rate ranging from 3.4 % to 4.9 %. This observation matched the mobile measurement results that on-road NO2 was in general reduced by 20 %–50 % between 2010 and 2017. The changes in the operational strategies of the major franchised bus company in Hong Kong could be revealed by the enhancements of NO2 level observed at locations close to metro stations. In addition, a rising trend in the NO2∕NOx ratio was observed in both roadside and ambient monitoring data. This was mainly subjected to the reduction of vehicle emissions, which were typically associated with the NO2∕NOx ratio. Increasing the O3 concentration also contributed to the reduction of the NO2 level in the past few years in Hong Kong.
The temporal emissions, characteristic of different districts in Hong Kong, were investigated using mobile measurements taken on different days of the week. The weekend reduction rate of on-road measurements was much higher than the long-term ambient roadside observation of LP-DOAS and EPD monitoring stations. By analysing the spatial pattern of the weekend reduction effect, we found that the NO2 levels of most residential districts were reduced on Sunday, while commercial and shopping areas showed a rather constant NO2 level throughout the week. The mobile CE-DOAS measurements presented in this paper offered a full-scale observation of the on-road NO2 characteristics in Hong Kong. Simultaneously, these spatial distribution measurement results are also important for chemical transport model validations and assessment of effects on human health.
The mobile measurement data are available on request from the corresponding author (ka.chan@dlr.de).
The authors declare that they have no conflict of interest.
This article is part of the special issue "Advances in cavity-based techniques for measurements of atmospheric aerosol and trace gases". It is not associated with a conference.
The work described in this paper was jointly supported by the German Academic Exchange Service (DAAD) Programme des Projektbezogenen Personenaustauschs (PPP) (project ID: 57334317), the Germany/Hong Kong Joint Research Scheme sponsored by the Research Grants Council of Hong Kong and the German Academic Exchange Service (reference no. G-CityU104/16), and the Research Grants Council of the Hong Kong Special Administrative Region, China (project no. CityU 11305817). We thank Annette Schütt, Teng Fei, Song Hao, Willy Ying for helping with the organization of the measurement campaign.

Edited by: Katherine Manfred
Reviewed by: two anonymous referees
Bond, D. W., Zhang, R., Tie, X., Brasseur, G., Huffines, G., Orville, R. E., and Boccippio, D. J.: NOx production by lightning over the continental United States, J. Geophys. Res.-Atmos., 106, 27701–27710, https://doi.org/10.1029/2000JD000191, 2001. a
Bucsela, E. J., Krotkov, N. A., Celarier, E. A., Lamsal, L. N., Swartz, W. H., Bhartia, P. K., Boersma, K. F., Veefkind, J. P., Gleason, J. F., and Pickering, K. E.: A new stratospheric and tropospheric NO2 retrieval algorithm for nadir-viewing satellite instruments: applications to OMI, Atmos. Meas. Tech., 6, 2607–2626, https://doi.org/10.5194/amt-6-2607-2013, 2013. a
Carslaw, D. C.: Evidence of an increasing NO2∕NOx emissions ratio from road traffic emissions, Atmos. Environ., 39, 4793–4802, https://doi.org/10.1016/j.atmosenv.2005.06.023, 2005. a
Chan, K. L., Pöhler, D., Kuhlmann, G., Hartl, A., Platt, U., and Wenig, M. O.: NO2 measurements in Hong Kong using LED based long path differential optical absorption spectroscopy, Atmos. Meas. Tech., 5, 901–912, https://doi.org/10.5194/amt-5-901-2012, 2012. a
Chan, K., Wiegner, M., Wenig, M., and Pöhler, D.: Observations of tropospheric aerosols and NO2 in Hong Kong over 5 years using ground based MAX-DOAS, Sci. Total Environ., 619–620, 1545–1556, https://doi.org/10.1016/j.scitotenv.2017.10.153, 2017a. a
Chan, K. L., Wang, S., Liu, C., Zhou, B., Wenig, M. O., and Saiz-Lopez, A.: On the summertime air quality and related photochemical processes in the megacity Shanghai, China, Sci. Total Environ., 580, 974–983, https://doi.org/10.1016/j.scitotenv.2016.12.052, 2017b. a, b, c
Chang, Y., Zou, Z., Deng, C., Huang, K., Collett, J. L., Lin, J., and Zhuang, G.: The importance of vehicle emissions as a source of atmospheric ammonia in the megacity of Shanghai, Atmos. Chem. Phys., 16, 3577–3594, https://doi.org/10.5194/acp-16-3577-2016, 2016. a
Dallmann, T. R., Harley, R. A., and Kirchstetter, T. W.: Effects of diesel particle filter retrofits and accelerated fleet turnover on drayage truck emissions at the Port of Oakland, Environ. Sci. Technol., 45, 10773–10779, https://doi.org/10.1021/es202609q, 2011. a
EU emission standards: European Union emission standards for new light duty vehicles (passenger cars and light commercial vehicles), directive 98/69/EC, DieselNet, available at: https://www.dieselnet.com/standards/eu/ld.php#stds (last access: 6 February 2018), 2007. a
Fiedler, S. E., Hese, A., and Ruth, A. A.: Incoherent broad-band cavity-enhanced absorption spectroscopy, Chem. Phys. Lett., 371, 284–294, https://doi.org/10.1016/S0009-2614(03)00263-X, 2003. a
Franco, V., Sánchez, F. P., German, J., and Mock, P.: Real-world exhaust emissions from modern diesel cars, available at: https://www.theicct.org/publications/real-world-exhaust-emissions-modern-diesel-cars (last access: 30 November 2018), 2014. a
Fu, X., Liu, J., Ban-Weiss, G. A., Zhang, J., Huang, X., Ouyang, B., Popoola, O., and Tao, S.: Effects of canyon geometry on the distribution of traffic-related air pollution in a large urban area: Implications of a multi-canyon air pollution dispersion model, Atmos. Environ., 165, 111–121, https://doi.org/10.1016/j.atmosenv.2017.06.031, 2017. a
Hermans, C., Vandaele, A. C., Carleer, M., Fally, S., Colin, R., Jenouvrier, A., Coquart, B., and Mérienne, M.-F.: Absorption cross-sections of atmospheric constituents: NO2, O2, and H2O, Environ. Sci. Pollut. R., 6, 151–158, https://doi.org/10.1007/BF02987620, 1999. a
Huan, L. and Kebin, H.: Traffic Optimization: A New Way for Air Pollution Control in China's Urban Areas, Environ. Sci. Technol., 46, 5660–5661, https://doi.org/10.1021/es301778b, 2012. a
Huang, R.-J., Zhang, Y., Bozzetti, C., Ho, K.-F., Cao, J.-J., Han, Y., Daellenbach, K. R., Slowik, J. G., Platt, S. M., Canonaco, F., Zotter, P., Wolf, R., Pieber, S. M., Bruns, E. A., Crippa, M., Ciarelli, G., Piazzalunga, A., Schwikowski, M., Abbaszade, G., Schnelle-Kreis, J., Zimmermann, R., An, Z., Szidat, S., Baltensperger, U., Haddad, I. E., and Prévôt, A. S. H.: High secondary aerosol contribution to particulate pollution during haze events in China, Nature, 514, 218–222, 2014. a
Jang, M. and Kamens, R. M.: Characterization of Secondary Aerosol from the Photooxidation of Toluene in the Presence of NOx and 1-Propene, Environ. Sci. Technol., 35, 3626–3639, https://doi.org/10.1021/es010676+, 2001. a
Kašpar, J., Fornasiero, P., and Hickey, N.: Automotive catalytic converters: current status and some perspectives, Catal. Today, 77, 419–449, https://doi.org/10.1016/S0920-5861(02)00384-X, 2003. a
Kaur, S., Nieuwenhuijsen, M., and Colvile, R.: Fine particulate matter and carbon monoxide exposure concentrations in urban street transport microenvironments, Atmos. Environ., 41, 4781–4810, https://doi.org/10.1016/j.atmosenv.2007.02.002, 2007. a
Keuken, M., Roemer, M., and van den Elshout, S.: Trend analysis of urban NO2 concentrations and the importance of direct NO2 emissions versus ozone/NOx equilibrium, Atmos. Environ., 43, 4780–4783, https://doi.org/10.1016/j.atmosenv.2008.07.043, 2009. a
Kraus, S.: DOASIS A Framework Design for DOAS, PhD thesis, Combined Faculties for Mathematics and for Computer Science, University of Mannheim, Mannheim, Germany, 2005. a
Krotkov, N. A., Lamsal, L. N., Celarier, E. A., Swartz, W. H., Marchenko, S. V., Bucsela, E. J., Chan, K. L., Wenig, M., and Zara, M.: The version 3 OMI NO2 standard product, Atmos. Meas. Tech., 10, 3133–3149, https://doi.org/10.5194/amt-10-3133-2017, 2017. a
Kuhlmann, G., Lam, Y. F., Cheung, H. M., Hartl, A., Fung, J. C. H., Chan, P. W., and Wenig, M. O.: Development of a custom OMI NO2 data product for evaluating biases in a regional chemistry transport model, Atmos. Chem. Phys., 15, 5627–5644, https://doi.org/10.5194/acp-15-5627-2015, 2015. a
Langridge, J. M., Ball, S. M., and Jones, R. L.: A compact broadband cavity enhanced absorption spectrometer for detection of atmospheric NO2 using light emitting diodes, Analyst, 131, 916–922, 2006. a
Lau, C. F., Rakowska, A., Townsend, T., Brimblecombe, P., Chan, T. L., Yam, Y. S., Močnik, G., and Ning, Z.: Evaluation of diesel fleet emissions and control policies from plume chasing measurements of on-road vehicles, Atmos. Environ., 122, 171–182, https://doi.org/10.1016/j.atmosenv.2015.09.048, 2015. a
Levelt, P., Van den Oord, G. H. J., Dobber, M., Malkki, A., Visser, H., de Vries, J., Stammes, P., Lundell, J., and Saari, H.: The ozone monitoring instrument, IEEE T. Geosci. Remote, 44, 1093–1101, https://doi.org/10.1109/TGRS.2006.872333, 2006. a
Longley, I., Somervell, E., and Gray, S.: Roadside increments in PM10, NOx and NO2 concentrations observed over 2 months at a major highway in New Zealand, Air Qual. Atmos. Hlth., 8, 591–602, https://doi.org/10.1007/s11869-014-0305-4, 2015. a
Marchenko, S., Krotkov, N. A., Lamsal, L. N., Celarier, E. A., Swartz, W. H., and Bucsela, E. J.: Revising the slant column density retrieval of nitrogen dioxide observed by the Ozone Monitoring Instrument, J. Geophys. Res.-Atmos., 120, 5670–5692, https://doi.org/10.1002/2014JD022913, 2015. a
Min, K.-E., Washenfelder, R. A., Dubé, W. P., Langford, A. O., Edwards, P. M., Zarzana, K. J., Stutz, J., Lu, K., Rohrer, F., Zhang, Y., and Brown, S. S.: A broadband cavity enhanced absorption spectrometer for aircraft measurements of glyoxal, methylglyoxal, nitrous acid, nitrogen dioxide, and water vapor, Atmos. Meas. Tech., 9, 423–440, https://doi.org/10.5194/amt-9-423-2016, 2016. a
Mock, P.: European vehicle market statistics, Pocketbook, Lugano, Switzerland, 2014. a
Muilwijk, C., Schrijvers, P., Wuerz, S., and Kenjereš, S.: Simulations of photochemical smog formation in complex urban areas, Atmos. Environ., 147, 470–484, https://doi.org/10.1016/j.atmosenv.2016.10.022, 2016. a
Ning, Z., Wubulihairen, M., and Yang, F.: PM, NOx and butane emissions from on-road vehicle fleets in Hong Kong and their implications on emission control policy, Atmos. Environ., 61, 265–274, https://doi.org/10.1016/j.atmosenv.2012.07.047, 2012. a, b
Pastorello, C. and Melios, G.: Explaining road transport emissions: a non-technical guide, Tech. rep., European Environment Agency, Luxembourg, 2016. a
Platt, U., Meinen, J., Pöhler, D., and Leisner, T.: Broadband Cavity Enhanced Differential Optical Absorption Spectroscopy (CE-DOAS) – applicability and corrections, Atmos. Meas. Tech., 2, 713–723, https://doi.org/10.5194/amt-2-713-2009, 2009. a, b, c
Rakowska, A., Wong, K. C., Townsend, T., Chan, K. L., Westerdahl, D., Ng, S., Močnik, G., Drinovec, L., and Ning, Z.: Impact of traffic volume and composition on the air quality and pedestrian exposure in urban street canyon, Atmos. Environ., 98, 260–270, https://doi.org/10.1016/j.atmosenv.2014.08.073, 2014. a, b, c
Rothman, L., Barbe, A., Benner, D. C., Brown, L., Camy-Peyret, C., Carleer, M., Chance, K., Clerbaux, C., Dana, V., Devi, V., Fayt, A., Flaud, J.-M., Gamache, R., Goldman, A., Jacquemart, D., Jucks, K., Lafferty, W., Mandin, J.-Y., Massie, S., Nemtchinov, V., Newnham, D., Perrin, A., Rinsland, C., Schroeder, J., Smith, K., Smith, M., Tang, K., Toth, R., Auwera, J. V., Varanasi, P., and Yoshino, K.: The HITRAN molecular spectroscopic database: edition of 2000 including updates through 2001, J. Quant. Spectrosc. Ra., 82, 5–44, https://doi.org/10.1016/S0022-4073(03)00146-8, 2003. a
Rotman, D. A., Tannahill, J. R., Kinnison, D. E., Connell, P. S., Bergmann, D., Proctor, D., Rodriguez, J. M., Lin, S. J., Rood, R. B., Prather, M. J., Rasch, P. J., Considine, D. B., Ramaroson, R., and Kawa, S. R.: Global Modeling Initiative assessment model: Model description, integration, and testing of the transport shell, J. Geophys. Res.-Atmos., 106, 1669–1691, https://doi.org/10.1029/2000JD900463, 2001. a
Solomon, S., Schmeltekopf, A. L., and Sanders, R. W.: On the interpretation of zenith sky absorption measurements, J. Geophys. Res.-Atmos., 92, 8311–8319, https://doi.org/10.1029/JD092iD07p08311, 1987. a
Thalman, R. and Volkamer, R.: Inherent calibration of a blue LED-CE-DOAS instrument to measure iodine oxide, glyoxal, methyl glyoxal, nitrogen dioxide, water vapour and aerosol extinction in open cavity mode, Atmos. Meas. Tech., 3, 1797–1814, https://doi.org/10.5194/amt-3-1797-2010, 2010. a
Tian, L., Hossain, S. R., Lin, H., Ho, K. F., Lee, S. C., and Yu, I. T. S.: Increasing trend of primary NO2 exhaust emission fraction in Hong Kong, Environ. Geochem. Hlth., 33, 623–630, https://doi.org/10.1007/s10653-011-9375-5, 2011. a, b, c
Uhrner, U., von Löwis, S., Vehkamäki, H., Wehner, B., Bräsel, S., Hermann, M., Stratmann, F., Kulmala, M., and Wiedensohler, A.: Dilution and aerosol dynamics within a diesel car exhaust plume-CFD simulations of on-road measurement conditions, Atmos. Environ., 41, 7440–7461, https://doi.org/10.1016/j.atmosenv.2007.05.057, 2007. a
Vandaele, A. C., Hermans, C., Fally, S., Carleer, M., Colin, R., Mérienne, M.-F., Jenouvrier, A., and Coquart, B.: High-resolution Fourier transform measurement of the NO2 visible and near-infrared absorption cross sections: Temperature and pressure effects, J. Geophys. Res.-Atmos., 107, 4348, https://doi.org/10.1029/2001JD000971, 2002. a
Venables, D. S., Gherman, T., Orphal, J., Wenger, J. C., and Ruth, A. A.: High sensitivity in situ monitoring of NO3 in an atmospheric simulation chamber using incoherent broadband cavity-enhanced absorption spectroscopy, Environ. Sci. Technol., 40, 6758–6763, 2006. a
Vogt, R., Scheer, V., Casati, R., and Benter, T.: On-Road Measurement of Particle Emission in the Exhaust Plume of a Diesel Passenger Car, Environ. Sci. Technol., 37, 4070–4076, https://doi.org/10.1021/es0300315, 2003. a
Volkamer, R., Spietz, P., Burrows, J., and Platt, U.: High-resolution absorption cross-section of glyoxal in the UV–VIS and IR spectral ranges, J. Photochem. Photobiol. A, 172, 35–46, https://doi.org/10.1016/j.jphotochem.2004.11.011, 2005. a
Washenfelder, R. A., Langford, A. O., Fuchs, H., and Brown, S. S.: Measurement of glyoxal using an incoherent broadband cavity enhanced absorption spectrometer, Atmos. Chem. Phys., 8, 7779–7793, https://doi.org/10.5194/acp-8-7779-2008, 2008. a
Westerdahl, D., Fruin, S., Sax, T., Fine, P. M., and Sioutas, C.: Mobile platform measurements of ultrafine particles and associated pollutant concentrations on freeways and residential streets in Los Angeles, Atmos. Environ., 39, 3597–3610, https://doi.org/10.1016/j.atmosenv.2005.02.034, 2005. a
Zhang, R., Tie, X., and Bond, D. W.: Impacts of anthropogenic and natural NOx sources over the U.S. on tropospheric chemistry, P. Natl. Acad. Sci. USA, 100, 1505–1509, https://doi.org/10.1073/pnas.252763799, 2003. a